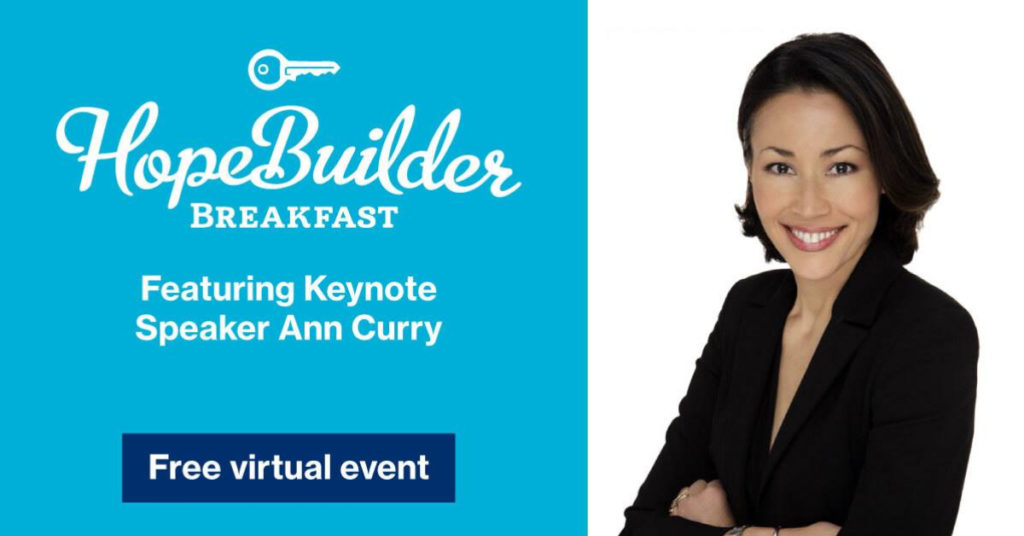 As we launched into our first-ever virtual HopeBuilder Breakfast, attendees eagerly tuned in to watch and support us instill hope into our community and be a solution to affordable homeownership in our region. We have visitors from across the state of Oregon join one of our biggest virtual events of the year. Thanks to each and every one of you for rallying with us to build and repair more homes for families and individuals seeking a stable life. The funds raised at our Breakfast will become a stepping stone for generational change.
If you missed our live event, be sure to check out the recording here.
We would like to thank key figures who made this event so strong, such as award-winning journalist, Ann Curry, who served as our incredible keynote speaker. Her background of covering global issues drives her passion to help create necessary change in our global community. We would also like to thank TK Kenney, for hosting our event and helping us unite as a community.
In addition, thank you everyone who made an impact. Because of your generosity, even more families and individuals will see the light and have the opportunity to reinvest in themselves and their communities. Thanks to your contributions, we surpassed our initial fundraising goal of $500,000 and successfully raised $668,813! This event shows us all that despite the turmoil, hardship, and difficulty we have faced, our community continues to embody the spirit of serving our neighbors and selflessly helping set more people up for brighter futures.
Our mission at Habitat is to work alongside our community to address and combat housing issues at a local and global level. We aim to dismantle barriers that may prevent people living on low incomes from purchasing a home of their own. We do this by working together with our community of supporters, partners and friends, and holdings events such as this to influence real change and create homes that will remain affordable for decades. Thanks to your support, homebuyers like Zain and her children, Massara and Abdullah, can have stability under their feet and are empowered with an affordable place to call home for generations.
"There's a future for my kids. They will not suffer like we did after the war happened. They attend a good school, they have a good future, and are helping their community as much as they can. This is my big dream."
Zain has triumphed over obstacles and now works to give back and elevate her community. She serves as an eligibility worker at the Department of Human Service. Her daughter, Massara, aspires to become a lawyer and her son, Abdullah, a space engineer. Building affordable, sustainable, and safe homes puts stability back into their hands and the very people we partner with every day.
In order to further our positive impact across the Portland region, we delivered an exciting announcement at this year's Hopebuilder Breakfast. We've just launched our Triple Your Impact campaign! This $25 million campaign will triple the number of people in safe, affordable homes each year. In order to achieve our bold goals, we'll need your help like never before.
Thanks to our Campaign Cabinet working behind-the-scenes, we have successfully raised 80% of the funds so far—$20 million in donations—and now we need your help getting to the finishing line by helping us raise another $5 million in one year.
Despite the effects of the pandemic—the economic downturn and the closure of restaurants, businesses, offices, and the cancelation of in-person events, we are continuously met with support from our community. This has allowed us to work alongside those affected the most by the economic hardships brought on by Covid. Because of your donations, support, and advocacy, we have continued building affordable and sustainable communities throughout these challenging times.
With deep appreciation, we thank you for advocating for the cultivation of equal housing opportunities and the construction of safe and affordable communities. Thank you for standing up and showing up for affordable homeownership and being a beacon of light in many lives. If you missed the event, you could help expand our regional impact by generously making a gift today.