Dear Friends,
Together, we are resilient. In the face of major challenges this year, your support never faltered. With you by our side, we faced the pandemic head on. We moved swiftly to keep our most vulnerable residents safe in their homes by advocating for state-wide moratoriums on foreclosures and evictions. Because of your unwavering commitment, we were able to build and repair 21 homes and begin building 54 more throughout Portland. Thank you.
This year, we have seen our community come together like never before. Despite not being able to safely build alongside our volunteers and having to cancel our annual events, Habitat homeowners joined staff, volunteers, donors, and supporters across the Portland region to raise essential funds to move our work forward. This year, we also became more innovative. When we were forced to close our ReStores, our team developed and launched an online store—a first for us. With the loss of our annual HopeBuilder Breakfast and Hard Hat and Black Tie Dinner & Auction, you rallied around us to pilot new ways of supporting our work virtually.
Together, our impact continues to grow. Because of your generosity, more than 200 Portlanders—many of whom have generational ties to historically Black neighborhoods in North and Northeast Portland—will return to the communities they once called home. This anti-displacement effort is one of many we need to build a more inclusive city. Among many things, the Black Lives Matter movement highlighted how households of color in our community own homes at about half the rate as White families. We know racist policies caused this homeownership gap. We know affordable homeownership is the key to creating a path toward equity for people living on low-incomes and especially communities of color. We recognize our role in addressing the racial disparities in housing and we know that we cannot do it alone.
If there's one thing this year has revealed, it is that the health of our community begins at home. With you by our side, we will continue building resilient communities for generations to come.
In Partnership,
Steve Messinetti, President and CEO
Julie Frantz, Board Chair
---
Fiscal Year 2020 by the Numbers

64
people served through homeownership and home repair
---

184
people who participated in homeownership education classes
---

8
home repairs
---
6,472
tons of waste diverted by ReStores

67
homes under construction
---

89.7%
homebuyers that are people of color
---

3,438
total volunteers
---
46
homes built globally with local funds

13
homes sold
---

1,859
sweat equity hours
---

62,898
total volunteer hours
---
Economic Impact
Habitat for Humanity International performed an economic impact analysis for our region.

$21,739,922
economic impact of Habitat's investments
in the Portland Metro region

$21,739,922
dollars injected into the local economy
for every dollar invested by Habitat
---
Highlights from Our Year
Safety of Home
As our government rightfully ordered us to stay home and protect the lives of our most vulnerable residents, it became critical that we come together as a community and fully support one other during the COVID-19 crisis. The pandemic continues to have a disproportionate impact on communities of color and people living on low incomes. In the spring of 2020, we launched a Safety of Home campaign, reminding everyone of the importance of a stable home while we all shelter-in-place. For many "shelter–in–place" means figuring out logistics and adjusting mindsets, for others it only exacerbates the living conditions with which they have struggled for so long.
Videos from the Safety of Home Campaign
---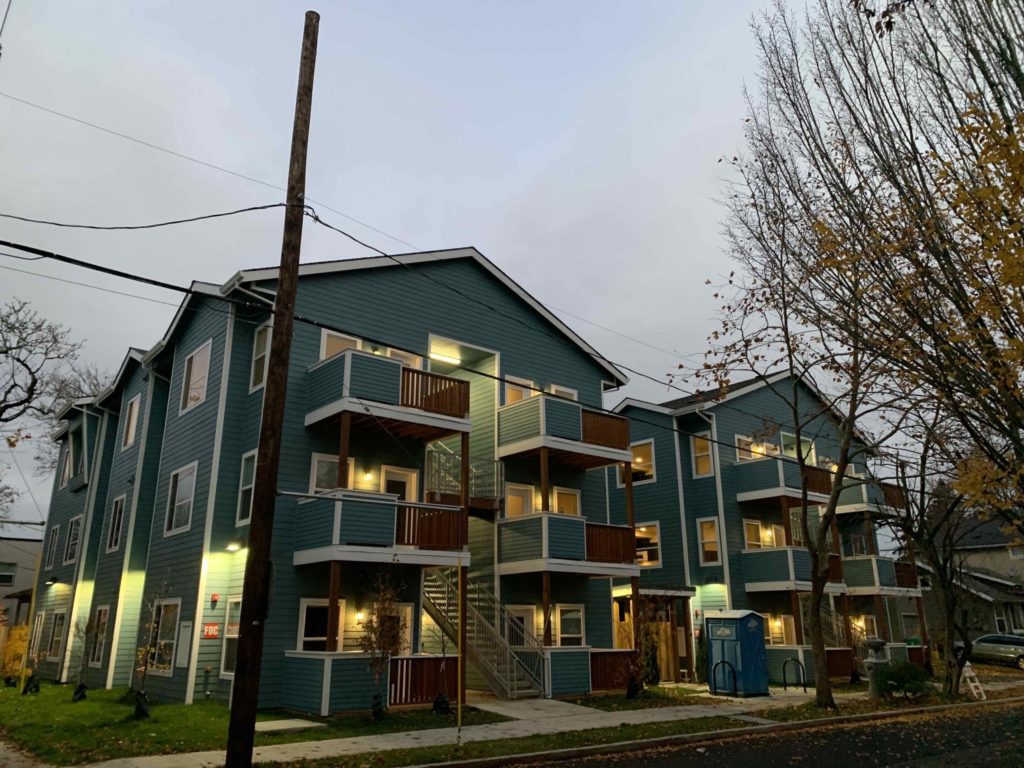 Preference Policy & Right to Return
Over the last 5 years, Habitat for Humanity partnered with the City of Portland and other local nonprofits to enact the North/Northeast Preference Policy. A first of its kind in the nation, this initiative prioritizes residents who were displaced or who have generational ties to the area for affordable homeownership and rental opportunities in the neighborhoods they once called home. The initiative helps address the City's legacy of displacement and marginalization of largely Black neighborhoods due to urban renewal, redlining, and racist lending policies. This past year, we built 42 homes that will be purchased by buyers from the Preference Policy.
---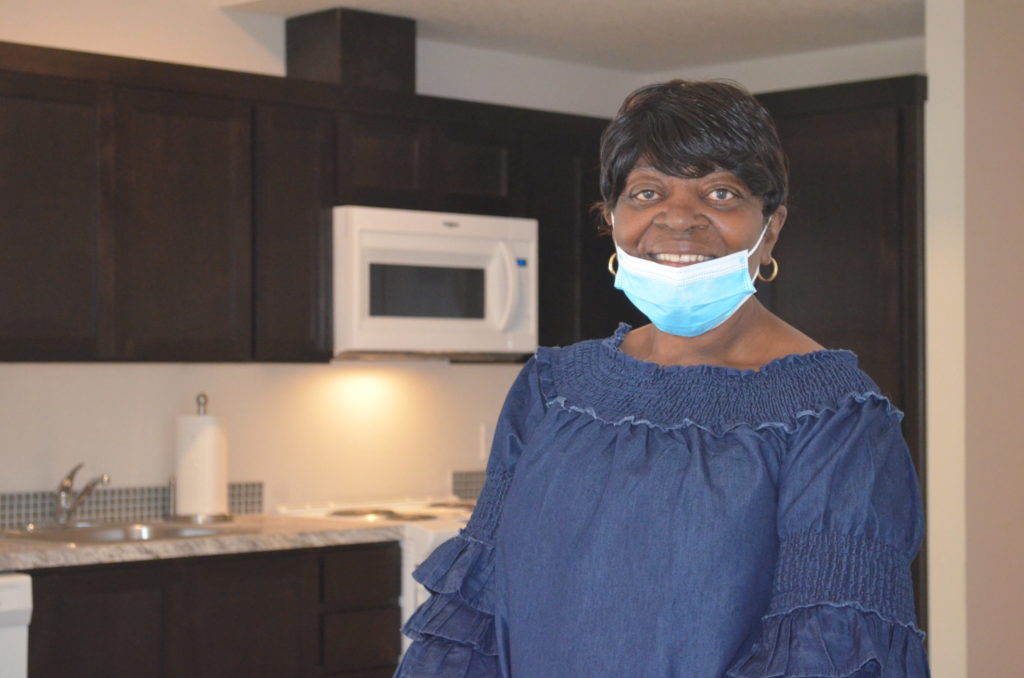 Deloris
"Buying a home feels like lying under a warm blanket on a cold day, it heats up my inner self."
Deloris grew up in Northeast Portland. The City of Portland's practice of urban renewal decimated entire neighborhoods and demolished homes owned by Black residents, including Deloris' family's home. Thanks to the City of Portland's Preference Policy, Deloris will now have the opportunity to purchase an affordable home in North Portland.
"Being able to purchase and leave a legacy for my granddaughter whom I raised and now my young, great-nephew, means they will have a better start to life; knowing they have a permanent place where memories were built and nourished and hopefully, they will continue the tradition for generations to come."
---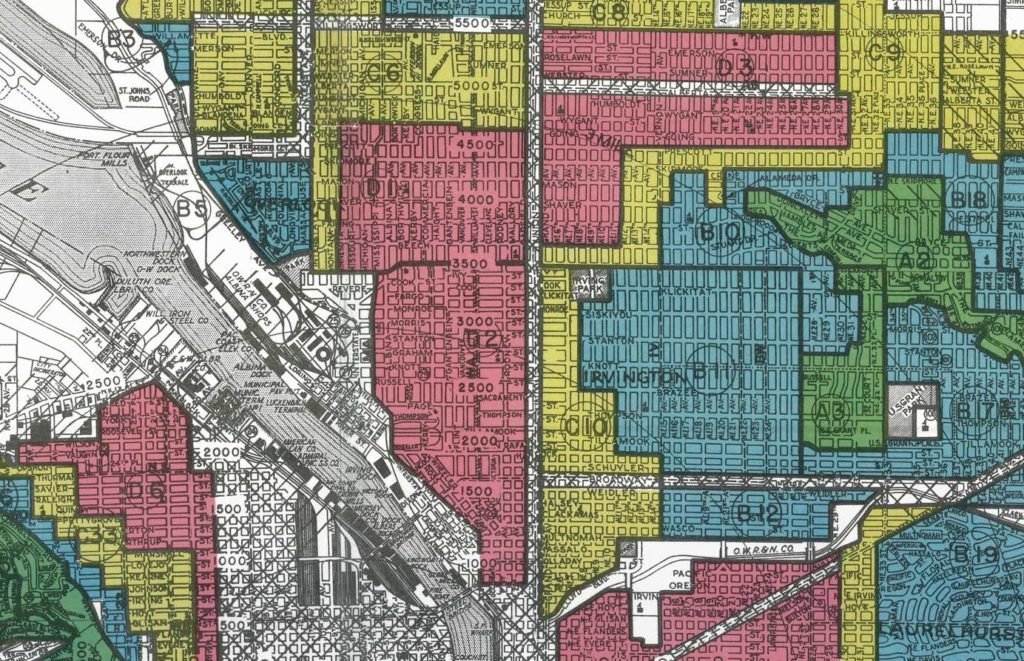 Race & Housing
Throughout history, racist housing policies kept people of color from owning homes and building equity in the Portland Metro region and around the country. White residents own homes at more than twice the rate as Black Portlanders. It is critical to understand the historical context of why these racial disparities continue to exist because of these injustices.
We need to be as intentional in closing these disparities as we were in creating them.
This year, we've been reckoning with the legacy of systemic racism in housing. Join us in learning from the past to build a better future.
Race & Housing Blog Series
---
Housing Justice in Portland: Featuring Rukaiyah Adams
In 2020, we hosted a conversation on housing justice in Portland, featuring keynote speaker Rukaiyah Adams, Chief Investment Officer at Meyer Memorial Trust. Rukaiyah, a fourth-generation Portlander, shared her journey of experiencing housing as a shelter, a dwelling, and finally a home, one that deeply rooted her in our community. Finding that sense of home was all under a shadow of prolific housing discrimination that impacted communities of color, including Rukaiyah's family.
---
Financials
Audited Statement of Financial Position As of June 30, 2020
Assets
| | |
| --- | --- |
| Cash and cash equivalents | 5,772,287 |
| Cash held for escrow and maintenance | 128,472 |
| Grants and other receivables – net | 304,020 |
| Mortgages receivable – net | 3,858,646 |
| Land Held for Development | 4,952,387 |
| Construction in Progress | 7,761,518 |
| Homes Available for Sale | 690,386 |
| Inventory-Other | 306,203 |
| Prepaid expenses and deposits | 158,105 |
| Investment in limited partnerships | 3,794,417 |
| Restricted cash | 126,081 |
| Property and equipment – net | 577,917 |
| Total assets | $28,430,440 |
Liabilities and Net Assets
| | |
| --- | --- |
| Liabilities | |
| Accounts payable and accrued expenses | 681,848 |
| Accrued payroll, PTO, and payroll taxes | 323,485 |
| Due to Habitat International and other affiliates | 122,431 |
| Escrow and maintenance | 128,472 |
| Paycheck Protection Program loan | 936,600 |
| Notes payable* | 13,892,652 |
| Total liabilities | 16,085,488 |
| | |
| Net assets | |
| Total net assets without donor restrictions | 11,971,831 |
| Net assets with donor restrictions | 373,121 |
| Total net assets | 12,344,952 |
| Total liabilities and net assets | 28,430,440 |
| | |
*$7,754,147 in notes payable contain provisions whereby the notes will be forgiven by the lender provided certain conditions are met by the organization.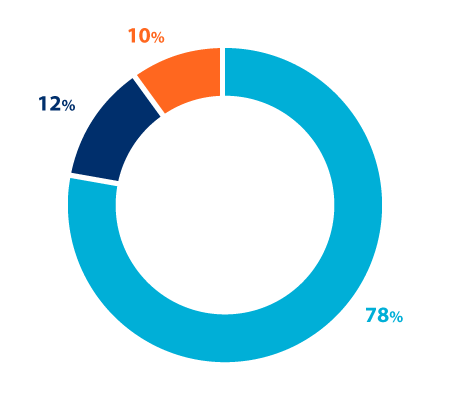 Expenses
78% for Program Services
12% fundraising
10% management and general
Statement of Activities
July 1, 2019-June 30, 2020
| | |
| --- | --- |
| Revenues | |
| Grants, pledges, and cash contributions | 3,304,579 |
| Donated services and materials | 233,211 |
| Home sales | 2,176,354.81 |
| Other revenues | 5,395,469.19 |
| Total Revenues | 11,109,614 |
| | |
| Expenses | |
| Program services | 8,693,976 |
| Management and general | 1,121,164 |
| Fundraising | 1,346,917 |
| Total Expenses | 11,162,057 |
---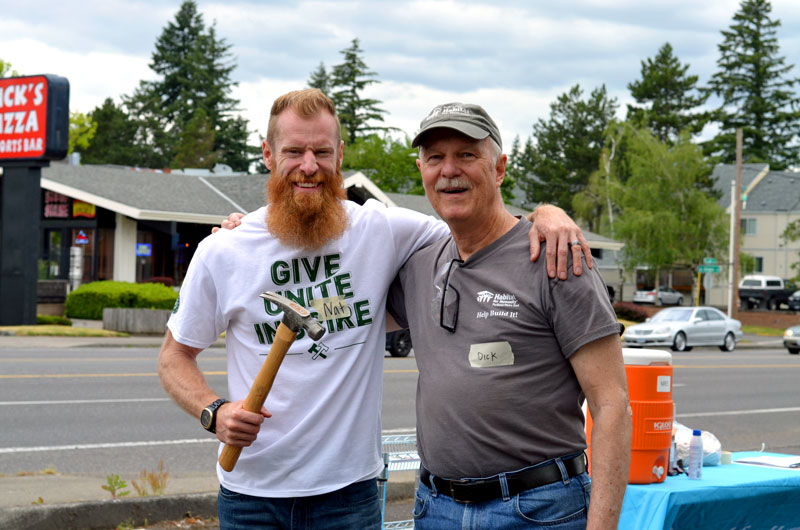 Supporters
Thank you to our generous donors and volunteers who made Habitat for Humanity's work possible this year. With your support, we made tremendous progress this year in helping more families find stability through homeownership. Download a list of our generous supporters, including volunteers and donors.