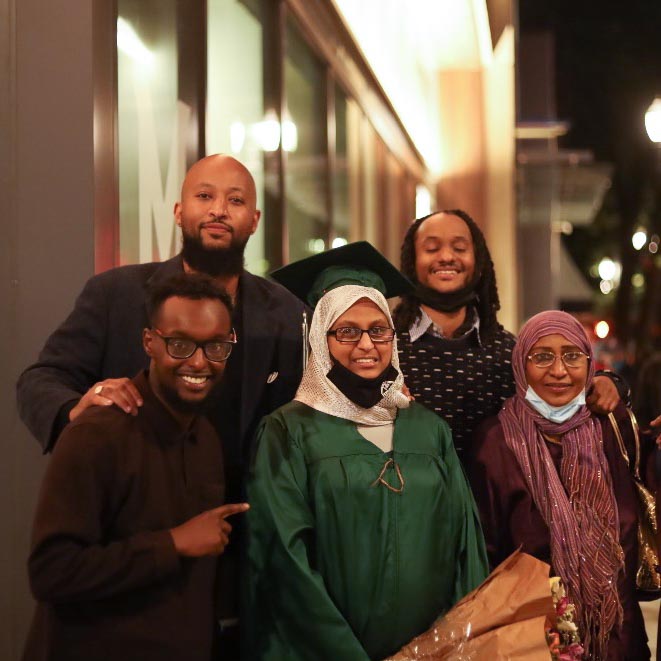 Image Caption: From right to left: Salwa (Mom), Mohamed (Brother), Douha (Sister), Sam (Brother), and Abdullah (close family friend).
It was a rainy morning the day Salwa, a soon-to-be homeowner, walked up to the office of Habitat for Humanity to meet with the Homeownership Team. She was filled with excitement and anticipation for days and even showed up several hours earlier to her scheduled meeting.
Although the journey had been long, Salwa persisted in planting generational ties in Oregon and building a foundation for herself, her daughter and sons.
"That's one of the big things we talk about as we get older," says Sam, her eldest son. "'Home base' is something my mom talks about. It happens as we get old that we spread out a little bit. Having a home that we can come back to, which feels comfortable and is a reflection of us ."
More than 15 years ago, before moving to Portland, Salwa and her family lived in a city known for having some of the highest rent prices in America—New York. They left to escape the large crowds the city attracts and began a new chapter in Oregon.
Today, Salwa has been a longtime resident in her current apartment where she has made her home for the last 12 years. The family is grateful for the space that they've grown up in, but look forward to moving to a stable home that they can call their own.
"You know, my dream is always to have a home." Said Salwa. "And I can't afford it. So all the time, I would say, oh my goodness, I am never gonna have a home."
Although Salwa has never owned a house in America, she carries the experience of having grown up in one back in her hometown, Sudan, North Africa. As a young adult, her goal to pursue her education beyond what her country offered brought her overseas. Once here, she successfully put four children, three sons, and a daughter, through school. But one goal remained: to buy and own a home for her children to come back to visit.
"Obviously, being a mother with children, she sometimes forgets about herself, which is a good and bad thing," says Sam. "We are the only family we have over here…This home is her thing to build and to make her own."
Salwa will move into the 31-home community in Southeast Portland as early as the Summer of 2022. Salwa is especially excited to use her new kitchen. One of the activities that brings joy to her is cooking. She has seen renderings of the space and is already thinking about how she'll set up her own space when she moves in. Her family is also thrilled with the community aspects of their home and the convenience of its location.
"Aside from the historical significance of it, it's a very clean area, easily accessible, transportation, everything you would need is nearby," says Mohamid.
Sam continues, "It feels very suburban, and I don't think we've ever lived in that type of environment before. It's very quiet, peaceful, and you see people walking their dogs, and they are all smiling and are friendly."
Today, Salwa works to strengthen her foundation to become a successful homeowner while making a positive impact through her work at a childcare center. Salwa has dedicated her career to working with children. What this home will afford her is the opportunity to pursue her dream of owning her childcare center. She draws from this dream as she works to learn about becoming a successful owner by taking financial literacy classes, homeownership classes, and more. Soon, her whole family will be sit around the dinner table, share meals, and celebrate their new home that they can call their own.