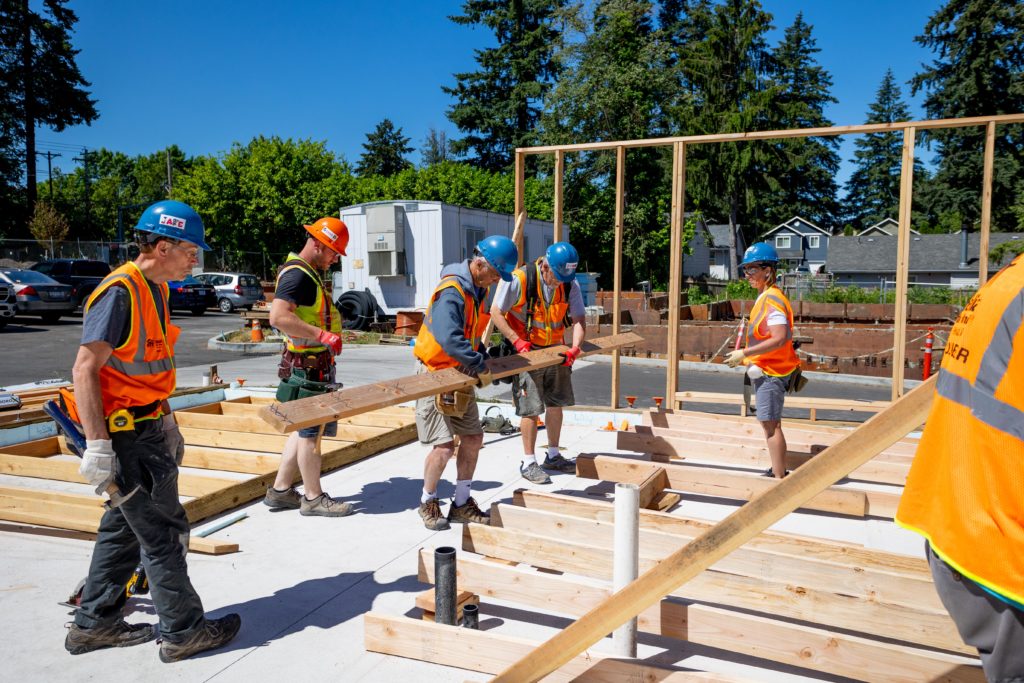 Habitat blue hard hats dot our construction sites, and workers with orange vests raise frames, giving our communities a glance into a hopeful future. Through your support, we are establishing more communities across the Portland Region than ever! These homes mean much more than shelter; for Oregonians, it means optimism and a new chapter in the fight against rising housing costs. Here are some updates on our construction developments as we transition to summertime.
Cherry Blossom | Southeast Portland
We've made great strides in this 31-home community located just around the corner from the ReStore on Cherry Blossom Drive and tucked in Portland's Mill Park neighborhood. Habitat is building this community in a location with a wide variety of shopping centers and dining options. It will offer homeowners the opportunity to live in a stable environment – allowing families with children a chance to grow up alongside each other and build lifelong bonds.
Within the last month, we have completed final plumbing, interior finishes, exterior finishes, and landscaping on two of our fourplexes. Our construction crews will install cabinets, flooring, interior doors and trim, and finish exterior finishes on two additional fourplexes. We finished rough plumbing and insulation within the last month on a single-family home.
On our two 5-plexes, we recently finished rough plumbing, rough mechanical, and rough electrical work. We will continue installations during the remainder of the month. On our final four-plex, we are also finishing the installation of rough plumbing, rough mechanical, and rough electrical.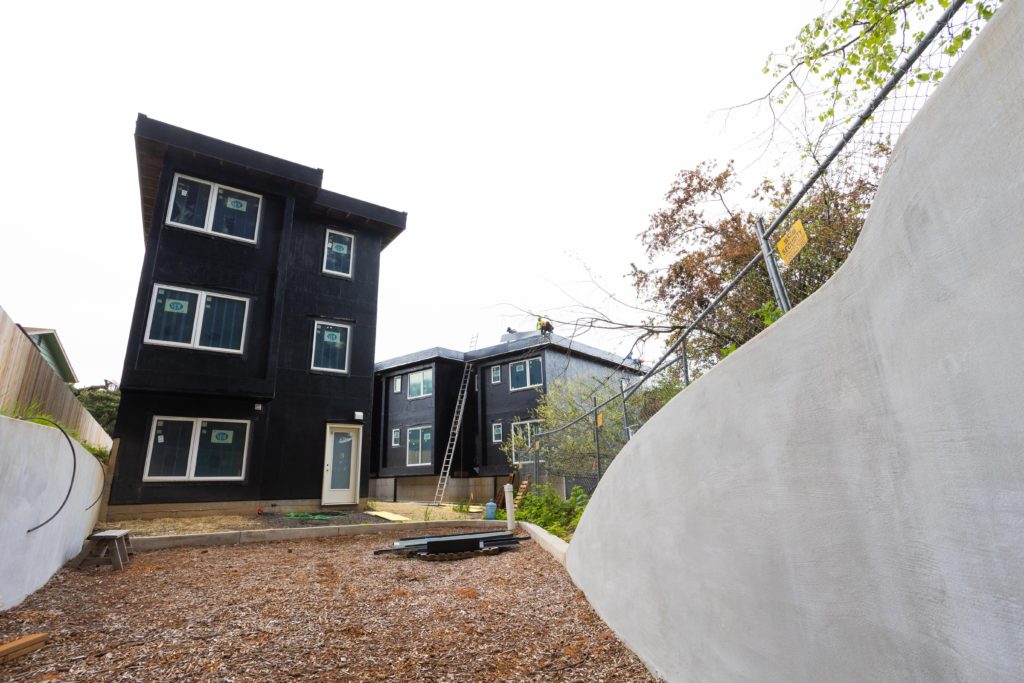 Foster-Powell | Southeast Portland
Habitat has been hammering away and raising frames on our newest 40-home development in Southeast Portland. Located on SE Foster Road on the corner of Powell Butte Nature Park, this community will be made up of one four-plex, eight triplexes, and six duplexes. Once homeowners move in, this community will offer homeowners access to hiking trails close to the Lents' neighborhood. This community is just a short drive away from the I-84 freeway, which allows homeowners more accessible commuting.
Within the past month, our crews have installed rough plumbing, heating, ventilation, and air conditioning system (HVAC), siding, framing, roofing, pre-insulation, exterior finishes, and drywall. Our crews are currently at different stages throughout the construction: they are installing windows, doors, rough plumbing, rough HVAC, and rough electrical on the duplexes, framing on four of the triplexes, and framing, pouring concrete slab foundations on our remaining homes. Aside from building homes, our construction crews will soon begin foundation work for the community bike enclosure.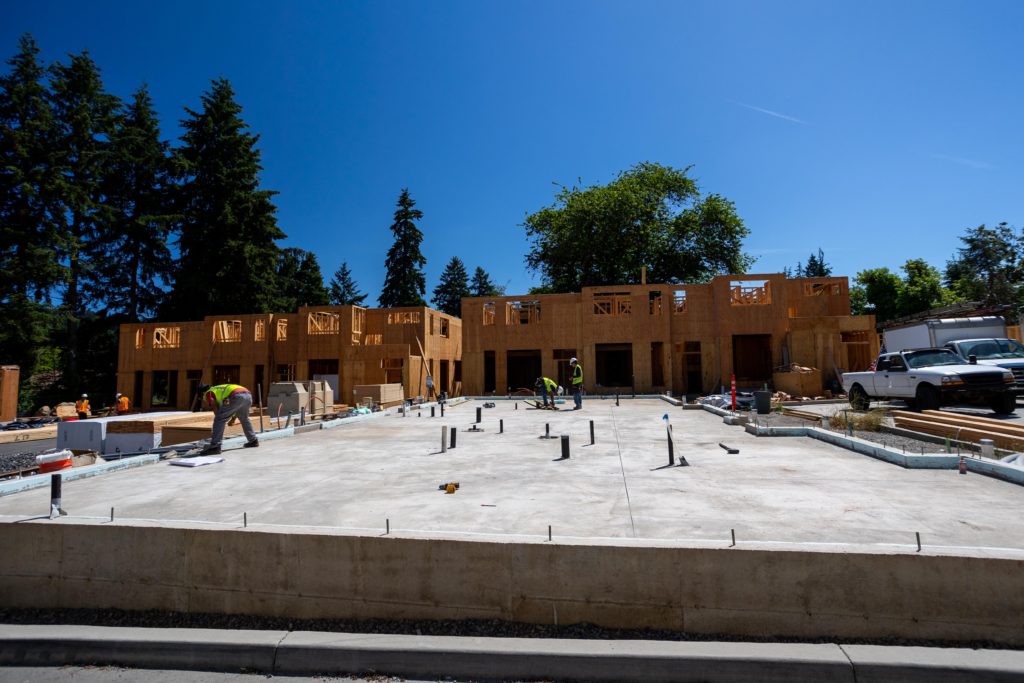 Alder Commons | Southeast Hillsboro
Alder commons will remain permanently affordable, giving the next buyer the chance to purchase this home at an affordable rate. Alongside this opportunity to build generational equity, homeowners will also be part of a warm community that they can call their own. This neighborhood has close access to public transportation, Hillsboro Aquatic & Rec Center, as well as Shute Park library. A number of shopping options will be just down the road for families to explore.
Volunteers, Habitat staff, and contractors are breathing life into this 8-home community – a triplex and a five-plex – as we move away from framing and into adding amenities that will turn these houses into homes. We are near our halfway point of completion, as crews recently finished installing roof shingles on the triplex and will soon begin electrical work rough-in installations for the HVAC systems. Within the next month, teams will continue this work and complete plumbing, electrical rough-ins, and HVAC system installation within our 5-plex. Lastly, after city approvals, we will finish the month insulating our 5-plex building exterior.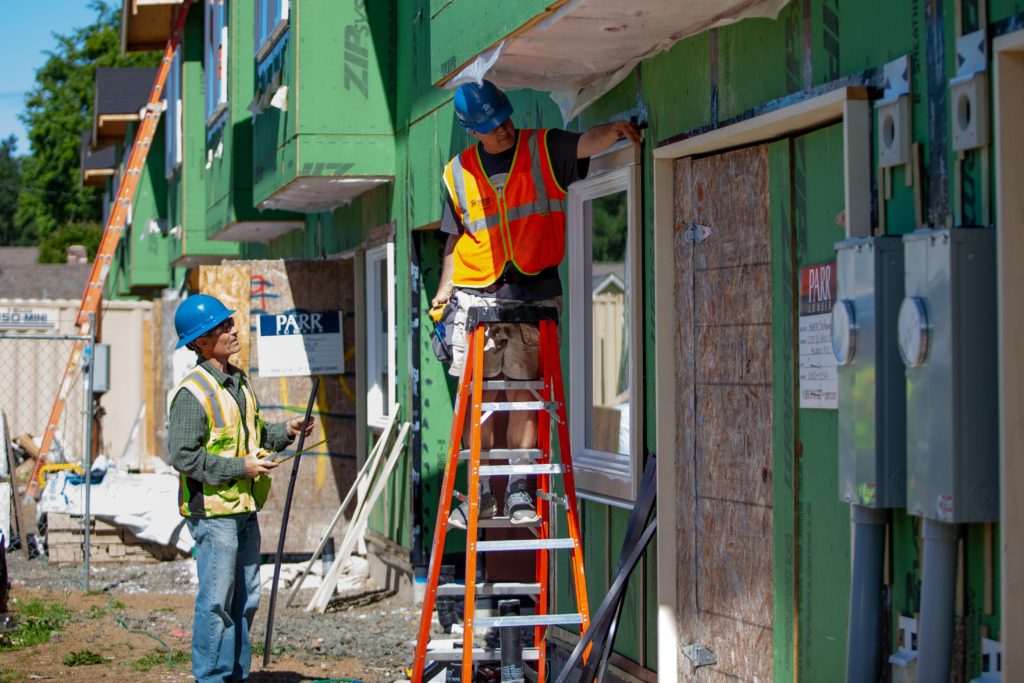 We look forward to increasing the number of affordable homes available to families this summer. Stay informed about all Habitat builds this Summer by subscribing to our monthly newsletter below.