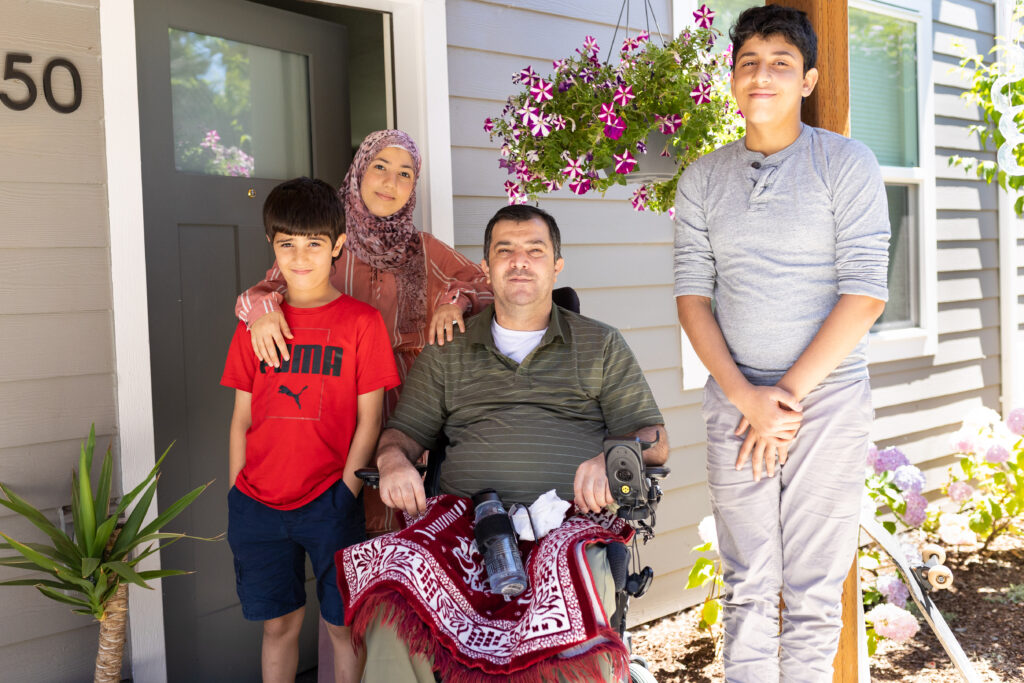 Shamsa and her family escaped their home in Syria when the Civil War broke out in 2016, and with the aid of the International Organization for Migration, they found refuge in America. For the next five years, Shamsa and her husband, Mohammed, raised their three elementary school-aged children, Aleen, Jameel, and Yazan, in their two-bedroom, one-bathroom apartment in North Portland. Although they were grateful for the roof over their heads, they quickly outgrew their space and needed a larger place to call their own.
Mohammed lives with quadriplegia as a result of an accident in 2012 and needs space for the medical equipment that make basic necessities, such as showering, possible. Shamsa and her three children shared one bedroom, while Mohammed used the second. When the pandemic took hold and prompted schools to hold lessons virtually, their small apartment felt even smaller as the children began attending classes from home.
"In our previous house, we were online. It was like only two rooms. And we couldn't focus because everyone had his own computer in the living room," said Aleen.
Shamsa confided in friends about her struggles, and they shared information about Habitat for Humanity's homeownership program.
"I heard about Habitat when I came to the United States," Shamsa said. "I found that rent was very expensive. But all my friends told me, ' your situation, you can get approved for Habitat for Humanity.'"
Shamsa was determined to qualify for the program so that she could plant permanent roots for her family. She applied for Habitat's homeownership program that helped her purchase a four-bedroom home in a 10-home community in Northeast Portland. She began putting in sweat equity hours by working in Habitat's office as the front desk clerk.
During this time, the family visited the build site frequently to see the progress on their future home. After a year of working hard and investing in building their home, the family moved in on December 2021, and found the peace of mind they had sought since leaving Syria five years earlier.
"It was very exciting, and glad to take the keys," she said. "Like, finally! Everything is done. We were very happy, dancing and everything. I mean, it's a big dream for us. Especially for my situation… Renting was expensive for my low income."
Due to his condition, Mohammed has faced recurring infections that make him feel cold most of the time. But he describes living in this home, with its new heating system, as his first time feeling warm since arriving in the United States. The family does not have to worry about sharing a small space, as Habitat built an extra room just for Mohammed's exercise table and rehabilitation tools, and an additional bathroom with an accessible shower.
Now that the family has found stability, Mohammed is searching for a medical professional that can help improve his mobility in both arms and legs, as well as help alleviate his chronic pain. With his family's support, he is working toward recovery through daily stretching and physical therapy exercises. Shamsa also dreams of opening a restaurant once her children grow up so that she can have independence over her schedule and spend more time with Mohammed.
The children are also thriving in school: each with their own bedroom to use as a quiet area to complete their homework. The eldest daughter, Aleen, is now a sophomore in high school. Inspired by her father's condition, she dreams of becoming a doctor and entering the medical field. She has already begun setting a path by earning college credits in biology. Jameel, the middle child, is now in middle school, and Yazan, the youngest, in elementary school.
Outside of school, Jameel enjoys watching and playing soccer. He is excited to live in a home with a much larger living room where he will have plenty of space to watch the 2022 World Cup and root for his favorite team, Real Madrid. Yazan has also befriended the neighborhood kids and enjoys socializing with them – it is common for neighbors' children to come knocking on their door to play and vice versa. The family truly enjoys the community that surrounds them.
"All my neighbors, I feel like they are my family,"Shamsa said
When the sun is out and the weather is good, Mohammed gets in his wheelchair, the family on their bikes, and together they ride about 10 minutes to a community park where they treasure quality time with each other.
The family celebrates the stability they built together and thanks all the working hands who lifted the frames to their new home.
 "A special thanks to everyone who helped build this," said Mohammed. "(And) everyone at Habitat."