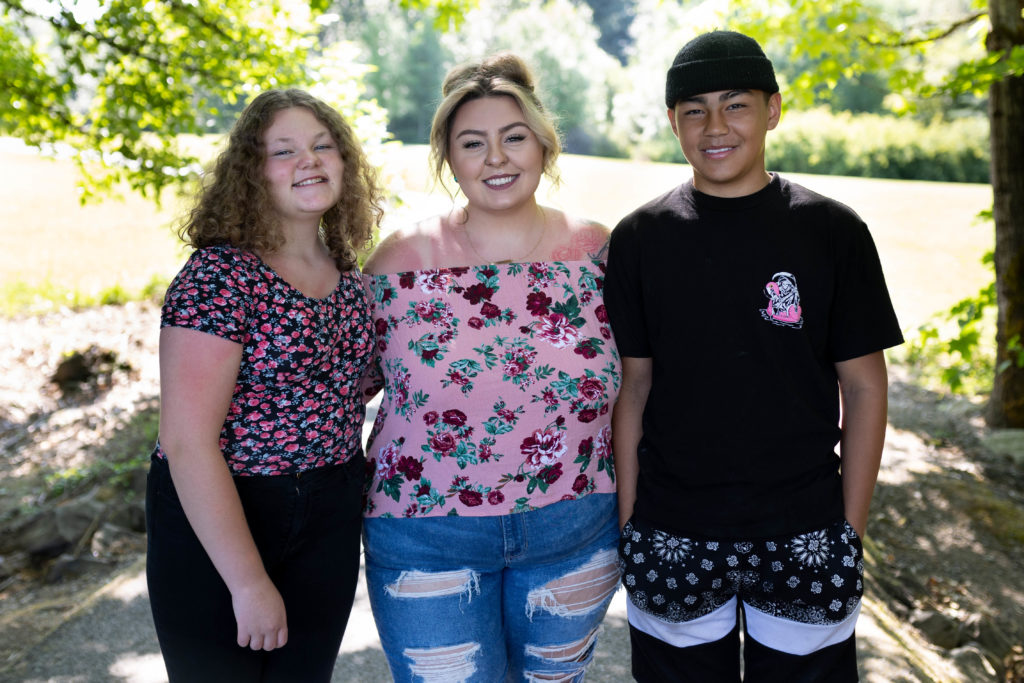 With the phone to her ear, she heard the voices on the other end of the phone call erupt in cheers. Aimee had just announced to her family that she had been accepted into Habitat's homeownership program and would soon begin the journey to owning a stable and affordable home.
Just moments ago, she had gone to retrieve a package that sat snug in her mailbox. It was a package from Habitat and appeared thicker than any she had received before. On the front was Habitat's logo — a roof over three human figures raising their arms out in joyous celebration right next to the words. Her mind raced as she rushed to open the package.
"I opened it, and what I think was one of the most memorable things was that there was a handwritten letter saying congratulations! I went back to the room and showed the kids the t-shirt (that came in the package), and they were so excited!"
After revealing the news to her family, she soaked in this life-changing news. This piece of ordinary paper contained a very extraordinary message. It gave her peace of mind; she would soon be the owner of a permanent and affordable place to grow, rest, and create new memories with her family.
Aimee had roots in homeownership before becoming a homebuyer. In her early years as a child, she grew up in an apartment before her parents purchased their own home by the time she was in third grade.
As she came of age and entered adulthood, she navigated through increasing rent rates, which pushed her to move to Vancouver, Washington. She lived there for two years before moving back to Oregon to be closer to her family. Life began to look brighter as her passion for doing hair and makeup led her to pursue a career in the beauty industry.
"All through middle school and high school, I was the one who was always doing my friend's hair and makeup for school dances, prom, and all that stuff. I was always the last to get ready, but I always had so much fun doing all the other girls' hair and makeup" said Aimee.
Aimee soon took a leap towards her passion and enrolled into beauty school. Soon after graduating, she found herself applying to work at a large-scale salon where the company quickly recognized her team leadership skills and hired her as a manager. Today, Aimee is one of the youngest managers at the two hair salon locations in Portland.
After settling into a well-fitted career, Aimee sought out an apartment in Southwest Portland. Renting became the norm throughout this period, and an apartment in downtown Portland would provide a roof over her head for the following year. However, a sudden change in her life would catapult her to pursue the stability found in owning a home.
In 2019, Aimee's niece and nephew moved in to live with her. Stability for all of them became her main priority. Both her nephew, Diego, who is now 13 and in 7th grade, and her 11-year-old niece, Patricia, a 5th grader, are looking forward to having stability, shelter, and a community around them. Soon, the family will move into their new home in Denney Gardens — a 16-home community in Beaverton.
"I've always dreamed of having a house. But I think it became a bigger dream when I took the kids in in 2019. Renting a three-bedroom apartment just isn't realistic." Aimee goes on to say, "It's nice to be a part of a community because apartment living is different. Rent goes up, you have to move— but having a house is an investment. The children will also now have their own rooms which they've never experienced that."
What she looks forward to the most is" being able to say I've put my hands on the bones of this house–not just the inside. Also, the satisfaction of saying that I've done all this stuff like taking classes…It's kind of like graduating high school. You put in all this work, and you finally come out on top. So, I think just pure joy and relief that I'll finally have a place to stay."
Outside of school and work, she and her family enjoy spending time at rivers, lakes, or skate parks. Aimee says that she looks forward to keeping both kids in the same school district to develop a long-lasting community.