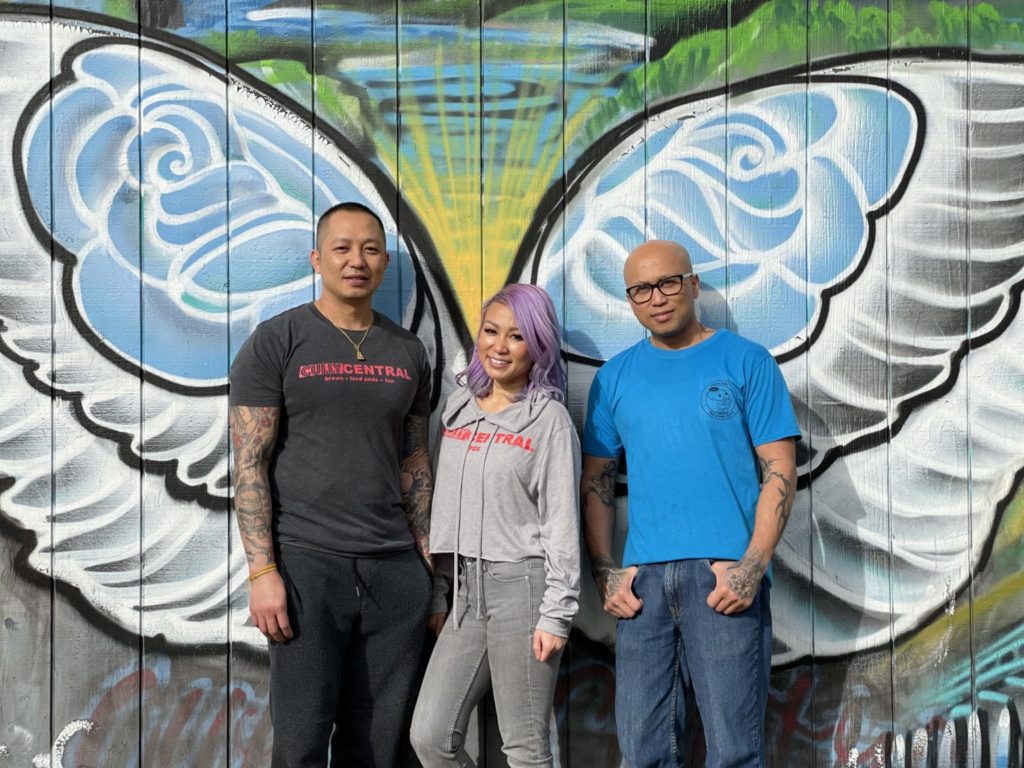 Slurping down garlicky noodles and crispy chicken skin at Cully Central today, you would never know a kitchen fire shut down the restaurant for three months last year. The spicy tang of papaya salad wafts from the kitchen; stringed lights glisten beside lampshades made from sticky rice basket cookers; the warmth from outdoor patio heaters pairs well with a glass of local brew. The atmosphere is warm and welcoming, like coming home to see family after a long time away. Owned and operated by Ae Sangasy and her brothers Narong Ittihrit and Nong Phimmoungkhoun, this neighborhood staple in Northeast Portland, serving Lao dishes passed down from family recipes, continues to persevere through a mountain of hurdles they've experienced since the pandemic hit.
In less than one year's time, Ae and her family were faced with a state-wide shutdown on top of a global pandemic, a grease fire followed by a wildfire, and back-to-back expenses without any immediate relief. Through it all, Ae and her brothers adapted to the constant uncertainty and put their trust in the Cully community to make it through. Side Yard opened their farm for Cully Central's beer cart, Khao Niew (Lao for "sticky rice"), during a local event. Neighbors stopped by to check in and offer their support.
Local coalitions and community partners also stepped up to invest in the restaurant's plight. Living Cully partners Native American Youth and Family Center (NAYA) and Habitat for Humanity connected with Republic Services, a national solid waste collection company, to draft a grant that would cover the cost of repairs. As one of Portland's most diverse neighborhoods, Living Cully has long invested in this community. Supporting small businesses like Cully Central, especially at a time where many have had to close their doors permanently, is both an anti-displacement measure and a step toward economic stability for the neighborhood.
"I want the community to know how much we love to support them because they rallied with us to survive and fundraise to stay afloat," Ae says. "Without them, I don't think we could be here."
During this tumultuous time, Ae and her brothers believed it was important to give back. They transformed their large patio area into a drive thru pickup for the Indigenous Marketplace vendors and donated food to Black Lives Matter protesters. They started a fundraising for another fire that occurred at Cully neighborhood to help support those that were affected. To this day, they never turn down anyone who reaches out for support; they are always willing to help when needs arise because they know when our community comes to together, the stronger we will become.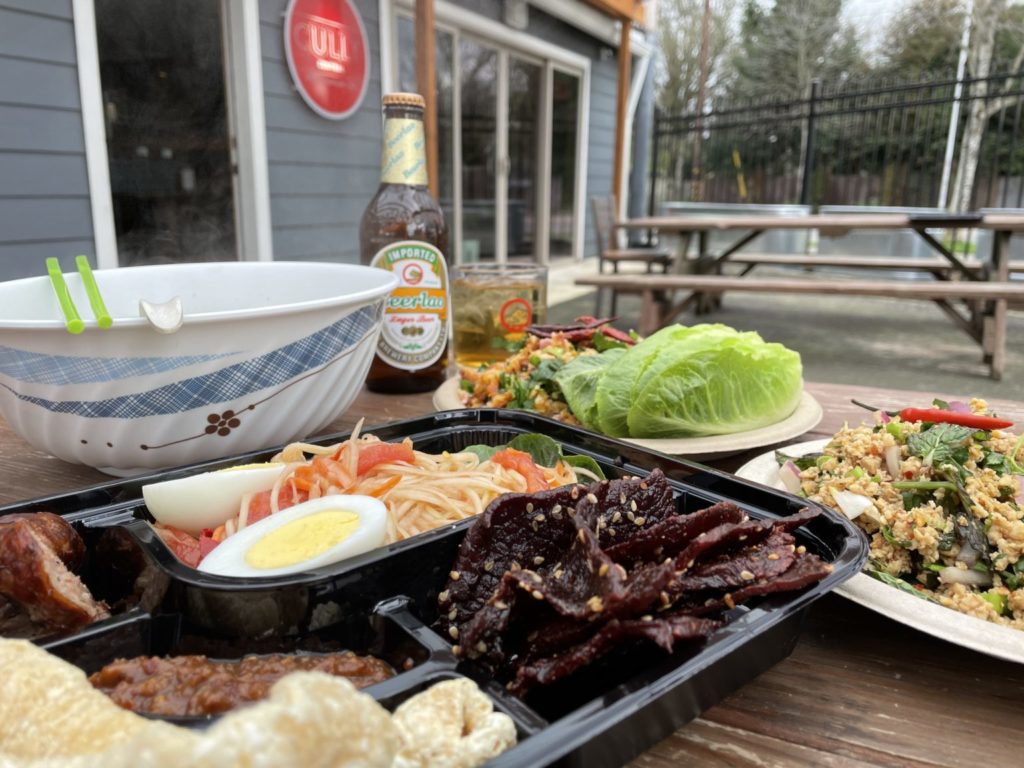 "I've been so blessed with so many people helping me get to where I am today," Ae says. "The least I can do is help others."
When Ae's family first opened Cully Central, they envisioned the neighborhood transforming into the next Alberta or Hawthorne district. Three years in, they've seen their investment's positive impact on the community. People often frequented the restaurant to get a taste of authentic Lao cuisine. It was a place for families to bring their kids, enjoy a comforting meal, and relax while their kids explored the play area. Regular patrons stopped by after work to sip on local craft beer and watch a game. The restaurant was becoming the neighborhood hangout they hoped it would be.
When Covid-19 decimated the dining scene, Ae and her brothers moved quickly to adapt to the changing landscape. They launched an online ordering system on their website, introduced readymade goods to their menu, increased their digital presence and more. Through it all, they never lost sight of their vision for the restaurant's future.
Ae says their perseverance began at a young age. When she was six-years-old, her family lived in a refugee camp in Thailand. They waited four years to be able to immigrate to the U.S.. When they arrived, it was a complete culture shock. They had to navigate a new language, new school system, new customs. During these years of transition, Ae and her family relied on each other to keep moving.
"One of the main reasons that we keep our food costs reasonable is because when we used to live in the refugee camp, we were so rationed with the amount of food we got," Ae says. "As a family of four, we were only allowed no more and sometimes less than what a family of four should be eating. Our water was also rationed the same way. If we wanted vegetables or herbs to go with our food, those were the things we had to buy on our own."
"My mom cooked for a living," she continues. "She would cook and sell stuff at the market to earn income to purchase items that were not given to us to eat. So cooking was my mom's only profession. She had no education and her whole family just cooked for a living and that is why opening a restaurant came to us so naturally."
After working a corporate job for nearly two decades, Ae set her sights on the food cart business. It was a risk, but worth the investment. She wanted to share her love of Lao cuisine with fellow Oregonians.
"In Asian culture, food is a bond," Ae says. "When you go into an Asian home, the first thing you hear is 'Have you eaten?' It's how we show love. Food is such a big part of our lives. The way we eat is a lot of family style, that sharing kind of feeling."
This immense sense of caring for one another and uplifting family is infused into every corner of Cully Central. Narong Ittihrit wakes up early every morning to make fresh rice noodles for the restaurant before heading into work. Nong Phimmoungkhoun creates deliciously complex flavors that transport you to the streets of Laos with every bite. Ae and her daughter highlight their love of Lao food and Portland culture on social media. Even their dining space has been touched by many helping hands. They hope Cully Central is a place to build memories to return to; that the kids exploring the play area go off to college and bring their friends back to a place they know and love. They know the ups and downs will be worth it and continue to be resilient in the face of unyielding change.
Their journey exemplifies what a connected family can accomplish in time–with a clear dream, unwavering passion, and steadfast community support.
Follow Cully Central on Facebook and Instagram at @CullyCentral and on TikTok at @khaoniewpdx. To order from their extensive menu of fresh food, packaged goods and more, visit www.khaoniewlaostreetfood.com.