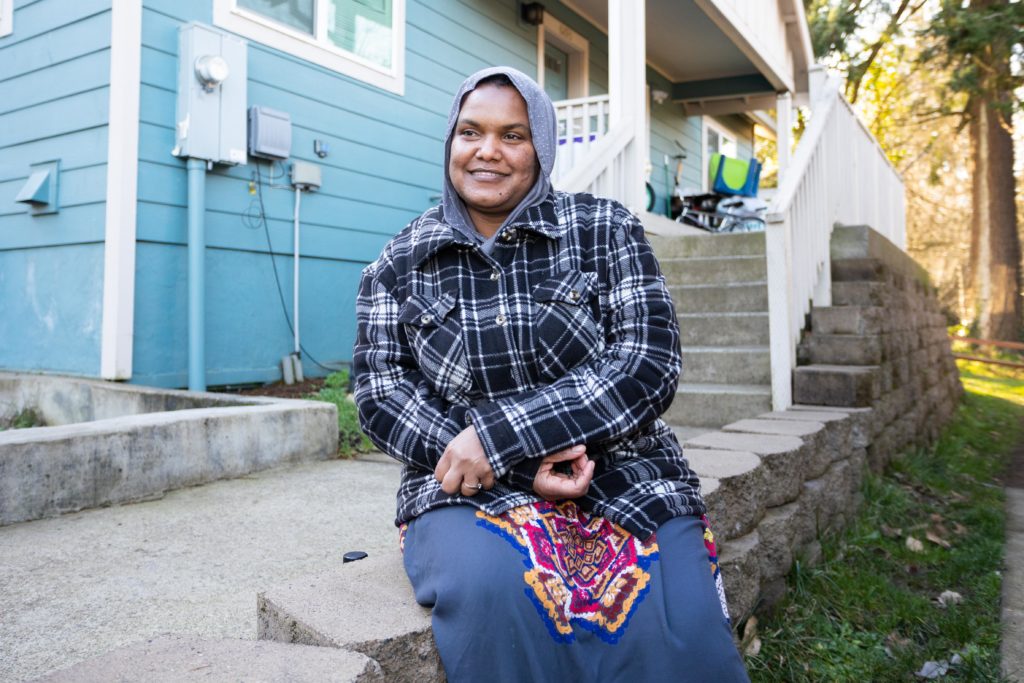 If you stepped into Leila's house in 2013, she would have welcomed you into a bright and open home that had enough room to house her whole family. The house provided shelter and a safe place for her family to grow in, but what her family lacked was stability and peace of mind.
"The house that I was living in was beautiful. It had like four bedrooms, it was really nice!" Leila says. "But it wasn't mine."
Leila feared that if her income were to decrease, she would have to choose between paying for housing or other necessities such as food for her children. Although she had a house, she never truly felt at home.
She desired the independence and benefits of owning her own house, such as building long-term equity. Leila wanted to provide her children with stability, so she set out to build just that.
Thinking to herself, "Change might come," Leila began searching for affordable homeownership opportunities and was referred to Habitat for Humanity in 2012 by Home Forward. After reaching out, and getting approved for a home, Leila built her house alongside volunteers and future neighbors and became one of seven first-time homeowners in a tight-knit community in SW Portland.
Although Leila regards herself as fortunate to have had the opportunity to purchase an affordable home, she invested time and effort into building and working alongside many volunteers to create her forever home.
Originally from Ethiopia, Leila's family was excited but worried about what the ever-increasing cost of living in Portland might mean for her. Leila enjoys sharing her experience of going through the Habitat program with others in the hopes that they find a solution for affordable homeownership. Even though she lived her own story, she is surprised by how much adversity she has overcome.
"Every time I see myself, I say, 'I did it again.' I see what I achieved, where I am right now," she says. "I value myself and I'm proud of myself."
After moving in, Leila's family celebrated the bittersweet moment of her oldest daughter's graduation after being accepted into an art program in San Fransisco, California. Although it was hard for her to watch her eldest grow up and leave for college, she is happy to have a place where her daughter can come back anytime she wants to be with a community of families that she grew up with.
This home gives Leila and her family the ability to set down roots together. Today, she works with a health care service group and values what she has been able to achieve as a single parent for her children, as well as the many hands that it took to build her house in SW Portland.
Leila is thankful to Habitat staff and volunteers who worked alongside her on her journey to becoming a Habitat homeowner; she is especially grateful to the life-long relationships she formed with Habitat Oregon Director of Programs, Reianna, and Americorps Crew Lead, Amethy.