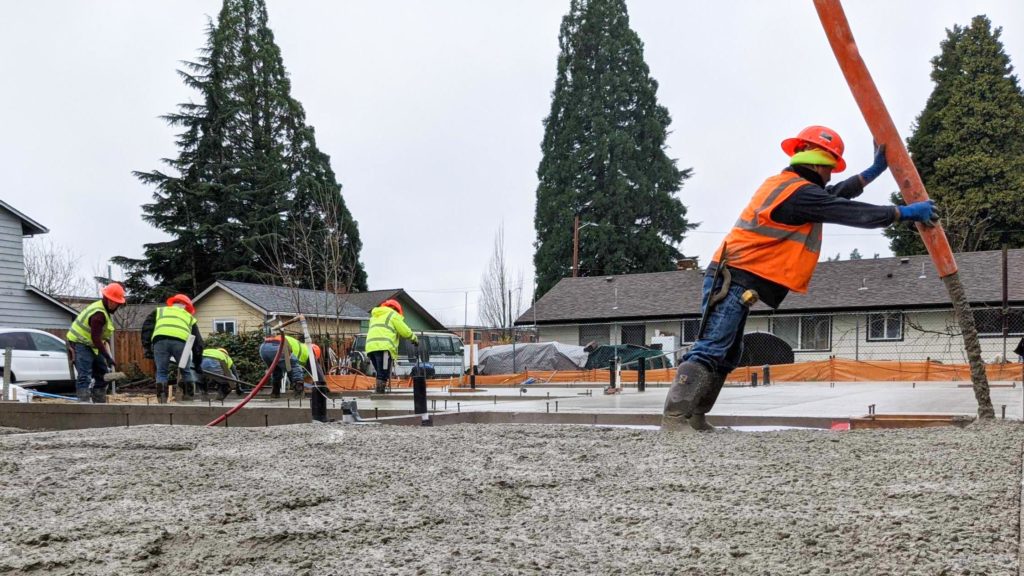 The past year was full of achievements due to the generous support of our supporters. Amid Winter weather in this new year, we continue building communities in Southeast Portland, Southeast Beaverton, Northeast Portland, North Portland along with two new communities: eight new homes near TV Highway in Southeast Hillsboro and forty new homes in Southeast Portland. We finished the year off strong, and start off 2022 with even greater plans.
Denney Gardens | Southeast Beaverton
At Habitat's 16-home community in Southeast Beaverton, our crews are finishing the last details on the last triplex and duplex. On one duplex, we installed pipes, wires, and ducts for the mechanical, electrical, and plumbing work. Construction crews will begin to install insulation and drywall throughout the building, which we plan to complete by spring of this year. Other adjustments and final touches will be completed on one triplex by the end of January.
Kenton Commons | North Portland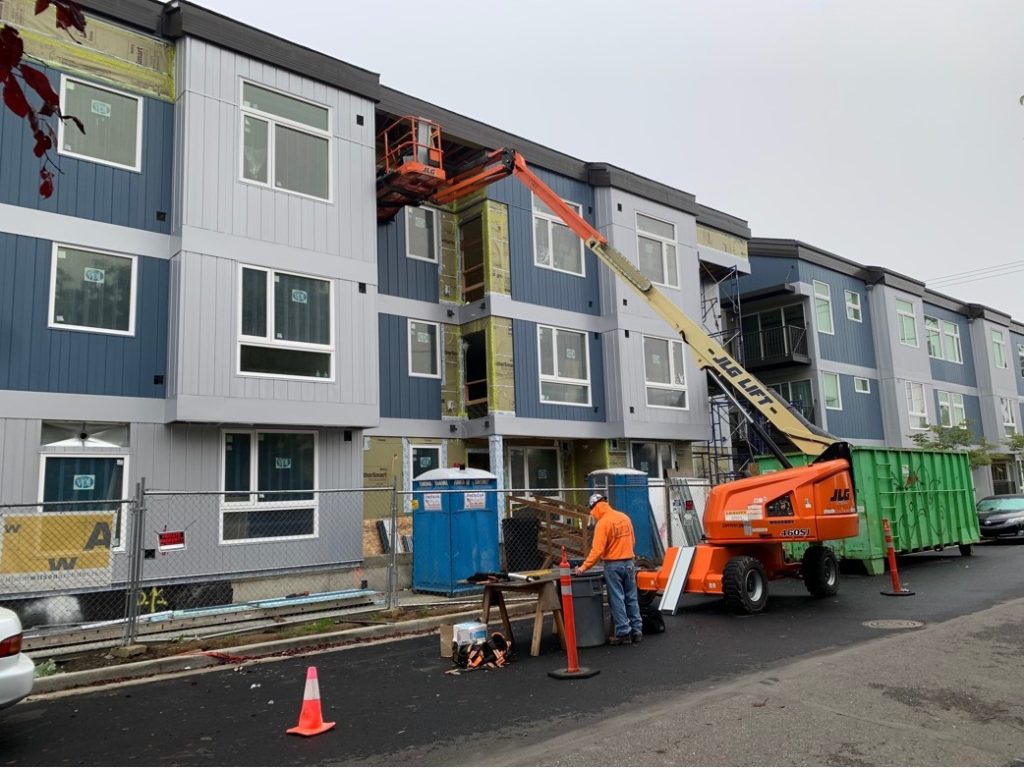 By next spring, we will complete 18 more homes in what will make up the rest of the 30-home community in North Portland. In the next month, we plan on finishing flooring, cabinets, painting, countertops, backsplashes, landscaping, external siding, balcony & handrails. Final inspections will be done on mechanical, electrical, and plumbing after the final installation of light fixtures, plumbing fixtures, and heating systems throughout the community. 
Crews will finish landscape work around the community and install pavers. This will be built around the communities, and between the two buildings, connecting them with a beautiful paver pattern. We will also construct a wooden fence around the community.
Cherry Blossom | Southeast Portland
At Habitat's 31-home community in Southeast Portland, we are currently at different phases between our four four-plexes, five five-plexes, and one single-family home. Our crews are currently framing, completing mechanical work, setting foundation, completing dry wall, and doing some touch-ups on newly complete homes.

Foster-Powell | Southeast Portland
We are beginning to ramp up construction on a 40-home community near Powell Butte Nature Park. Last month, we poured concrete foundations, which opens the way for framing and underground plumbing work this January. Crews also finished new city sidewalks in front of Foster road and established the entrance to what will be one of the largest Habitat communities in the region.  
Alder Commons | Southeast Hillsboro
We recently broke ground on our latest affordable eight-home community in Southeast Hillsboro. In the past couple of months, we installed utilities underground and poured slab-on-grade foundations (also known as a concrete foundation), which will form the base layer on which the homes will be built. Our construction crews have begun framing and in time, these structures will become stable homes for first-time homebuyers.
Do you hear the drilling of power tools and hammering of nails? We're building big this year and all of this is only possible with your support. With your help, we can continue investing locally by partnering with more Oregonians to build safe, stable and affordable homes to call their own.