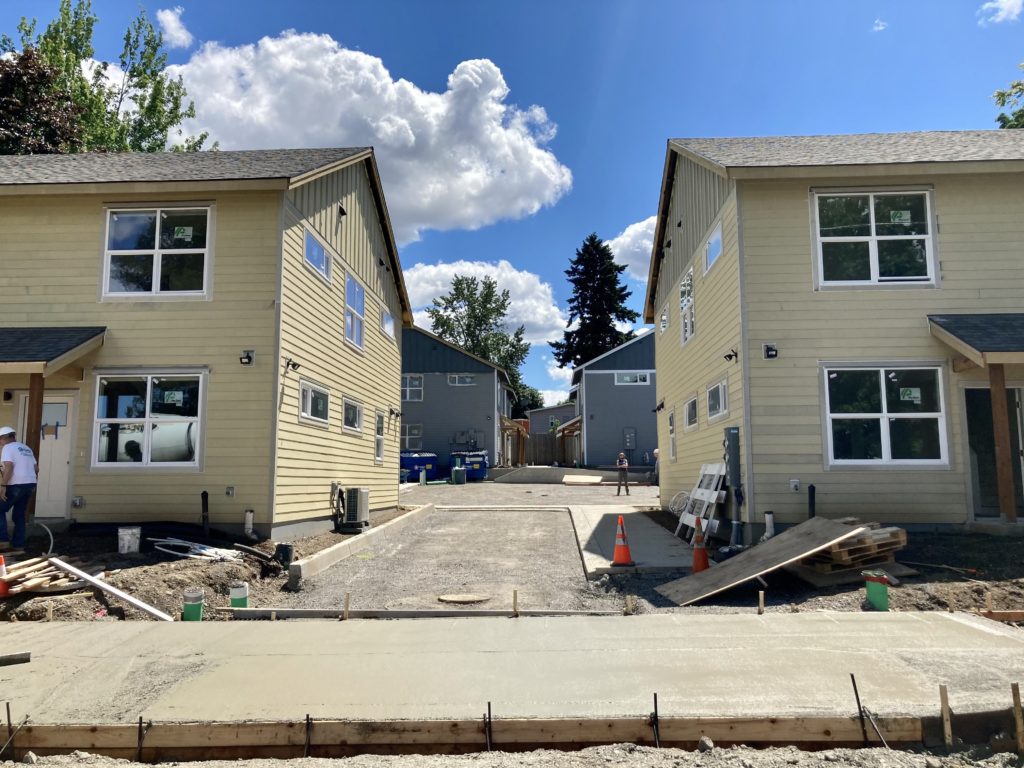 With Summer season in full bloom and local recovery from the global pandemic peaking on the horizon, our construction crews ramp up their efforts to build more affordable homes across Southwest Portland and Southeast Beaverton. This past month, foundations have been laid, concrete has been poured, and frames have been raised. Here is the progress taking shape across our bustling build sites in the Portland region.
SOUTHEAST PORTLAND
Foster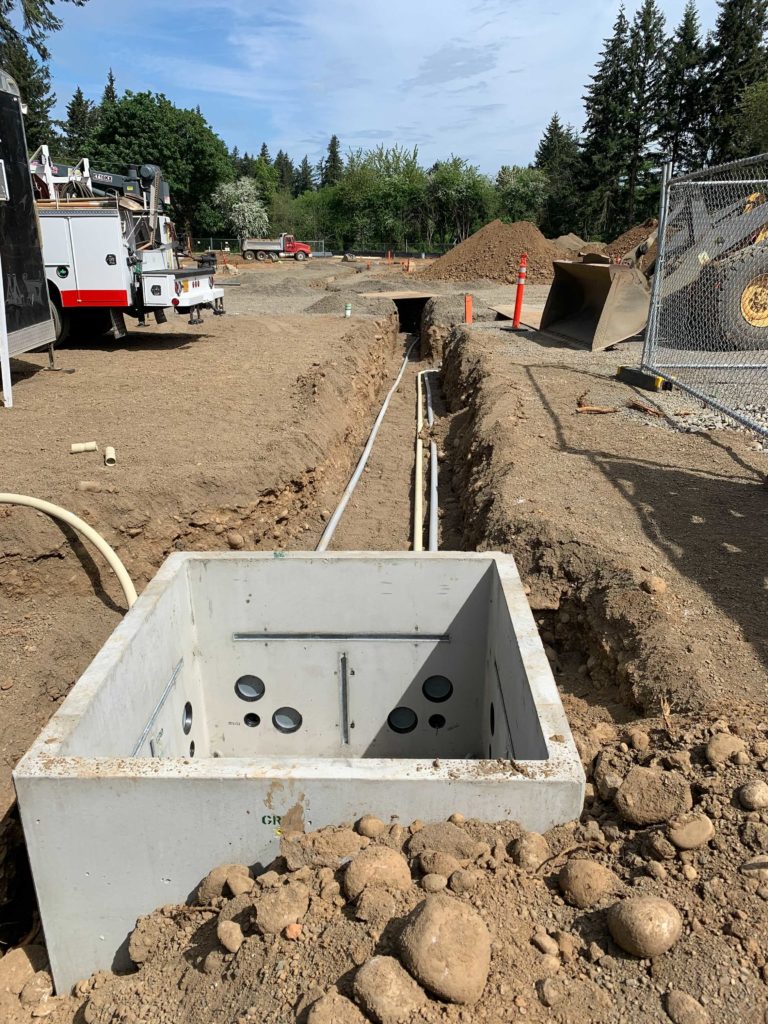 Just a short drive away from Interstate 205, 40 homes are aking shape in the Powellhurst Gilbert neighborhood of SE Portland. In just a few months, this build site has seen much progress with excavations to install PGE and Comcast vaults and conduits underground. Crews will continue to install other utilities, such as water and sewer storm pipes, to transform these structures into homes. Work also includes the installations of water fossettes inside each unit, and main water lines that branch across each home.
After streetlight electric conduits have been installed, compact dirt will be used to elevate the site in what's known as "rough grading."—this will help build up theground structure from high to low. Above ground, boulders that crews found while excavating will be repositioned around the site to create a natural landscape. Three areas will be made with the hopes of creating an ecosystem shared between nature and our homeowner community.
Cherry Blossom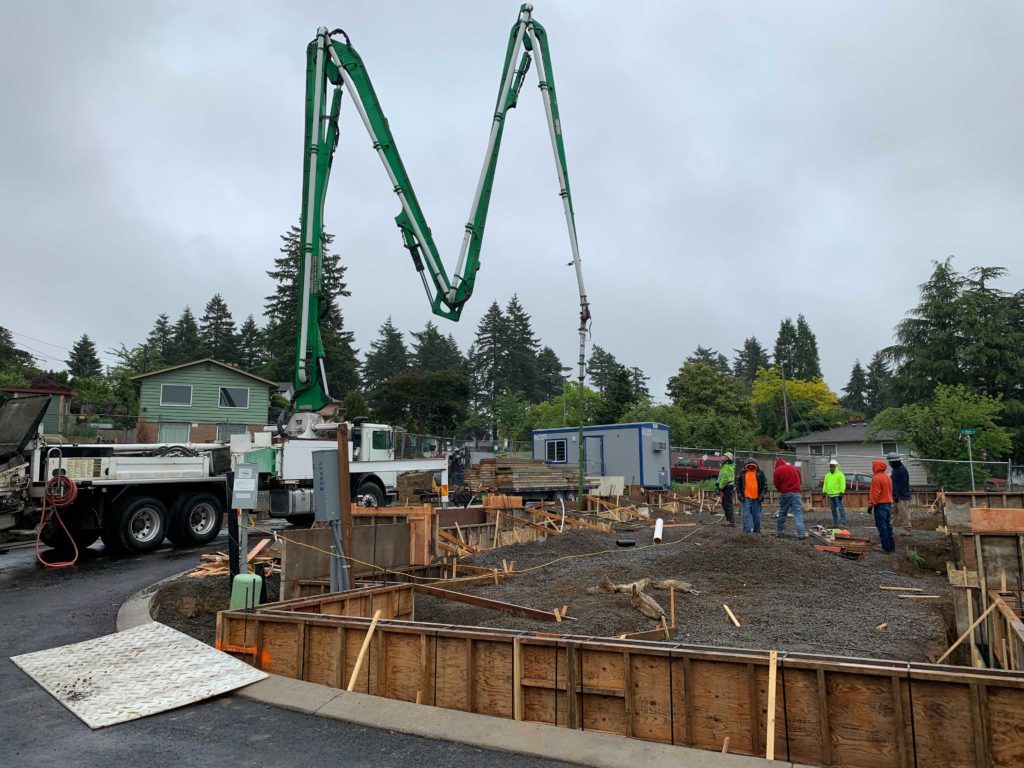 In the past month, plumbing crews have been working on underground installations—including storm drain, sewer, and water lines. Electrical crews have worked in two of the three structures. We've also laid foundations for two homes.
Looking forward to the next month, we plan to pour four foundations, known as placing slab-on-grade, on four structures. A benefit of executing slab-on-grade is that it provides a strong and sturdy foundation to the home while allowing the building to be less vulnerable to pests. Next, the installation of underground plumbing will begin on four of our homes. Framing will also be underway on two 4-plex homes.
"We are delighted with the progress and are having success with our schedule," Tonino, Sr. Project Manager says. "We are working on the finer details, which is normal. But, overall, we are successful. Our next big goal is to finish framing."
BEAVERTON
Denney Gardens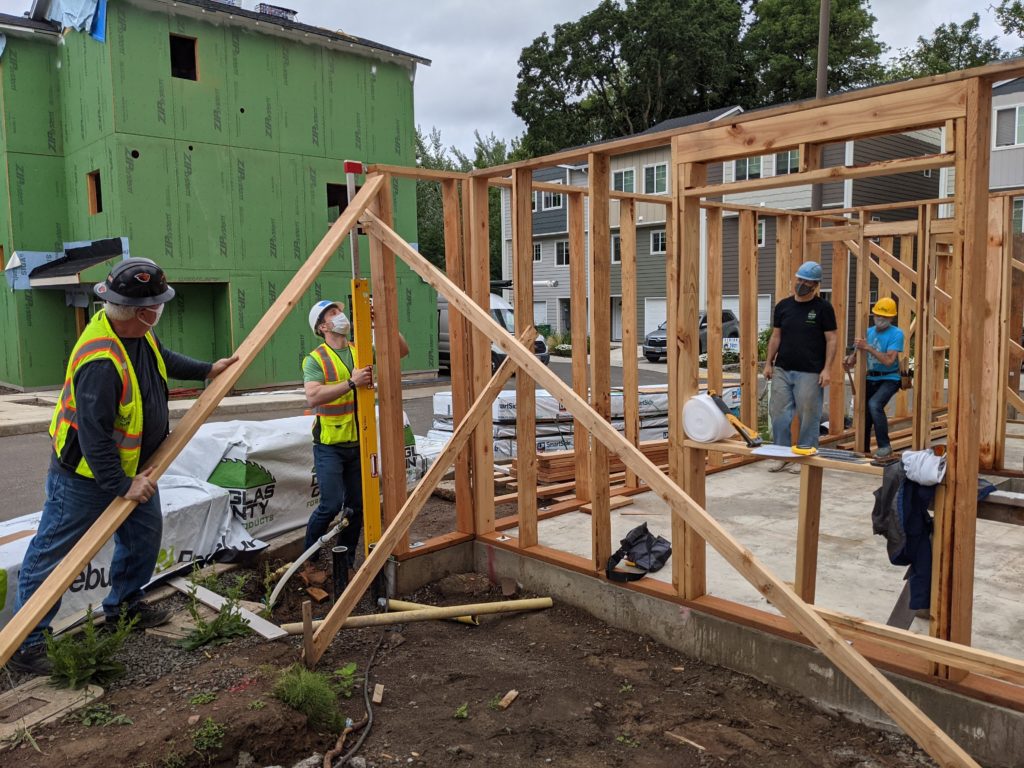 We've made significant progress at Denney Gardens in SE Beaverton; wrapping up the finishing touches on three homes in this 16-home community.
After a final inspection, touch-ups and final punch list items can begin to make way for Habitat homebuyers to start moving in. On another triplex at Denney Gardens, roofing has begun and will make progress through July. Inside these homes, mechanical, electrical, and plumbing crews are finishing up their installations as well.
We've finished pouring the concrete foundation for the last two homes at Denney Gardens, and recently started framing, which will continue for the next few months.
NORTHEAST PORTLAND:
Simpson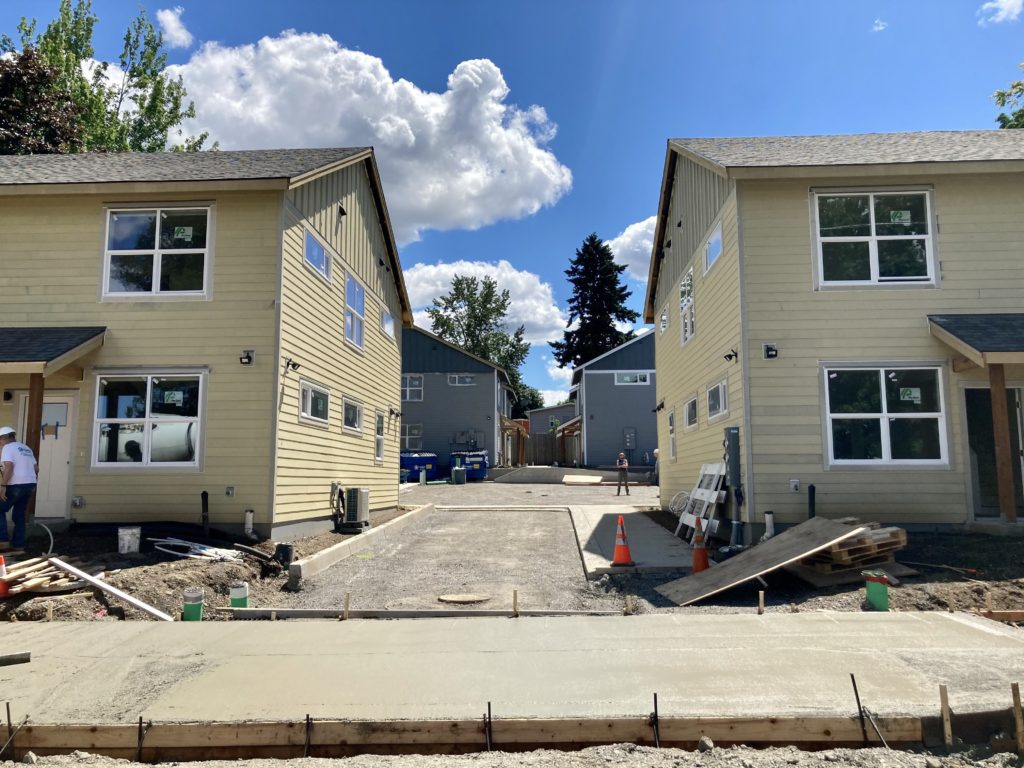 Simpson, located in NE Portland Cully neighborhood, has been taking shape externally and internally. Crews have installed hard flooring and cabinets in some units in this 10-home community, made up of two triplexes and two duplexes. Painting crews have applied paint of two buildings, while mechanical, electrical, and plumbing crews have finished "trimming out"; installing sinks, toilets, and the like.
All four buildings are nearing completion and are in their last phases. Mechanical, electrical, and plumbing inspections are scheduled to take place. Finished trim will be completed, with cabinets, doors, and bath hardware soon to be installed. On the exterior, crews are working on planting a landscape, trees, shrubs, and long grass. They are also erecting wooden fences around the yards and complex.
NORTH PORTLAND:
Kilpatrick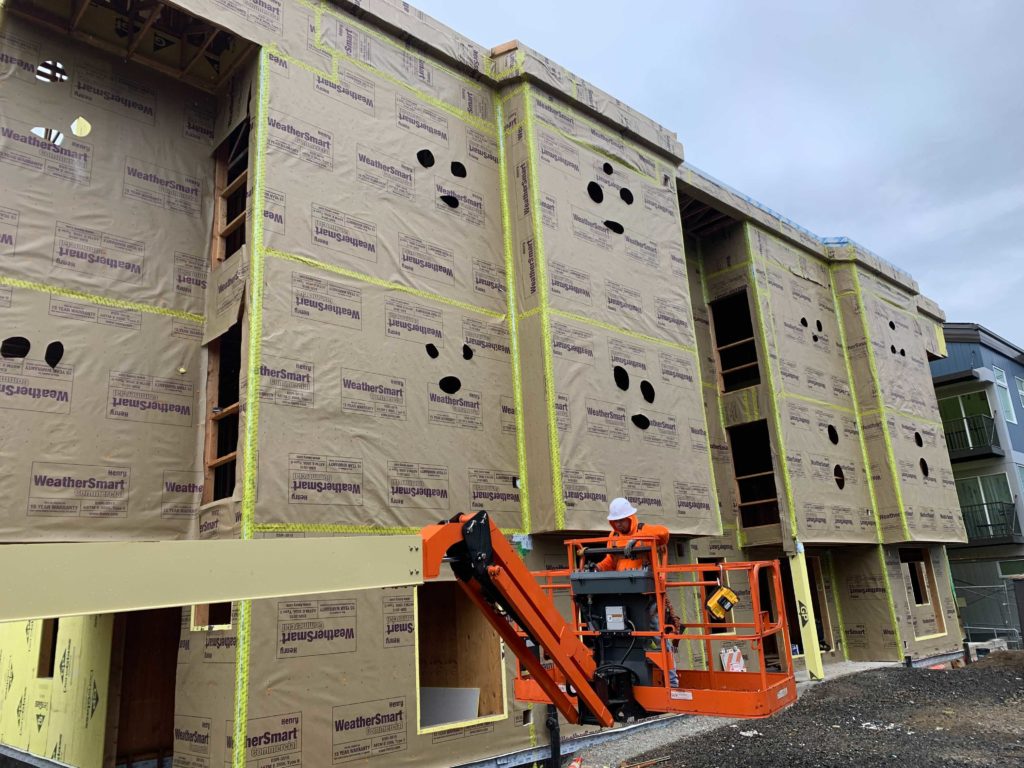 We are nearing completion for framing the second phase: 18 homes to complete this 30-home community. Roofing is currently underway with shingles being installed. We are also wrapping a weather-resistant barrier around the house; making the building waterproof to protect the structure from Oregon's weather. Next, we'll begin the mechanical rough-in, which includes the installation of ducting.
Rough-in for plumbing, which includes the installation of water supply lines, drainpipes, and the like continue. Soon, the installation of the fire sprinkler system will also be complete.
As the sun shines bright and our construction crews transform these build sites into beautiful homes, we admire the work, effort, and support that our community has given every step of the way. We thank our construction crews for the extraordinary work in building long-lasting communities. We also thank our partners and supporters for helping us create these communities.