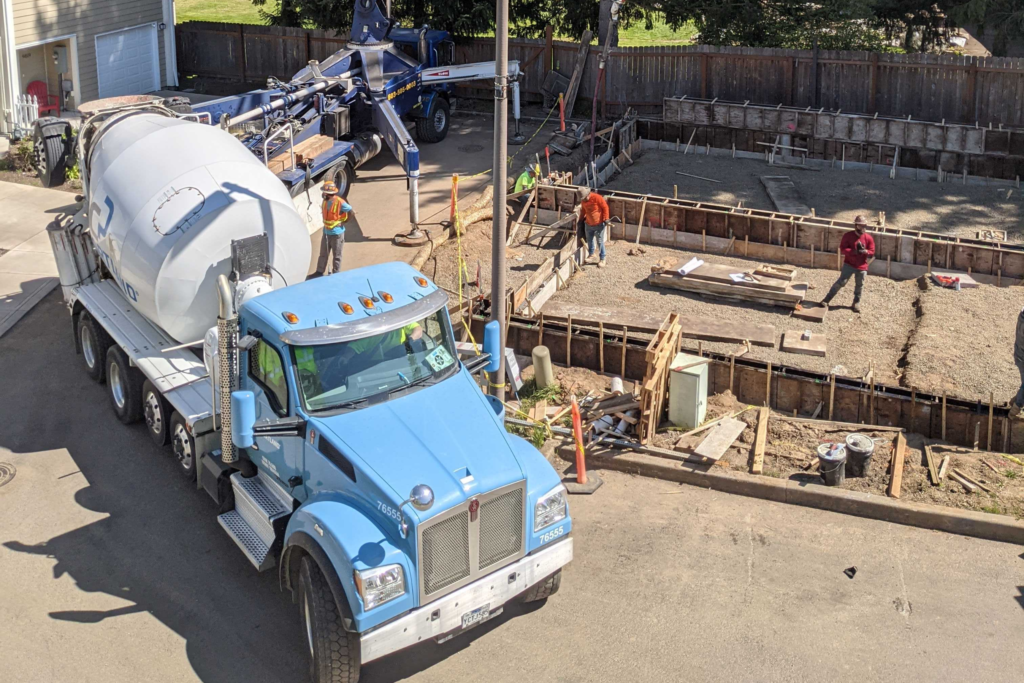 Flowers, leaves, and affordable housing are blossoming across the Portland region. We are building more affordable homes with families and individuals who are excited to soon purchase a place to call their own. Despite the pandemic, our construction crews have continued to make progress.
SOUTHEAST PORTLAND
Foster:
The face of one of our newest projects for affordable homes, located in SE Portland's Powellhurst-Gilbert neighborhood, will soon become the center for a 40-home community. Over the past month we've cleared trees, brush, grass and weeds in order to make way for the foundation. In an effort to save some of the trees and large boulders our excavators find while digging the utility trenches, we plan to reuse them and create a natural play park for future homeowners to enjoy. On site, we are installing the storm and sanitary sewer systems, and plan to install the underground electrical service and water system next.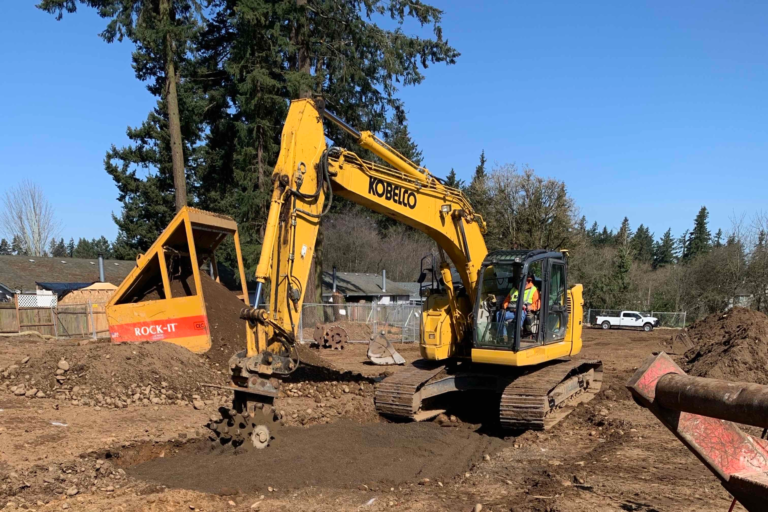 Cherry Blossom:
In the last month, we have completed site development at our 31-unit home community by paving the private drive and preparing to pour the concrete foundations. Concrete foundation walls have been poured on 4 of the 8 buildings. We have also begun installing underground sanitary sewer and water service that will go underneath the foundation and into the building. In the coming month, we will pour the remaining foundations and begin to install all the underground plumbing and electrical that goes beneath the concrete slab.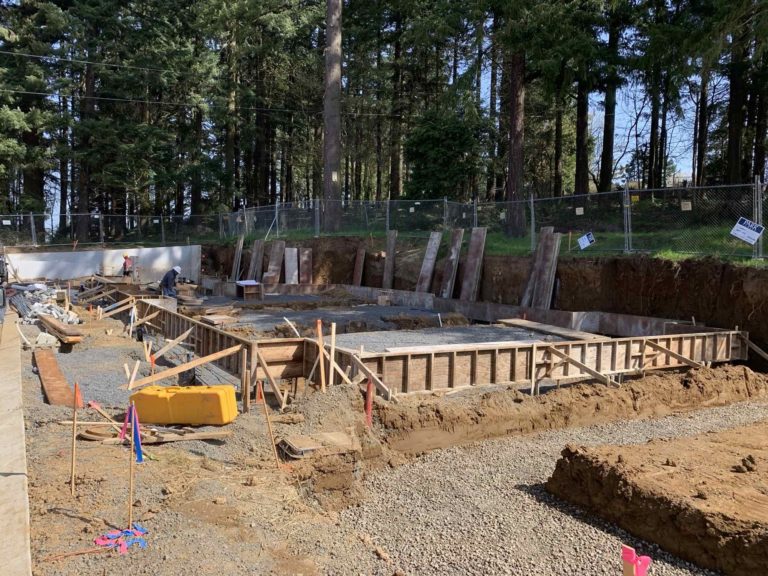 SOUTHEAST BEAVERTON
We are working to finish our last three structures (two triplexes and a duplex) at our Denney Gardens site in Beaverton, which will complete our 16-home community. One triplex is getting the finishing touches completed: plumbing and electrical fixtures, appliances, and hardware. Soon, we will begin installing carpet, leaving just a small list of items left to complete before new homebuyers can start moving in. Another triplex is nearing completion of framing and is moving into the rough-in phase for mechanical, electrical, and plumbing. The final building, a duplex, is almost done with the foundation work with under-slab insulation (a rigid foam insulation that diminishes the heat loss from the home into the ground) and utility installation, which will begin soon. We are excited to have our concrete crews begin pouring flatwork in a few weeks, quickly followed by framers.
Northeast Portland:
At our Simpson site located within the Cully neighborhood, construction on a 10-home community, consisting of two triplexes and two duplexes, continues in strides; plumbing, electrical and mechanical contractors are installing their finishes on the first duplex. Soon it will be ready for hardware and final punch list items such as fixing paint scratches or dents made during construction. Our two triplexes are done with drywall and are currently getting interior paint. Some finish carpentry is also underway including: cabinets, trim and door installations. The final duplex has also been insulated.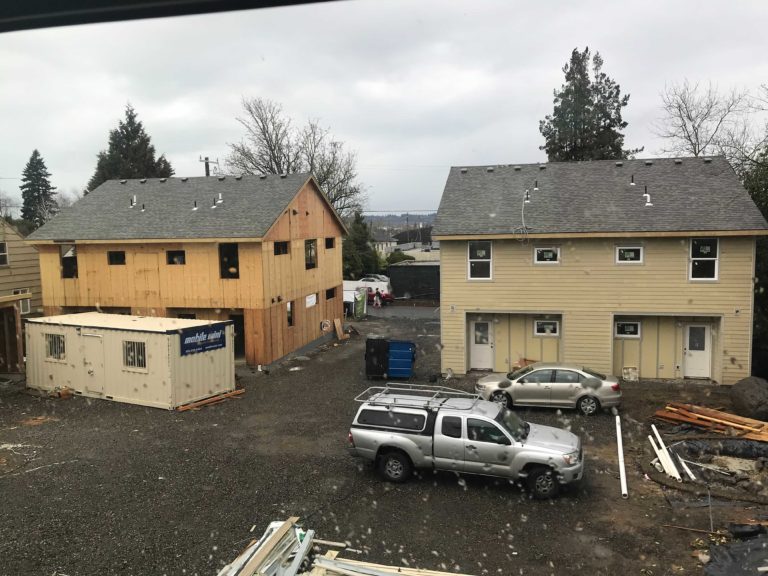 North Portland:
In Portland's Kenton Neighborhood, our first construction phase, which includes the development of 12 homes, is nearing completion. To combat marginalization and displacement, Habitat has partnered with the City of Portland to enact the Preference Policy, which prioritizes homebuyers with generational ties to the surrounding area. Nearly all twelve homeowners have signed their mortgage paperwork and have begun moving in, with many of the remaining homes to be occupied later this month.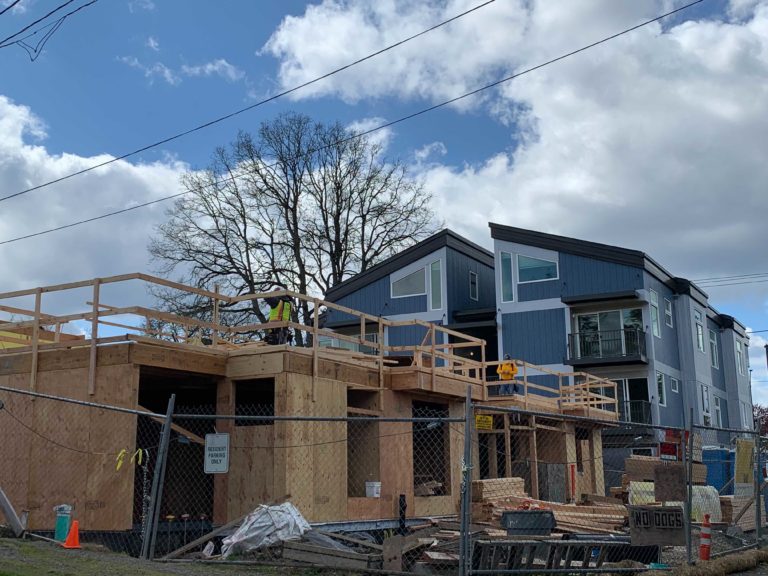 Our second phase, made up of 18 homes, is advancing steadily. Our crews are making quick progress and in are in the middle of framing up the walls on the 3rd floor. Mechanical, electrical, and plumbing contractors will begin their work in the coming weeks, including the installation of the fire sprinkler and alarm system.
We thank our construction crews who have continued their work through the pandemic and thank our generous supporters. Your contribution to our work allows even more people to have hope during these times. Soon, dozens of families and individuals will be able to purchase a permanently affordable home.