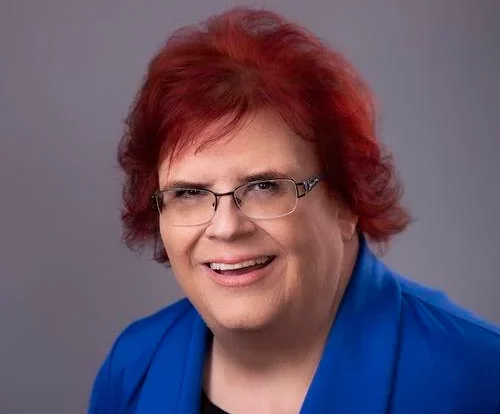 Claire Hall (she/her) came out as transgender in 2018, at a time when transgender people faced — and continue to face — misunderstandings and a lack of acceptance in the wider community. But she counts herself lucky in many ways, and one in particular.
"I was already a homeowner," she said.
A long-time housing advocate as a Lincoln County Commissioner, Hall currently serves as the chair of the Oregon Housing Stability Council, a policy advisory group to the Oregon Housing and Community Services. She also serves on the board of Habitat's partner Proud Ground, the Pacific Northwest's largest Community Land Trust, which creates affordable homeownership across Multnomah, Clackamas, Washington, Clark, and Lincoln counties.
Being a homeowner before she transitioned meant Hall didn't experience the discrimination or challenges experienced by many LGBTQ+ people when seeking to secure a stable home. After disability and race, complaints based on sex, including gender identification and sexual orientation, are the third most frequent basis for housing discrimination reported by the National Fair Housing Alliance.
A national survey of LGBTQ+ people conducted by Realtor.com, in conjunction with the LGBTQ+ Real Estate Alliance, found that 27% of people who identify as transgender and non-binary feel that they have been discriminated against when applying for a lease or buying a home. Of those who had been discriminated against, 59% felt it was because of their gender identity. About 40% of transgender people reported they have decided not to rent or buy a home they loved because they didn't feel that the neighborhood or area would be accepting of them.
It was only two years ago, in 2021, that the U.S Department of Housing and Urban Development, or HUD, announced it would begin enforcing the Fair Housing Act in cases of discrimination based on people's gender identity or sexuality
The strongest undercurrent against housing stability is affordability. Numerous studies show that people who identify as LGBTQ+ face higher rates of poverty and homelessness than the non-LGBTQ+ community and face greater discrimination and obstacles to gainful employment, which affect financial stability and, consequently, housing options. According to the National Center for Transgender Equality, one in ten transgender people in the United States report being evicted from their homes because of their gender identity. And of our nation's 1.6 million homeless youth, studies indicate that between 20% and 40% identify as LGBTQ+.
Habitat spoke with Hall about how these issues are connected and contribute to the housing vulnerability of people who identify as LGBTQ+.
Habitat: You noted that when you became your authentic self, it was in a world that didn't accept most trans people. And that was five years ago. Today, we're seeing a lot more anti-LGBTQ+ policies coming forward. What do you think is the impact of these policies, and how does that carry through to housing and homeownership issues?
Claire Hall: I've gotten to know probably three dozen transgender people in person, hundreds more are friends on my Facebook list. And for all but a handful of them, it just seems like survival is their primary focus, day to day. Unfortunately, for a lot of people, probably the majority of them, being trans leads to rejection by family, whether by spouses, parents, siblings, or all of the above. It leads to — in too many cases — the loss of employment. And the same with employment as in housing: It's rarely blatant. It's subtle, but when you see the pattern repeating itself, it's not hard to come to some basic conclusions.
Finding decent, safe, stable, affordable housing was a difficult task five years ago for anyone, and now it is that much harder. And folks who are marginalized for any reason, whether it be by poverty, by skin color, by sexual orientation, gender identity, religion — that just seems to put a whole other level of difficulty on basic life things, like securing and maintaining housing. We went decades without any significant public investment in creating housing, and when you've got so many people chasing such a narrow pool, it almost becomes like a lottery: Some people are entering with half a ticket, while others have dozens of tickets.
Habitat: You were saying you hear stories about people having trouble with housing because of their gender or sexual orientation. In your position for multiple reasons, I'm sure you hear about it at the rural level, the state level, and on the personal level.
Hall: All of those levels. You know, every story is different. But unfortunately, at their roots, every story seems to be the same: Somebody's landlord for a couple of years would accept late rent payments that were a few days late without any problem. And all of a sudden, it's "Nope, this is a problem. We're going to give you your 30-day notice."
Habitat: The National LGBTQ+ Real Estate Alliance released a report this May noting that the majority (70%) of its members report that anti LGBTQ+ policies negatively impact the financial stability of people in that community. Meanwhile, the top reason people don't buy a home is because they can't afford one. Do you see that playing out here in Oregon and Portland?
Hall: The short answer – yes. I follow on Facebook a young woman in her early 20s, who just seems to be going from one short-term living situation to another. A couple of weeks of couch surfing, a few days at an Airbnb. And when the barriers for entry just into the rental housing market are so high with first and last deposits, and all kinds of rules, it makes it a difficult task for folks. Again, I hear and see stories of people dealing with job discrimination and job loss. It's (undercutting) them before the race is even started. 
Habitat: What are the dynamics between urban and rural housing needs for the LGBTQ+ community?
Hall: It's an issue in both places, that too many people are chasing too few apartments, too many people are priced out of the market. Newport, for example, basically has two property management firms, and if you get on the "Do not rent" list of either or both, you're just totally shut out of the market. You might find somebody here and there who's renting a room above their garage, but it doesn't take very many miscues or moments of bad fortune to just essentially get you blackballed from affordable housing here.
Habitat: What are the priorities for the Oregon Housing Stability Council or the Oregon Housing and Community Services, to help increase homeownership opportunities for LGBTQ+?
Hall: It hasn't been a specific area of policy interest yet. This is another concern I have: While I'm glad that there's finally so much focus on housing needs and the needs of the unhoused population, (I worry) that folks with extra needs, such as the LGBTQ community, and the disabled community, are just going to get lost in the shuffle.
I think, you know, with the depth and immediacy of the need, we're operating mainly on the "rising tide lifts all boats" theory. As long as we increase the supply, and the opportunities for everyone, then hopefully, LGBTQ people won't be left behind.
Habitat for Humanity Pride Community Days
Habitat recognizes our part in ending housing discrimination and creating opportunities for all to have a stable and healthy place to call home. Learn more by coming by our table during the Portland Pride Festival, July 15-16.
Habitat has also organized a series of Pride community events to offer safer, intentional, and fun spaces for all those who identify as LGBTQ+ to come together and build community — all while supporting the mission of Habitat for Humanity. We believe in the power of intentional community building and strongly recommend volunteers identify as LGBTQ+, or who care for the LGBTQ+ community at large, to participate in our Pride events.
Pride Construction Build
Join a volunteer day on a build site where people of similar lived experiences can come together to learn new skills, assist with building homes, and create a supportive and empowering community. No construction experience is required to participate on a build site!
Pride Furniture Build
Meet us at the ReStore Warehouse in NE Portland to assemble furniture that can be purchased at an affordable price from our three ReStores and online shop. This is a fantastic opportunity to work within a team of 3-4. All funds generated from the ReStores support Habitat for Humanity Portland Region's homebuilding and home repair programs.
Pride ReStore Day
Find treasures, assemble furniture, or create a beautiful shelf display at the ReStore! There are many tasks available for a wide range of interests and abilities. Youth volunteers who are 14 and older are welcome to volunteer at this event.
If you are interested in volunteering at a Pride volunteer event, please contact the Volunteer Programs Team at volunteer@habitatportlandregion.org. Events will be available for registration in advance on our volunteer portal: volunteer.habitatportlandregion.org. Due to high demand, these slots may be limited.