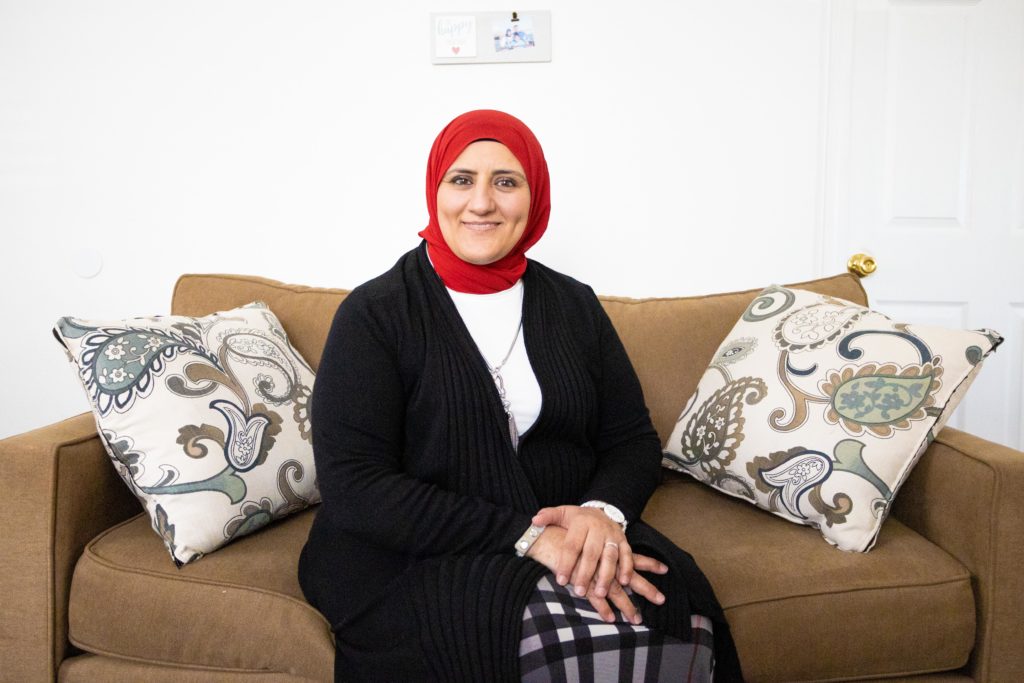 If you asked anyone in her neighborhood what type of woman Eman is, they would quickly praise her charming character, top-notch baking skills, and devotion to inspiring others through her service. Despite battling cancer and moving away from her home country of Kuwait, Eman–a Habitat homeowner living in Hillsboro—still finds the time and energy to serve her community. Eman is a food bank ambassador where she volunteers every month to distribute food and serve as a voice for including more culturally specific items in the food bank. She treasures hearing other people's stories and inspiring others through her journey to homeownership.
Through her determination and serving spirit, Eman saw an opportunity to partner with Habitat for Humanity to build and purchase her own affordable home. Today, her house and story shine brighter than ever, and she has settled in well into a community where she created her own life while inspiring others with lessons of gratitude and persistence.
Before coming to America, Eman was born and raised in Kuwait and grew up in a home that her mother owned. Once she got older and married her husband, she dreamed of purchasing a home of her very own. However, there are homeownership restrictions for non-Kuwait citizens. Even though she was born and raised in Kuwait, the country's, nationality law discriminates against women, preventing them from passing on their nationality to their children and spouses on an equal basis with men. When Eman faced this obstacle, she realized that her only option was to rent as her husband was not born in Kuwait and neither was her own father.
In addition to housing discrimination, Eman faced barriers to education and inequitable pay. Shortly after the birth of their second son, Eman's husband was diagnosed with esophageal cancer. They faced discrimination once again, as non-Kuwait citizens pay two to three times the cost of medical care.
Eman and her family received clearance to immigrate to the U.S. to escape discrimination and seek medical help. Moving to America would also mean a better future for their kids, with more opportunities for education. Sadly, four months before moving to the U.S in 2015, Eman's husband passed away. Eman credits her children for giving her the strength she needed to endure this challenging time.
"I took the strength from them to push me, to give me motivation. Because sometimes it was hard. You feel like you don't have anything."
She now faced a new country as a single mother in Beaverton. Eman rented a small, overcrowded apartment space that she shared with her two children and her father, but dreamed of having a larger, more affordable home.
One day, as she scrolled through a Facebook community page that she visited on occasion, she came across a post that had information on qualifying and applying for a Habitat for Humanity home in Hillsboro.
"Because of this post on Facebook, I was thinking okay, maybe this is a good idea. The rent for me was almost half of my salary, so I couldn't afford it."
Although she felt that she might not qualify for the program, she applied for a Habitat home anyway and to her surprise, her family was accepted into the program. But it was not without its difficulties. As Eman learned of this great news, she also discovered that she had breast cancer and now faced three surgeries and chemotherapy. Despite this tremendous hardship, Eman continued to focus her energy on buying a home and taking care of her family.
"I was worried about everything. How to raise my kids, how to pay my rent, how to pay my medical bills, how to pay for our food, everything. So, I felt like this home is the hope. Tomorrow is a better day. There is a ray of light. There is something."
Through Habitat, Eman made lifelong friends while developing new skills in trade work that she never knew she was capable of doing. She had never held a hammer or drill, so the prospect of learning new skills was a new and exciting one.
"I felt like part of the family. I didn't feel like, 'Oh, she is an Arabic speaker. She is from a different country.' I felt welcomed, you know?" said Eman. "Everybody was helping me, and they were so nice to me. This is why I feel this is the best program."
Eman's new home is more than just a shelter — it represents emotional and financial stability, ownership over her life, and all the adversity her family overcame.
She has created an oasis in her own home, nestled inside a close-knit community in Hillsboro. This spring, Eman decorated the living room with beautiful baked goods, a tradition for the holiday Eid al-Fitr. Outside, she built her fenced patio, where she enjoys summer nights over s'mores with her children. Today, she is experiencing the privacy, stability, and peace of mind that she had always dreamed about.
"The most proud moment of my life was when I received the key to my home. I felt like I achieved it, I deserved this moment. I felt really proud of myself. I can feel safe, I can feel secure. I am really happy here."
We are also very grateful to Eman for allowing us to be part of her inspiring journey to homeownership. We wish you many years of stability and happiness in your forever home! To learn more about Eman, please watch this video from The Immigrant Story's Live Storytelling event: