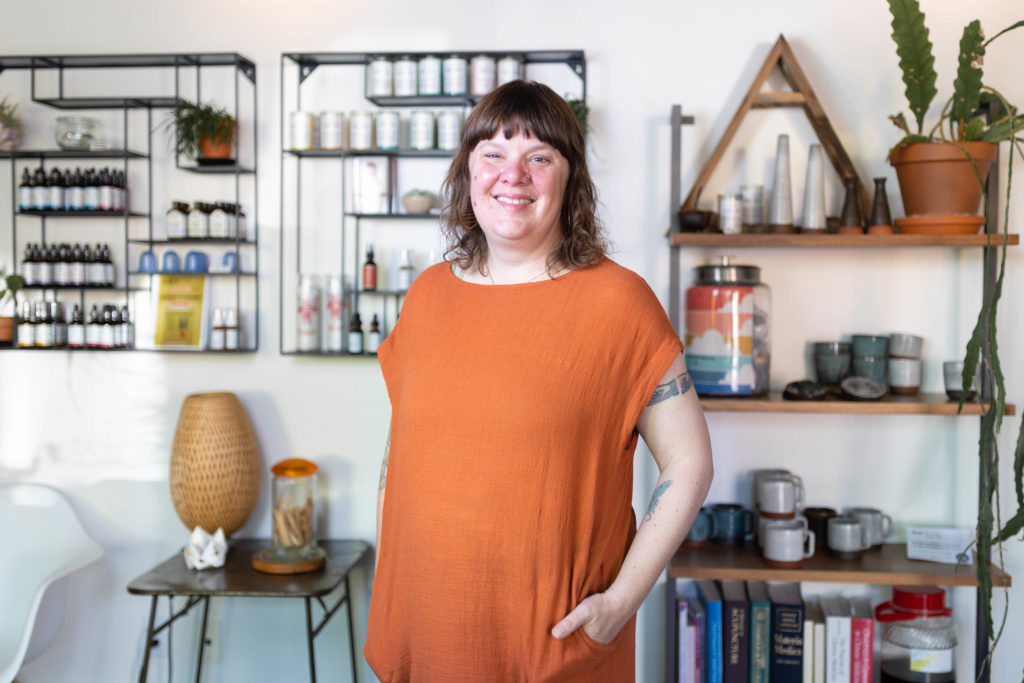 On the corner of NE 42nd and Sumner, a Portland-based acupuncturist and herbalist opens her doors to community members seeking healing and wellness through affordable, alternative medicine. She takes a deep breath in and smiles as she gazes down the block. Her neighboring tenants, who make up this collective known as GO42, greet returning clients after what seems like a lifetime away.
It's been nearly a year since Kristen reopened Nightingale Acupuncture & Apothecary after shutting down for five months during the first wave of the pandemic. All four women-owned businesses on this corner of the Cully neighborhood have survived—not just through grit and determination, but also through an interconnected community support system.    
Kristen was uncertain about the future of GO42 back when most of the city shut down, but knew she had to do everything she could to secure the health and safety of her tenants and clients. With indoor spaces at risk of spreading illnesses at a peak, the air we breathe was of top concern.
Living Cully coalition partner, Native American Youth and Family Services, heard of GO42's needs and helped Kristen apply for the Paycheck Protection Program as well as a community development grant through Habitat for Humanity and Republic Services. With these funds, GO42 was able to purchase a heating, ventilation, and air conditioning system (HVAC) that splits the air flow between the storefronts, making it safe and hospitable once again.
"Getting this grant really helped take one big worry off of my shoulders," Kristen says. "Now, we don't have to think about any discomfort that's coming from the building itself; we can focus on healing."
For years, each shop owner made do with fans and misters; trying to make the most comfortable experience for their clients. The building was old and the windows didn't open so when the temperatures rose over 90 degrees, they would have to temporarily close. Now, they can breathe easily and continue to provide health and wellness services in a time where mental and physical health is so essential.
After reopening and surviving this long span of the pandemic, people throughout the community frequent GO42 for much-needed self-care. Even in the limited hours Kristen works now, her schedule is completely full.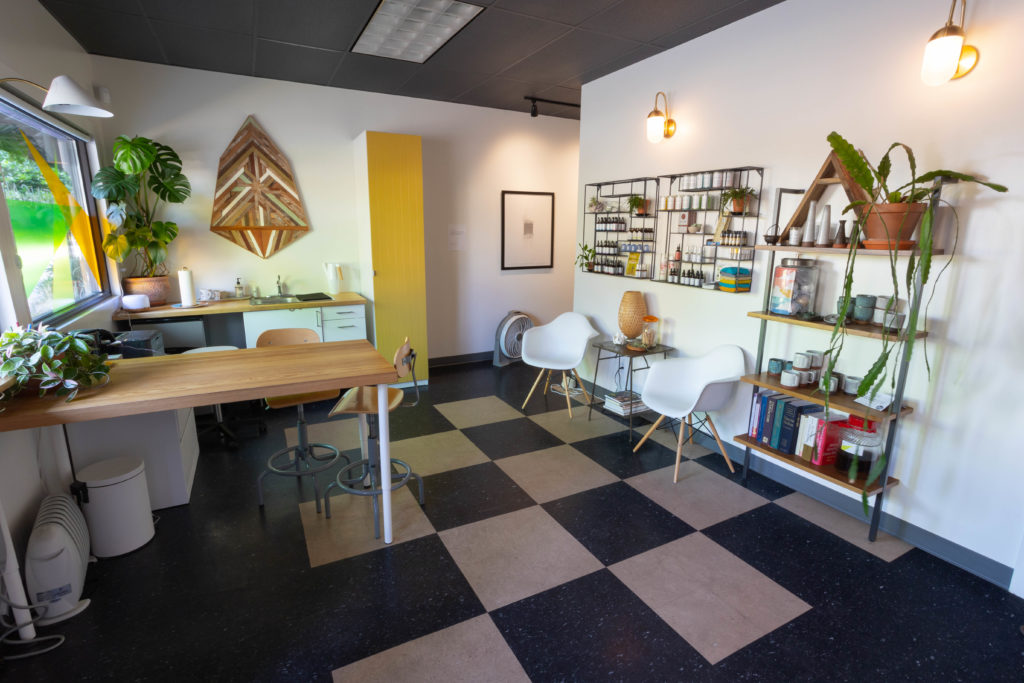 "Everybody had a great individual challenge in their own way, throughout this year, and the stories have just been incredible," she says. "It's amazing what resilience people have shown."
And Kristen is no exception. In addition to the challenges of keeping her small business afloat through the rocky waves of this past year, she's joined many parents throughout the nation in becoming a full-time teacher. She and her partner balanced life's expectations while caring for their seven-year-old son Now, they have Sundays off together and look forward to more family time.
These days, Kristen finds refuge in nurturing her lush and eclectic backyard garden. Six-foot sunflowers beam alongside raspberry bushes, pear and persimmon trees. As she waters the elderberries, she remembers when she and her partner first purchased their home.
She was eight months pregnant and thankful she and her partner had invested in an Individual Development Account (IDA) through the Portland Housing Center where their savings were matched three to one. As soon as they moved in, they got to work transforming the once scary house in the neighborhood into a warm and welcoming oasis. It's this same kind of care that Kristen puts into all her endeavors.
The waiting area of her healing center is adorned with locally made ceramics, tinctures, and indoor plants from her past life working at Pistol's Nursery. The graphite illustrations along the back hallway are a reminder of the days when she hosted art gallery parties and community celebrations. While those days are not yet on the horizon, Kristen still sets her sights on the future of her work.
"While I keep building my practice and make it a place where people feel like they can get affordable health care by practitioners they trust, I'd love to expand to the outdoors," she says.
Her vision is to utilize the community garden model to build a city-owned plot where people can have access to medicinal herbs. This outdoor space could benefit naturopathic and herbalism schools within the city and lend itself to a community clinic with medicine right from the garden. All she needs is the land. With that, this local healer could provide new ways to keep her neighbors healthy and flourishing.