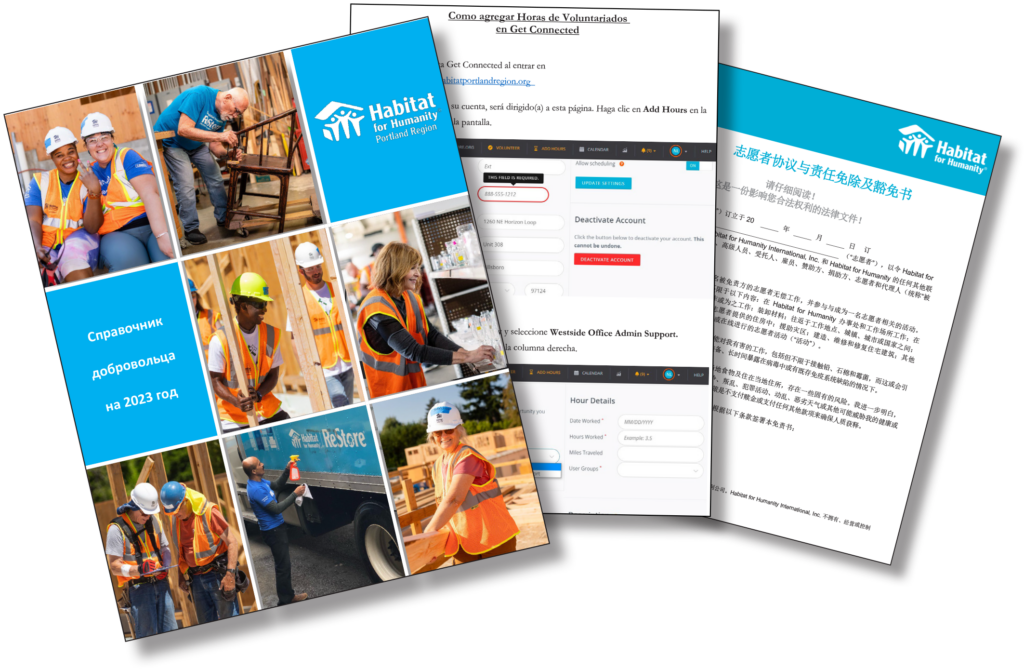 The Portland region is rich with multicultural and multilingual communities, and everyone should have a chance to be engaged and get involved. That's why overcoming language barriers for volunteers and homebuyers is a priority for Habitat for Humanity Portland Region.
Bri Lopez, Habitat's volunteer program director, noticed that when prospective homebuyers are volunteering with Habitat, sometimes English is not their first language. Google Translate only went so far in helping fill out volunteer applications and sign up for shifts.

So Habitat enlisted the help of volunteer translators for key materials. Having materials in a variety of languages means greater accessibility to better serve our diverse community. Bri researched the top languages spoken in Portland and cross-referenced them with Habitat homebuyer data to identify the most commonly spoken languages. The priority needs were in Spanish, Vietnamese, Chinese, Russian, and Somali.
Many of Habitat's volunteer documents are now partially or fully translated into several languages. Spanish translations, were completed by student volunteers in exchange for school credit hours. Students also led translations into German and Polish. With support from Habitat for Humanity International's Beloved Community grant, which promotes diversity, equity, and inclusion in volunteer programs, Bri hired translators from Portland's Immigrant and Refugee Community Organization (IRCO) to complete simplified Chinese and Russian translations. Vietnamese, Arabic, Brazilian Portuguese, Burmese, and Hindi translations are all currently in progress through volunteers, with 40-50% of each completed to date.
"Our next priority is getting everything available in Somali," said Bri. "Our goal is to be able to hire IRCO translators for that and pay them fairly, which would mean securing funding through another grant or from donors."

If you're able to volunteer to translate materials or can help cover the cost of professional translations, please reach out to Bri at bri.lopez@habitatportlandregion.org or call 503-979-9512.
Click here for Habitat's Volunteer Manuals in Spanish, Russian, and simplified Chinese.