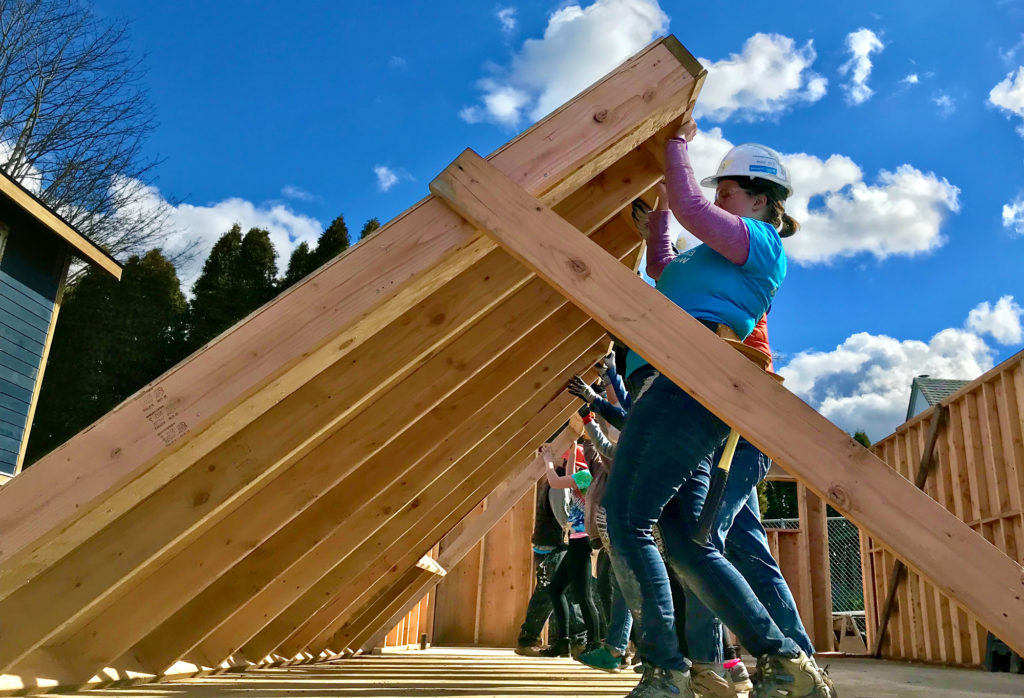 Habitat for Humanity Portland Region will leverage this gift to address affordable housing shortage across the Portland Metropolitan Region with a focus on communities historically blocked from economic opportunities due to systemic racism.
PORTLAND, OREGON (March 22, 2022) — Habitat for Humanity Portland Region, along with Habitat for Humanity International, and 83 U.S. Habitat affiliate organizations, recently received $436 million in unrestricted giving from American author and philanthropist MacKenzie Scott. Of that, Habitat for Humanity Portland Region received $8.5 million. This transformational donation will substantially help further Habitat's vision of a world where everyone has equitable access to a safe, decent and affordable place to call home.
This contribution comes at a critical time as Oregon residents continue to feel the effects of an affordable housing crisis exacerbated by the pandemic. In Portland, the median sales price for a single-family home was $511,000 in Feb 2022, a 16% increase over the prior year. This past year Habitat Portland Region's average first mortgage was $166,000 for 3 and 4-bedroom homes.
"The transformational power of this gift cannot be overstated. This donation highlights the urgency to devote substantial resources toward increasing the development of affordable homeownership opportunities," said Steve Messinetti, President and CEO of Habitat for Humanity Portland Region. "The timing of this gift aligns well with the development of our new five-year strategic plan. We are exploring strategic investments that will bring to scale our home-building and home repair efforts across our region."
Habitat Portland Region recognizes that a gift of this magnitude is a catalyst to move the needle on closing the homeownership gap for communities of color who were historically blocked from economic opportunities due to systemic racism. Additionally, they will invest in organization-wide diversity, equity, and inclusion advancements, and advocate for policy and systems changes that will increase access and drive more affordable homeownership opportunities for low-income communities.
"We are so thankful to Ms. Scott for this impactful investment in homeownership across our nation and right here in the Portland region," said Messinetti. "I am confident that her generosity will help ignite and inspire our own Portland region to step more boldly into the vision of eliminating the homeownership gap for communities of color."
Habitat International will use its $25 million portion of the donation to prioritize advocacy and programmatic efforts designed to dismantle systemic racism in housing. Specifically, the donation will allow Habitat to advocate for policy proposals and legislation that enable millions of people to access affordable housing through its Cost of Home advocacy campaign; increase Black homeownership in the U.S. by targeting current systemic barriers through a new initiative that will launch this summer; and leverage innovative capital investments that service communities of color.   
"Habitat works to break down barriers and bring people together — to tear down obstacles and build a world where everyone, no matter who we are or where we come from, has a decent place to live," said Habitat for Humanity International CEO Jonathan Reckford. "This incredible gift helps make that work possible."
# # #
About Habitat for Humanity Portland Region
At Habitat for Humanity, we believe that everyone deserves a stable and affordable place to call home. Founded in 1981, we have built and repaired homes in partnership with over 2,000 people across the Portland region, from Hillsboro to Gresham. With plans to triple the number of people in safe, stable homes, we are invested in creating a region where everyone has the opportunity to build a better life. Learn more at habitatportlandregion.org