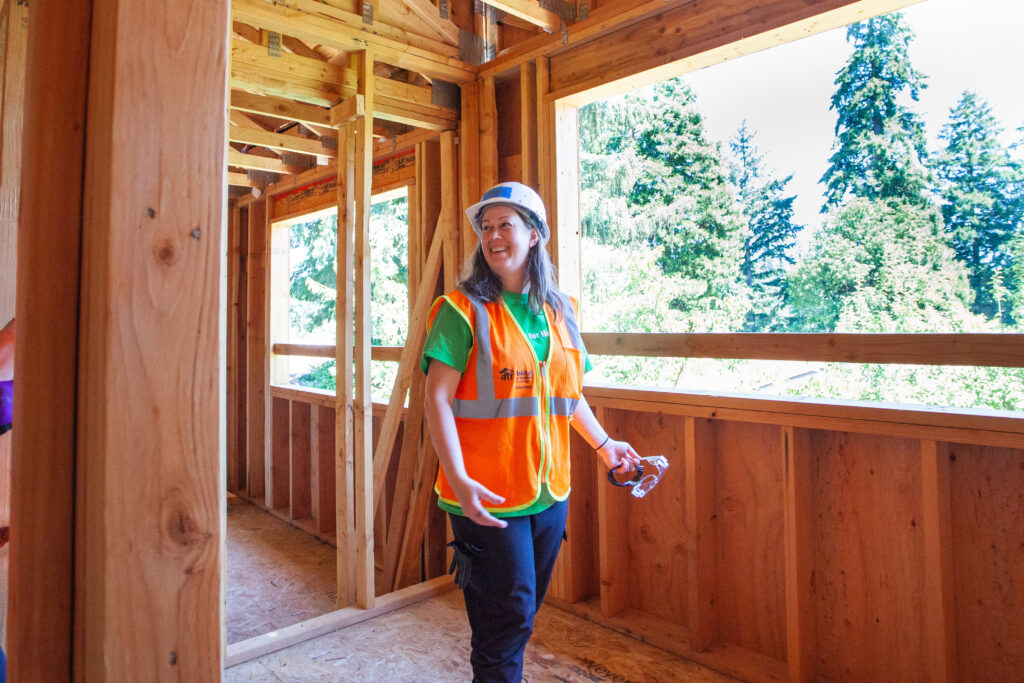 Abby walked inside her home currently under construction in Pleasant Valley in SE Portland, pointing towards empty rooms supported by wooden frames. As she led a tour, other volunteers and homebuyers followed behind, enthusiastically listening to Abby's ideas for decorating her house and chiming in with some of their own. "I can't believe my oldest child will have their very own walk-in closet!" she said. Excitement filled the air. "This will be an upstairs bedroom," Abby added as she gestured toward the room on the left side of the stairs, featuring a large window. For the first time, Abby and her children will have their very own rooms and privacy.
"I have the framing up on the rooms so I can kind of picture where everything will be," said Abby.
Although she is still in the process of building her 3-bedroom and 2-bathroom home, Abby looks forward to the freedom, peace of mind, and stability it will bring to her family. She already envisions which rooms her two girls will grow up in. Abby's 9-year-old daughter, Eleanor, and 12-year-old daughter, Haven, are very excited to have their own space to study, play music, and a private room to call their own. Currently, she lives in a two-bedroom, one-bathroom home with her two daughters and their family dog, George.
"I was able to write their names in the rooms. I took a picture, and I showed it to them like 'this is yours.' So they're very excited to take ownership of their own bedroom."
Abby is no stranger to having a community of caring supporters around her; her friends have played a big role in her new chapter as a homebuyer.
"I had two friends within the last year who told me I should apply. And it's like, I don't know…I think I qualify, but I know it's going to be a long shot," she said. "It took some persistence on their part."
After renting for more than ten years, Abby had the desire to purchase a home. She made the courageous decision to pursue her dream and began to apply to local affordable homeownership programs across different non-profits in Portland. Abby realized it would take hard work to find an affordable home in a competitive market but felt hopeful. One day, she received an email regarding an application she submitted to a local housing non-profit.
"I was told I didn't make enough money for the low-income program. So my hopes were pretty dashed at that point, like, 'Oh, no. This is just not going to happen," she said. "So thank goodness for my friends that kept me going."
Through her friend's encouragement, she applied for a home with Habitat for Humanity, and a glimmer of hope soon appeared. One day, she opened her mailbox and found a package from Habitat. After reading the letter, she quickly phoned a friend in Bend, Oregon, who is also a Habitat homeowner, to confirm that she understood the news.
"When I got the letter, I was like, okay, what is this letter saying? No, this can't be right. Because it's too good to be true," she said. "It took a few days for it to sink in. Because that was a pretty amazing feeling."
Getting accepted into the Habitat homeownership program has been an enormous accomplishment and a source of pride for Abby and her family. It's been a dream come true that keeps taking on life with each nail she hammers into her future home. "The more time I spend there, the more time I can look around and look at the trees and the streets. I'm like, yeah. This is going to be my future home," she said.
Abby is happy that her new home will be near the house she is currently renting in SE Portland. She'll be able to shop at the same stores, remain close to her same friends, and also be close to Interstate 205, which is convenient for her drive to work in Oregon City.
"I have made a choice to work with children, which unfortunately equates to a very low-paying job in our society. I work for the school system, and I'm an occupational therapy assistant," shared Abby." "Occupational therapy supports children in their role as a student."
Her passion is working with children on the autism spectrum or with other challenges that may interfere with their education. Abby's commitment to working with children in this capacity while renting has strained her ability to pay for her living expenses. However, her new affordable home now means she can continue work that is meaningful to her, while positively impacting people's lives.
Outside of her work, Abby and her children are all passionate about hiking. Powell Butte will be easily accessible from their new home, allowing them to be weekend warriors and to continue exploring new hiking trails.
The new, affordable home is much more than a roof over their heads. It means Abby can focus on her family. She can drive Eleanor to basketball practice and Haven to Girl Scouts. It means financial security. Abby won't have to change her career and leave the works she loves.
Abby looks forward to the potential that her affordable home will unlock for her and her kids. "To travel in the US and outside of the US, to be able to meet different communities, different cultures. So my children can have a sense of where they come from, and where other people come from."