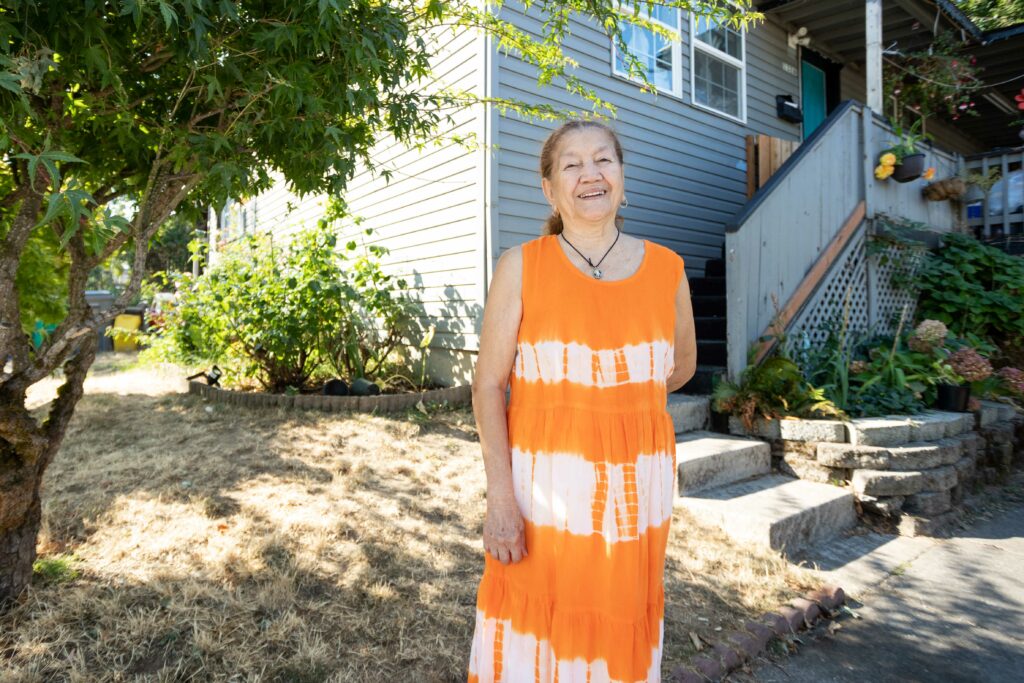 In 2003, Celia went from renting space in a three-bedroom house she shared with four other families to purchasing her own two-bedroom home in North Portland. With the support of her family and Habitat for Humanity, she helped build her own house from the ground up. Today, she owns a home she can pass on to future generations.
Celia's mother passed away when she was only 2 years old, and she grew up in her grandparent's home in Mexico alongside four siblings. When she was 18, she married her husband, Jesus, and they started a family with two children, and adopted a third.
As an adult, their son moved to the United States, motivating Celia to move as well. Celia and her family emigrated to the United States in 1989 and rented space in a home they shared with four other families.
"There were 20 people in the house," Celia said. "It was definitely not private."
Despite the cramped space, Celia enjoyed sharing her morning coffee and breakfast with the group of families that she had come to know as her own. For the next 15 years, she built a life for herself there, alongside her husband and youngest daughter.
At night, the living room became her family's bedroom, as the other families had their own private rooms. As her daughter, Paulina, grew up, Celia realized she needed her own room and space to grow, and with her daughter's encouragement, she researched housing options in Portland. She heard about a family member who built and purchased their own home with Habitat for Humanity, so she applied to the program and was selected on her second try.
Once qualified as a homebuyer, Celia and her husband began to build their home through Habitat's sweat equity program. Every week, after working their full-time jobs, Celia and her husband would visit the build site to hammer framing, install sheet rock, pack walls with insulation, paint, and help with the rest of the homes in the community. Her nephews and son-in-law also pitched in to help. In fact, after completing their community, the family continued volunteering with Habitat to build homes for other homebuyers.
Celia savored every minute of it. The family would visit their house under construction and peek through the windows, imagining what life would be like once it was completed.
"I never thought I would one day have a house here," Celia said. "I thank God that I had the opportunity to find out about Habitat and submit an application."
For Paulina, now a teenager, she finally had a room of her own.
"I didn't have my own room until I moved into the new house," Paulina said. "It was nice to have my own things, my own place."
Two years after Celia and her husband purchased their home, their life took an unexpected turn.
"After moving here my husband used to wake up very happy, watering the plants, sweeping the house," Celia said. "But in 2004, he suffered a stroke."
The stroke left him bedridden. Although he is not able to enjoy some of the aspects of the life they dreamed of together, she is grateful for the stability their home provided through challenging times.
After the stroke, Celia said her family became closer, and she credits her resilience to having a family with whom she can share both her accomplishments and struggles. Their daughter Paulina moved back in so she could continue to care for her father and help with her mother's responsibilities within the home.
After moving in, Celia added a porch to the home where she can relax, nap, and cool off during the hot seasons, while enjoying the view. Two Mexican hammocks brighten up the spot during the warmer seasons. Neighbors who walk in front of her home are greeted by bright red roses that she brought with her from her former apartment 20 years ago.
Celia brightens her new community not just through how she decorates her home but through how she serves others.
She spends hours in her kitchen dishing up tamales to sell at her church every week, and knits when she receives requests from friends and family. She is most happy when she spends the day with her grandchild, the same way that her grandmother dedicated time to her when she was a child. Celia has built a loving community around her in a home she could only imagine owning when she was a child herself.