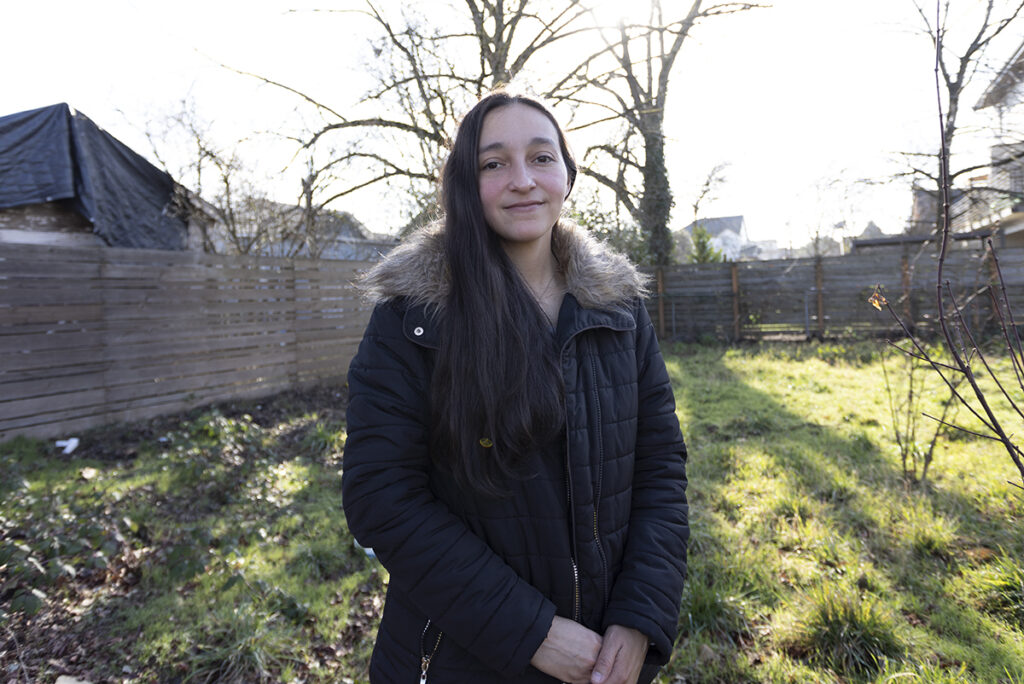 Michele always knew she wanted to give her children the stable home she never had growing up. Her dad, who immigrated at age 8 from Mexico, worked from 6 am to 6 pm for almost his entire life to make sure that his family had food, clothes, and a roof over their heads. But that roof often changed as the family moved around from apartment to apartment. Over the course of her life, Michele said she's lived in almost two dozen homes (the longest stretch being for five years) and experienced homelessness. 
 
She and her parents and three brothers would share one-bedroom apartments. They took turns sleeping on the floor. When her father became gravely ill, Michele dropped out of high school to care for him. While her dad was able to realize his dream of buying a house for the family in the early 2000s, he died soon after, and the family lost the home. 
 
"It showed me you can't depend on anything or anyone else — you just never know what's going to happen," she said.  

After her father's death, Michele, her partner, her mom, and her brothers relocated to Utah. They moved around a lot, losing important paperwork such as Social Security cards and birth certificates in the shuffle, along with any sense of putting down roots.
Pregnant at 16, she worked through her pregnancy to contribute financially to the family and help pay for their housing. After giving birth to her daughter Vanessa, Michele enrolled in a teen mom program to support her while finishing school. After two years, they were forced to leave their low-income apartment and couldn't afford other options. They moved back to Oregon for a time, then to California.
Michele and her partner grew their family, adding daughters Evelyn and Cecilia. And for about three years, they experienced homelessness.
"We lived on the worst streets of San Francisco in tents," she said. "When there was space in a shelter, we stayed there, but then they'd be full and we were back in tents next to addicts who would leave needles around. It wasn't safe for my kids."
They would find a friend or family to live with, then the person would lose their housing, or the person would decide they couldn't host Michele and her family anymore, and they were back to living in tents.

In 2017, Michele's life began to stabilize, in large part because she returned to school. She moved back to Oregon, rented an apartment in Gresham, and earned a degree in phlebotomy. She found a steady job in dialysis. She had one more child, a son named Ryder. She took two buses to and from work each day until she earned enough to buy a car for her commute. Still, despite all her hard work, her family's living situation was dismal.
"We had roaches and everyone was crammed into a two-bedroom apartment," she said.

She eventually rented a townhouse through a low-income housing program. She finally felt like she was getting her feet under her, but she still had the trauma of feeling like she could lose it all at any minute.
"It's been a long journey, and I would do anything to make my kids' lives better," she said. "I still have the fear of being kicked out. That's why owning something I know is mine, and that I can leave for my kids, is so important."
In 2021, Michele applied to Habitat to be a homebuyer, but unfortunately wasn't selected. She kept saving, including all her recovery stimulus checks, for her dream home. She tried to go the traditional mortgage route but couldn't get the approvals she needed. She decided to apply to Habitat again the following year — and this time, she was selected.
"One of the happiest times of my life was getting that phone call," she said. "I was at work, and I told all my coworkers and called my kids to tell them the news."

This summer, if not sooner, Michele and her children will move into their own 4-bedroom home in a Habitat community in Southeast Portland.
"I'm so excited," Michele said. "I don't think I'm going to fully believe the home is really mine until we move in."

Once Michele and her family spend their first night in their new home, each passing day will be a reminder that her dream is now a reality — that she has a safe, clean, affordable home where she can stay for as long as she wants.

"Becoming a homeowner is the biggest thing that I've done in my life," Michele said. "My goals for the future are to put my kids through college, to save money, and to not have to move around anymore. I'm looking forward to something that can be ours forever."