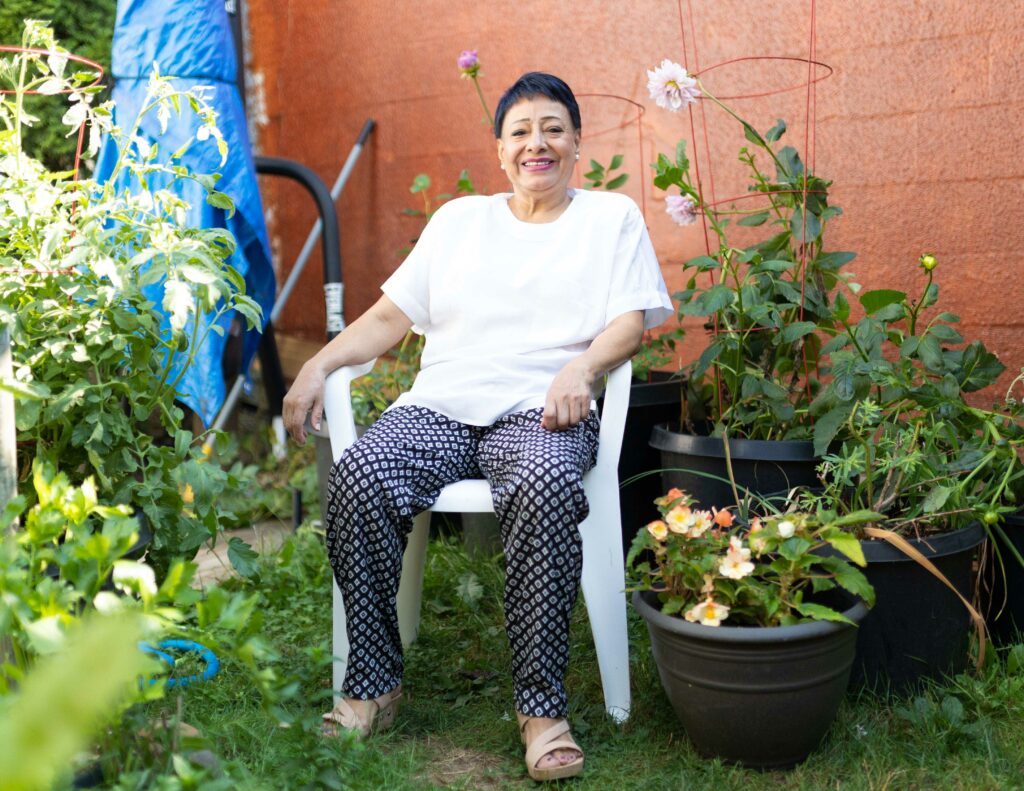 Growing up in Guatemala with her mother, father, and great grandmother, Natalia knew what secure housing felt like. The family shared a farm with aunts and cousins, and she had a stable home. However, violence and poverty surrounded them, and after the earthquake of 1972, the family connected with a nonprofit organization and ultimately relocated to a community farm in Tennessee.
"I wanted not to live in fear, and learn from other people," Natalia said. "That's what really brought me to the U.S.A. in 1979."
At first, life on the farm was idyllic. They made tofu and tempeh, and Natalia was very happy to learn new ways of living. In 1982, Natalia, now married with four children, moved her family to Oregon.
But the marriage had deteriorated, and Natalia said she experienced domestic violence. Eight years later, she was divorced and moving between shelters and transitional housing. "I was never safe," she said. She faced discrimination as an immigrant and lived in fear of her ex-husband.
By the late 90s, after nearly a decade of living in shelters, she qualified for Section 8 subsidized housing. Natalia got a job and went to school. She started working for domestic violence shelters where she was a case manager working with the Spanish-speaking community. But she had trouble sleeping at night due to the neighborhood violence outside her home that further undermined her sense of security.
Eventually, Natalia became disabled due to back problems, and she had six screws implanted in her lower back. Once again she feared the loss of her home.
Fortunately, it never came to that. After a few years of living in subsidized rental housing, Natalia heard about Habitat for Humanity. Peggy, her mentor, coached her and kept her connected with the homeownership program, and Natalia kept herself focused and motivated.
"I'm not materialistic," Natalia said. "I just wanted a little place to feel comfortable and be happy without fear that I wouldn't be able to afford it."
It took three years to build the home, and Natalia recalls a collective community, with everyone pitching in and getting along.
"We all did whatever we could to volunteer and put in our sweat equity hours. It was a nice community of people building their dream homes." The new homeowners moved in in 2003, and Natalia remembers the trees and bushes they purchased with their homeowner association fees: "Everybody had their own beautiful plants."
In the early days, Natalia decorated quite a bit, especially for the holidays. Ornaments hung on the walls and doors, and her whole family gathered together for Christmas.
"I was so happy with my grandchildren opening their gifts," she said. "It felt very warm and nice to have them around."
Natalia's four children and six grandchildren are her main motivators in life.
"I'm trying to teach my kids other ways of family living. The more I become compassionate and understanding, the more I'm able to keep up morale and make peace within the group."
Although her nest is empty these days, her two cats, Tulip and Skippy, keep her company, and her organic garden keeps her occupied and nourished.
When asked to reflect on the meaning of "home," Natalia became emotional: "Home to me is where you can meditate, you can pray, you can burn sage, you can be peaceful and connect with yourself. My home is my church and a safe place for me to have refuge."
It's also a form of security, which brings her great comfort.
"My fears about being homeless are over," she said. "I don't have the fear I'll end up on the streets, and I'm really happy I didn't become homeless after all — thanks to Habitat for Humanity."