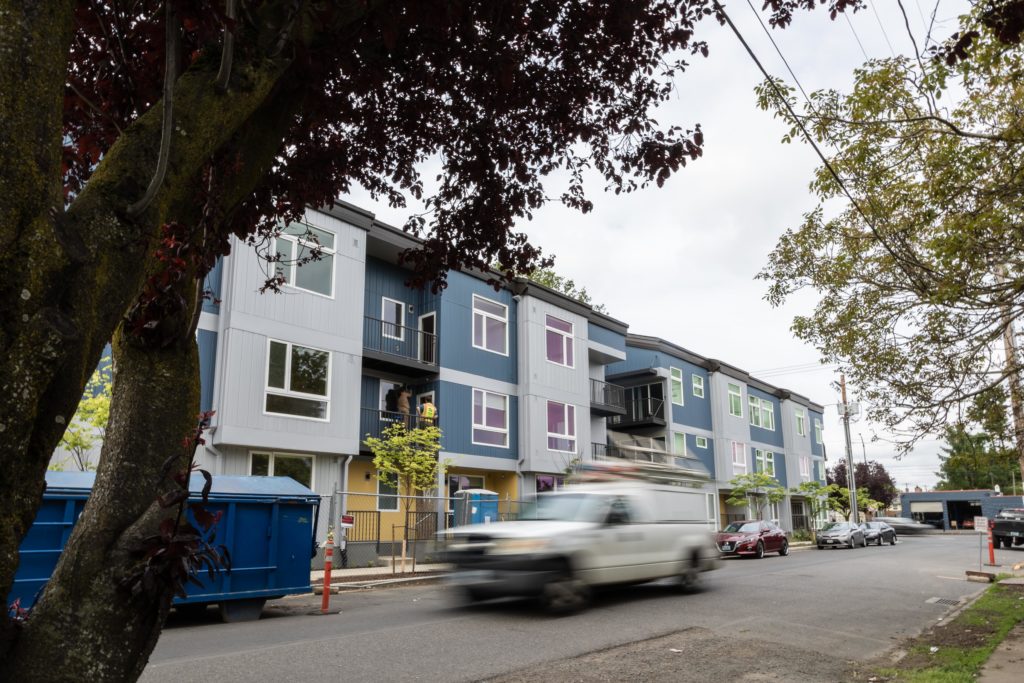 Located along Interstate Avenue in North Portland's Kenton neighborhood, 30 new homes shine in the sun behind the cherry blossoms and Max line. Soon, all the homes will be sold to families who have generational ties to North and Northeast Portland, as part of Habitat for Humanity's work with the city's preference policy, a tool that helps address the harmful impacts of racist housing policies and displacement.
Site Superintendent John Keenan-Mudrick is extremely proud of his team's accomplishments. They began framing this community just as the world shut down for the Covid-19 pandemic. The construction team endured the isolation of working for an extended period without volunteers. They experienced supply chain issues, an increase in material costs, staffing changes, heat waves, and ice storms.
What was once an abandoned car lot and a vacant home is now two beautiful buildings that will be home to 30 families. John says you can feel the impact to Kenton just by talking to the neighbors.
"They've genuinely bought into the fact that this is a huge improvement in their neighborhood. They are thankful that this is a social justice build and that we are doing the best we can to weave this community into their neighborhood. We're not a normal developer trying to dash in and out and make as much money as possible."
The homes are not your typical homes either. Habitat builds sustainable, energyefficient homes that are certified by Earth Advantage. Making a sustainable home does not just mean going green – it means creating homes with lasting value that contribute to the productive growth and positive health of the communities in which we live. The investment in sustainable building initiatives results in lower utility bills for families and a healthier environment in the house. Habitat homes are durable and built to last beyond the typical building code.
"It's really a super sustainable move to invest at the front end of a project and not have to constantly deconstruct and recycle the housing," shared John. "You can see the impacts by going back and seeing families that are paying off their mortgages at Habitat and how much capital investment in their homes that they've had to do in 20 or 30 years. Very little if any."
Compared to the construction process for Habitat homes in the past, the 30 homes in Kenton were a very complex, multi-story, multi-family housing project. Habitat chose wisely to invest in 3-D modeling up front to walk through and visualize their build virtually ahead of time with staff and trade partners. This helped cut costs in the long run and increased efficiencies in the building process. This change is now a part of Habitat's building process moving forward.
Even though this is the seventh community John has built in his nine-year career at Habitat, this project is special due to its complexity and his personal connection to the Kenton neighborhood.
"The first home I bought was in Kenton. It's actually in this neighborhood. At lunchtime, sometimes I go back and I just drive by the little home, our first home. This Habitat community has emotional significance as well as personal significance."