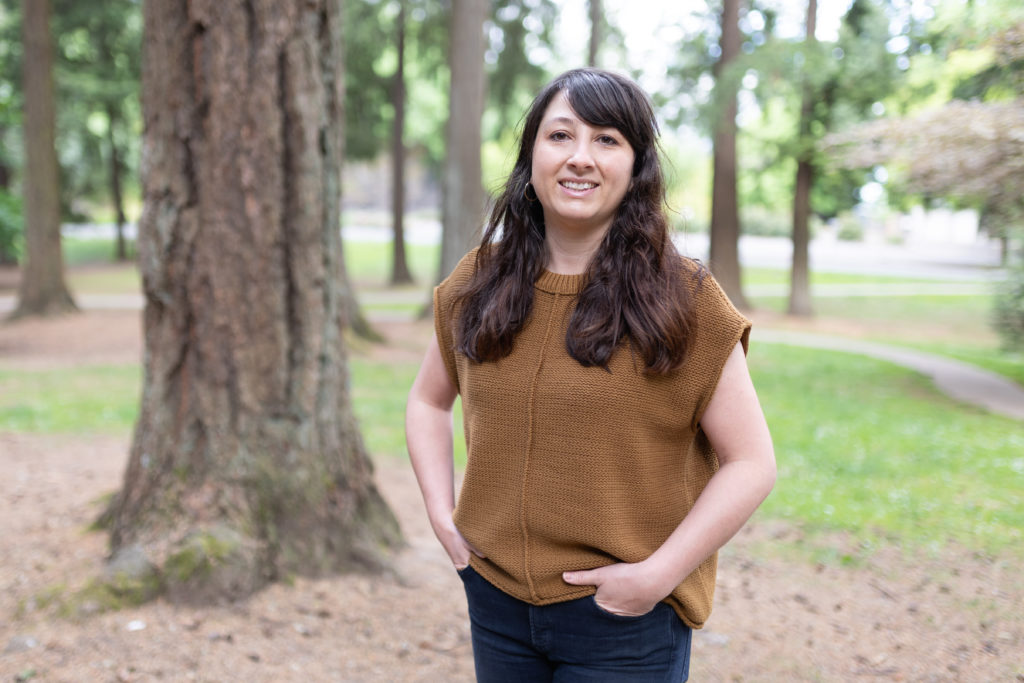 Melissa works as a Project Manager within the construction department at Habitat for Humanity Portland Region, where she drives the pivotal role of planning project timelines, solving problems, and mitigating risks for construction projects, including our sites in Southeast Beaverton, Hillsboro, North and Northeast Portland. Melissa oversees half of our project sites from inception to completion while advocating for the positive changes that go hand-in-hand with the construction of affordable homes: generational security, affordability, sustainability, durability, and equity and inclusion.
Melissa found her way to Oregon through a work-related trip while living in Santa Cruz, California. The fresh air, clear rivers branching across Oregon, and trees towering as far as the eye can see, quickly captivated Melissa. This oasis soon became her own and a place where she practices her passion and knowledge for construction and sustainability.
Before moving to Oregon and landing at Humanity as a Project Engineer in 2018, Melissa lived in the tightly knit and buzzing college town of Santa Cruz where she earned her undergraduate in Applied Physics at the UCSC. After graduating, she set out to further her education within the sustainability field while earning a Master's degree in Green Technologies Engineering from San Jose State University. While performing the balancing act of being a student, she began her work at a cutting-edge startup that shared her passion for sustainability. She helped develop a new solar technology that focused on serving the agricultural industry. During her trip to expand the company's mission to Oregon, she sought out an opportunity a Habitat.
Habitat recognized her skillset quickly, and she was promoted in January of 2021 from her formal role as Project Coordinator to Project Manager. Today, Melissa plays an integral role within Habitat's ecosystem by planning, mitigating risks within new projects and finding solutions to problems that arise in construction. Her work ethos in both micro and macro scale: as she oversaw current projects, she also mitigated solutions by working with additional contractors to solve subsequent shortage of materials brought on by the Covid-19 pandemic.
"I'm pretty thankful to be working at Habitat where I know that what I'm working on every day is having an immediate impact on people in our community; that we are supporting them on their journey to build generational wealth and become more secure in their home," she says. "It definitely aligns with me and I feel good at the end of every day, knowing that I am contributing and seeing that in real-time."
Another aspect she enjoys about her work is the fast-paced, high brainpower, and intensity that her role requires. This is where she thrives the most. Despite some of the challenging and demanding aspects of her role, she still takes time to celebrate her accomplishments alongside homeowners during open house celebrations.
When she's not on a bustling construction site or back at the office streamlining project timelines, Melissa spends time growing her own garden and going on weekend-long trips around to hike and explore Oregon's waterfalls.
When she's back relaxing at home, she revels in the time that she spends gardening. "It's just a sanctuary. Before this pandemic, we would often go out and explore all the great spaces in Portland…but more often than not now, we're at home doing house projects and DIY projects."
Melissa lives and breathes the ethos of Habitat, while making her work, the city, and our community a better place.
"My passion is building things, working with what you have and seeing things come to fruition," she says.