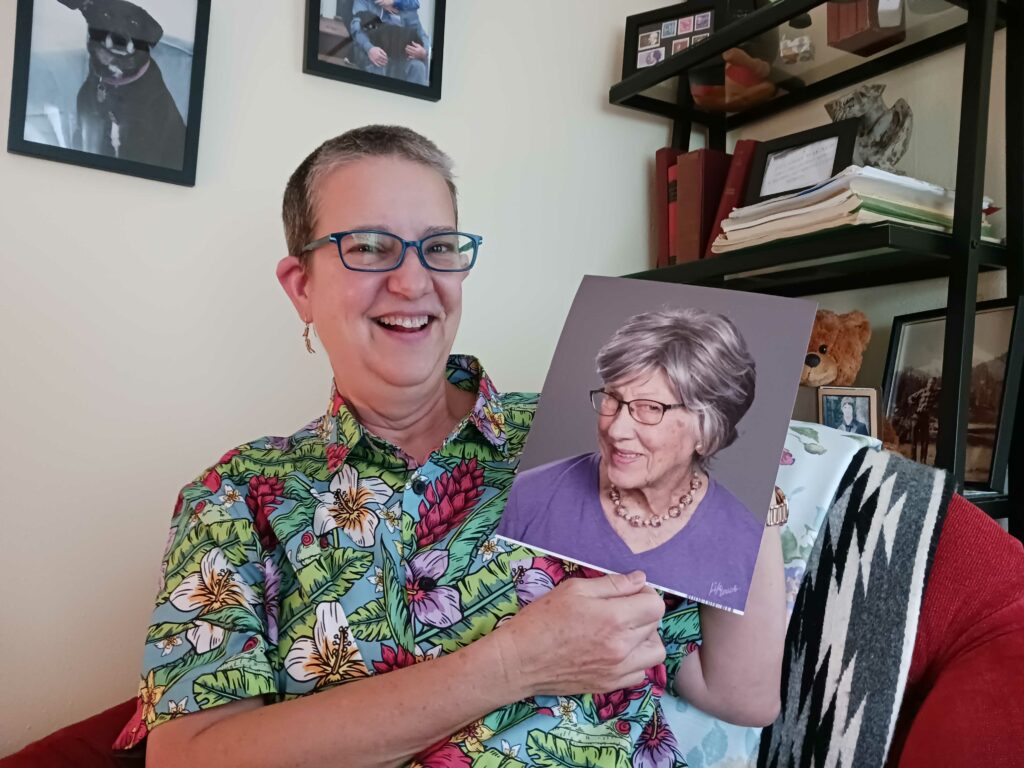 Amy Johnson describes her late mother, Wilma Doll, as a modest woman. She was a grade school teacher in Lakewood, Ohio, who married a mechanical engineer with Union Carbide and raised three daughters. 
"I think just the fact that we're talking about her might make her a little uncomfortable — but it might make her smile," Johnson said. "She was an amazing woman."
Johnson smiles a lot as she remembers her mom, who passed away in June. In addition to her career and family, Wilma Doll was an adventurer, a world traveler, a celebrated amateur tennis player, and a dedicated Habitat for Humanity volunteer — a dedication she memorialized by joining Habitat's Legacy Society.
The Legacy Society recognizes people who set aside donations to Habitat beyond their lifetimes. This can be in the form of a bequest in a will, pension or IRA payments, a charitable gift annuity, or other arrangement allocated to support Habitat's work in building and repairing homes.
In her will, Doll set aside funds in a CD exclusively for Habitat for Humanity Portland Region, which were transferred upon her passing. It was a gift from a woman who had known both hard times and good, and who carried with her the value of a stable home through both.
"She grew up in The Depression and her family struggled," Johnson said. "They made do, they always had a house. That they had a house during The Depression was really something given that neither of her parents ever made much money. But they were able to buy a house and not much else."
As an adult, Doll began her teaching career in Lakewood, Ohio. In the 1950s, she spent a year in Germany teaching the children of U.S. servicemembers on military bases. During breaks there, she and other teachers packed into her VW Beetle and explored Europe. She was also an accomplished tennis player, winning a national amateur tennis competition in the early 1960s. In 1969, Doll met a recent widower with three young daughters, and was brave enough to marry him anyway. 
"She was really inspirational, I think, to the three of us girls as to what women could do at a time when that wasn't really common."
Good fortune came later in life, and after her retirement from teaching, Doll and her husband found a new purpose in volunteering with their local Habitat in Ohio, a commitment that Johnson estimates lasted 25 years or more, before the couple moved to the Portland area.
"She had a long history of doing volunteer work," Johnson said. "And being able to help put people in a home, who didn't have a home before or didn't have any chance of getting a home — it meant a lot to her. She was also a big fan of Jimmy and Rosalynn Carter."
With her legacy donation, Doll's belief in the power of a healthy, stable home will help make that dream a reality for future Habitat homeowners, for years to come.
"I'm so proud of her for doing that," Johnson said. "Because she always said charity was really important and always encouraged us to donate and give of our time and our talent and our treasure. And that was a really good example for us. (That gesture) is a wonderful way of saying that."
Johnson's parents instilled a sense of volunteerism in her, as well, and the value of giving back to the community. She hopes her mother and father's legacy will do the same for other people wanting to make a difference in their community.
"I admire her. I admired everything they did. And I hope that they can inspire other people to step up and do things. There's so much that has to be done in the world. And it's hard. If you think about it too long, you'll be paralyzed because there's so much that needs to be done. But just pick one thing and do it and try to spread it out a little, improve your corner, and hope it spreads to other people."
Build a legacy of affordable homeownership opportunities for generations to come by naming Habitat for Humanity Portland Region in your will. For more information, please view our Legacy Giving page, or contact Tai Love at 469-287-9529, ext. 1345 or email tai.love@habitatportlandregion.org.