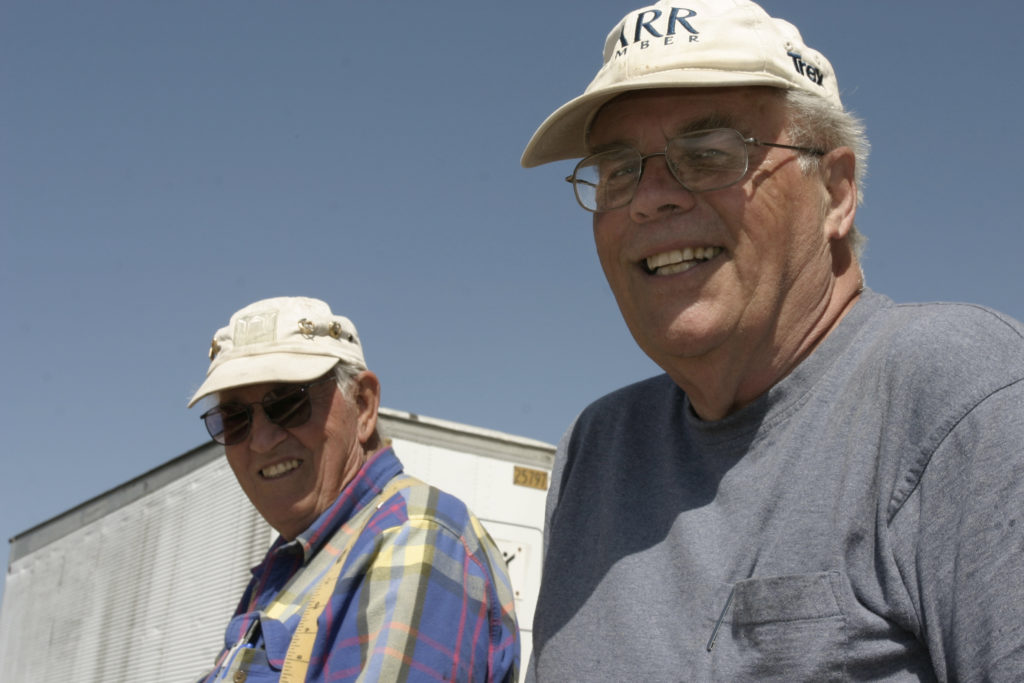 Bill (right) is a longtime volunteer who has worked alongside Habitat for Humanity for nearly two decades, and has helped increase efficiency in the way we build communities. Bill developed a great working relationship with Al (left) and described him as being instrumental in building homes in the early 2000's.
Many elements go into the way we increase the efficiency of building and designing homes to be safe, stable, and affordable for generations. The more efficient our process of building homes is, the better we avoid problems such as heat loss, which in the long run saves homeowners money Another significant component that Habitat focuses on is making construction easy for volunteers who don't have a background in construction. This way, homebuyers and volunteers can have a huge part in building entire communities from the ground up.
A person who's had a great influence on making this process friendly to those without knowledge in construction has been our long-time volunteer, Bill. Bill has volunteered with Habitat for Humanity for around two decades and has helped bring solutions to the way we build homes.
After leading a successful career in as a computer systems engineer, Bill retired and searched for ways to continue helping his community. Two weeks into retirement, he joined Habitat for Humanity and helped out with things around sites such as framing, digging for utilities, and more. The first community he helped at was Cornerstone with work like framing homes.
A year into volunteering, as he came across floor plans developed by another volunteer at Lindsey Lane, and he found a way to improve the design while saving material. After successfully modifying the floor plans with the backing of Habitat staff and the City of Hillsboro, he began the process of modifying other designs to make the whole community more streamlined.
His more detailed floor plan designs have helped us lower energy costs for homeowners, lower build material waste, and improve the space layout inside Habitat homes. His designs are different from typical architecture designs since he creates directions which are meant to be easily followed by first-time builders.
Today, Bill carries a hefty resume and wealth of experience working with Habitat: he is a mechanical engineer by profession, has accreditations from the state of Oregon to be a Master Builder, graduated from residential inspecting classes and more. Since 2001, Bill has made an enormous impact on the organization, staff, volunteers, and homeowners through his designs of over ten Habitat communities, dozens of duplexes, triplexes, and more.
"One of the challenges that we had early on was that the houses leaked air too much. The construction methods we were using allowed a lot of air leakage to the outside, which is loss of heat," says Bill.
As a general practice, the efficiency of a home is measured by calculating the air exchange rate inside a house, or the number of times the air cycles within a home. This is accomplished by placing a fan at the entrance of a home that pulls air, and inspectors measure the number of times that air inside the house is entirely replaced in one hour. Air exchange rate is a great measure and indicator to see how much heat or AC is lost. If a home leaks too much, homeowners can end up paying higher utility bills and this can add to their financial strain.
"The tighter the house, the less air they are able to pull out," says Bill. One of the requirements for an energy-efficient home is what they call the air exchange rate of no more than four times an hour. We typically have our exchange rate to twice an hour, which is twice as good as an energy-efficient house."
Aside from the way Bill's floor layouts minimize air loss, Habitat focuses on using high-quality appliances that help make homes safer for homeowners. Many older homes have outdated AC and heating systems, which can have the potential to affect homeowners who suffer from respiratory and cardiac problems. Habitat's solution is to design high-quality homes that have clean proper space, are accessible, and will be durable for a long time.
Another way that Bill has helped Habitat is by maximizing material use and minimizing building material waste.
"Bill would make a cut list from his plans and minimize the amount of scrap wood down to one percent, which nobody does. It's unheard of," says Adam, Site Superintendent at a 16-home community in Southeast Beaverton. We, as an affiliate, and Bill very much care to minimize waste as much as possible."
Why is this so vital? A huge aspect to making homes affordable comes from maximizing resources that we have while extending the lifetime of a home. Through wasting less material, we can save and reinvest back into building more affordable homes, like our newest affordable communities across Portland and Hillsboro.
Aside from his major contributions, Bill values the connections and friendships that he's built over time onsite. An inspirational individual who Bill says that made the most impact on him was Al.
"We developed a really good working relationship," says Bill. "That's one of the things you get when you work with Habitat, you build relationships with people."
Today, whenever Bill walks on-site, he's usually grasping a container of two-dozen cookies, which his wife, Becky, bakes daily for regular volunteers—a generous tradition that started when he first started volunteering with Habitat in early 2001. Since then, Becky has baked and handed out an estimated 70,000 or more delicious cookies to staff, volunteers, and those who contribute to Habitat's mission. Through their collective effort, they have continued to push Habitat's mission forward and aided in creating a more healthy and affordable communities for people to call their own.