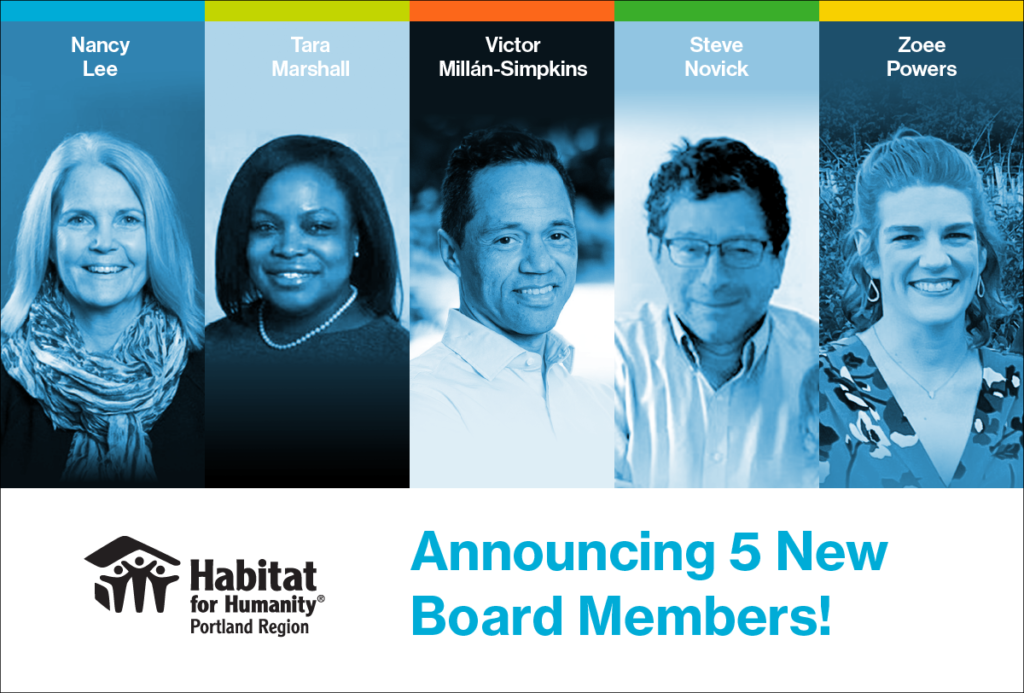 PORTLAND, OREGON (August 8, 2022) — Habitat for Humanity Portland Region announces the appointment of five new members to the board of directors. This brings the total number of board members to 24.
Joining the board of directors are Nancy Lee (Nike, retired), Tara Marshall (Providence Health & Services), Victor Millán-Simpkins (DOWL), Steve Novick (Department of Justice, former Portland City Commissioner), and Zoee Lynn Powers (Radler White Parks & Alexander). In addition, Habitat reappointed Kabir Bhatia (BridgeWorks Capital) as chair of the board, and board member Gail Baker (GAB Strategies, LLC) is now the new vice chair.
"We are pleased to welcome five new members to Habitat for Humanity's board of directors," said Kabir Bhatia, chair of the board. "Their strategic vision and deep experience in housing, health, law, and more will be invaluable to Habitat as we pursue our mission to ensure that everyone has a safe and affordable place to call home. The new members bring even more diversity to the board as we strive to bring representative voices of the communities and people we serve."
Nancy Lee led world-wide teams for Gap Inc. and Nike where she was a leader in strategy and operations in the retail sector. For the past seven years she served on the board of Goodwill Industries. Nancy co-chairs Habitat's Women Build/CREW program and has been ambassador of Habitat's work in the community.
Tara Marshall is a Program/Project Manager with over a decade of working in the local Healthcare industry for both Providence and Moda. Prior to working in healthcare, she was an Intelligence Analyst in the US Air Force. She served for three years as Chair of Multnomah County's Community Health Council.
Victor Millán-Simpkins has a background in both construction management and structural engineering, with a current focus on public works projects. Victor is an active member of the Lake Oswego Community and recently served as chair on the Lake Oswego School District bond committee providing community oversight on construction and rehabilitation projects.
Steve Novick is a Special Assistant Attorney General for the Oregon Department of Justice. He served a four-year term as a Portland City Commissioner – a member of the City Council of Portland – from January 2013 to January 2017. As a commissioner, Novick oversaw the Portland Bureau of Transportation and the Portland Bureau of Emergency Management.
Zoee Lynn Powers is an attorney at Radler White Parks & Alexander and is a member of the firm's Land Use and Real Estate practice groups. Zoee works on complex real estate transactions, including public-private partnerships, land use, zoning, and permitting matters. In 2020, 2021, and 2022, Zoee was recognized as one of The Best Lawyers in America's "Ones to Watch."
# # #
About Habitat for Humanity Portland Region
At Habitat for Humanity, we believe that everyone deserves a stable and affordable place to call home. Founded in 1981, we have built and repaired homes in partnership with over 2,000 people across the Portland region, from Hillsboro to Gresham. Habitat homeowners help build their own homes alongside volunteers and pay an affordable mortgage. Through financial support, volunteering, or adding a voice to support affordable homeownership, everyone can help people in our community achieve the strength, stability, and independence they need to build better lives for themselves. Learn more at habitatportlandregion.org