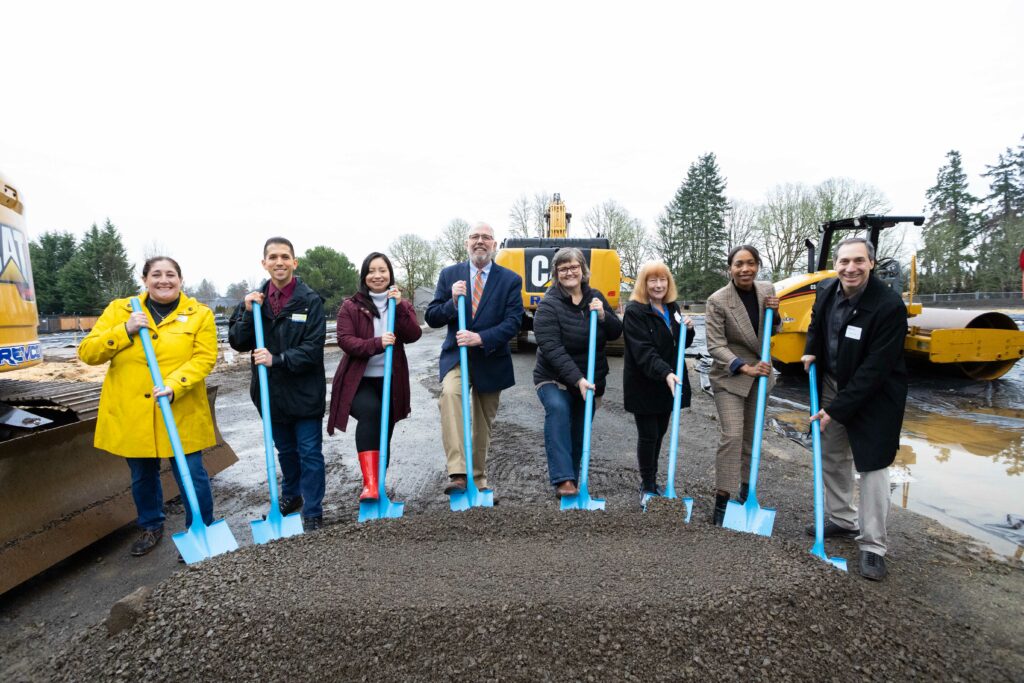 PORTLAND, OR (January 12, 2023) –  Thanks to the support of funds from the American Rescue Plan Act (ARPA), Habitat for Humanity Portland Region broke ground on a new property located on Century Boulevard in Hillsboro and is finishing the final homes on Denney Road in Beaverton. One-time ARPA funds are in response to the growing housing crisis exacerbated by the pandemic and have helped expedite affordable home development. Habitat also received donated land from the City of Hillsboro, financing through Oregon Housing and Community Services, and support from hundreds of individuals who donated both money and time.  
These 34 family-sized homes will house over 150 people in our community after the buyers purchase their homes with affordable mortgages. The 18 homes at Century Boulevard will be located near the Orenco Max Station, Noble Woods, Orenco Nature Park, and other green spaces. The 16-home community on Denney Road includes a protected natural area as part of the development's western boundary that will be accessible to the public.
"In order to resolve our region's housing crisis, it will take both the public and private sectors working together collaboratively to tackle this great challenge," stated Steve Messinetti, President & CEO of Habitat for Humanity Portland Region. "Today we applaud our government officials for investing in affordable homeownership at this critical moment in time."

Joining Habitat for Humanity at this groundbreaking event at the Century Boulevard property were Senator Janeen Sollman, Representative Susan McClain, Representative Nathan Sosa, Senator WInsvey Campos, OHCS Director Andrea Bell, and Hillsboro Mayor Steve Callaway. These elected officials and their federal, state, and local colleagues played an instrumental role in helping Habitat secure the land and the ARPA funding.
"This is consistent with our city values for equity to make sure that we are giving opportunities and accessibility to everyone who wants to live in Hillsboro," shared Mayor Callaway. "We know that a zip code is one of the main social determinants of health and this is a good zip code. When I look at this neighborhood and I view the statistics on high school graduates, this is a chance to give a level playing field and a consistent start."

Senator Sollmon added, "Habitat is such an incredible opportunity to build community because it's people coming together to build those homes, to fill those homes with love, and then to provide stability and build community with neighbors."
About Habitat for Humanity Portland Region
At Habitat for Humanity Portland Region, we believe that everyone deserves the opportunity to have a stable and healthy place to call home. Habitat homeowners help build their own homes alongside volunteers and pay an affordable mortgage. Founded in 1981, we are invested in creating a region where everyone has the opportunity to build a better life. Learn more at habitatportlandregion.org
# # #