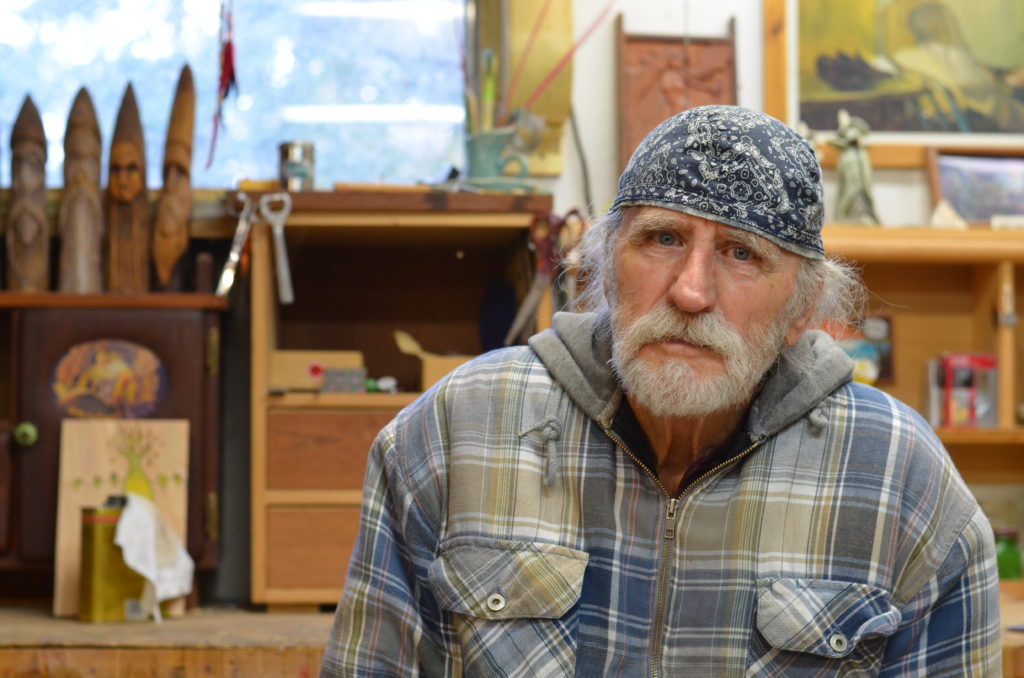 Tucked behind a sage green home in Portland's Cully neighborhood is Marine Veteran and local artist, Jon, busy at work in his garage-transformed-workshop. He's eying the proportions of his current project: a three-legged corner table topped with a slice of Spalding tree trunk. It's nearly finished–just needs a subtle layer of lacquer and this handcrafted piece will join dozens of other creations Jon fashioned by hand.
He's lived in the adjacent home for 21 years, slowly reconstructing each room to fit his needs. He's done everything himself up until now. After two decades, the roof was in need of critical repairs. He took down the crumbling chimney, but in order to maintain his home insurance, the roof had to be replaced–one project he couldn't do solo. He remembered receiving flyers from Habitat for Humanity about affordable home repairs and decided to reach out for help.
"You should have seen it before," Jon said. "It's a dramatic difference. Now, I don't have to worry about the roof leaking or my insurance being cancelled and I couldn't afford to move. It's a huge relief."
Over two weeks, Habitat staff and subcontractors worked to replace Jon's roof. He even got to choose a shade of shingles that complimented the newly painted siding. With the roof in place, new gutters were also installed to offset drainage to a rain garden that will be installed courtesy of nonprofit and Living Cully partner, Verde.
"The house looks terrific" Jon said. "There's no hassles now and I can stay here. I'm so happy everything came together."
From faded yellow to soft green, the whole house has received more than a face lift. The roof comes with a 15 year warranty and the new gutters and rain garden will reduce Jon's water bill rate by diverting water from the City's storm water drainage systems. Jon, being the skilled carpenter he is, even built a modest veranda complete with two-tone lattice in addition to taking on the paint job himself.
"I love to paint," he said, motioning toward the countless artwork surrounding his workshop. "I always have to do being something. It's my life blood working in here."
His house has come a long way since he bought it back in 1998. What was once a rundown lot is now a thriving home packed with one-of-a-kind creations made with Jon's own hands. From a completely remodeled kitchen to every piece of furniture custom-designed to fit in exact positions throughout the cozy home, evidence of a creative mind at work can be seen from every angle. It's no different in his workshop, where he spends most of his days molding clay figurines of mythical creatures or applying a unique finish to lavish trunks he sells at the Fremont Street fair every year.
With the repairs now complete and his mind at ease, Jon said he's looking forward to warmer weather when he can take a fishing trip with his mixed-Terrier companion, Sammy, and be inspired to create more fanciful works of art.