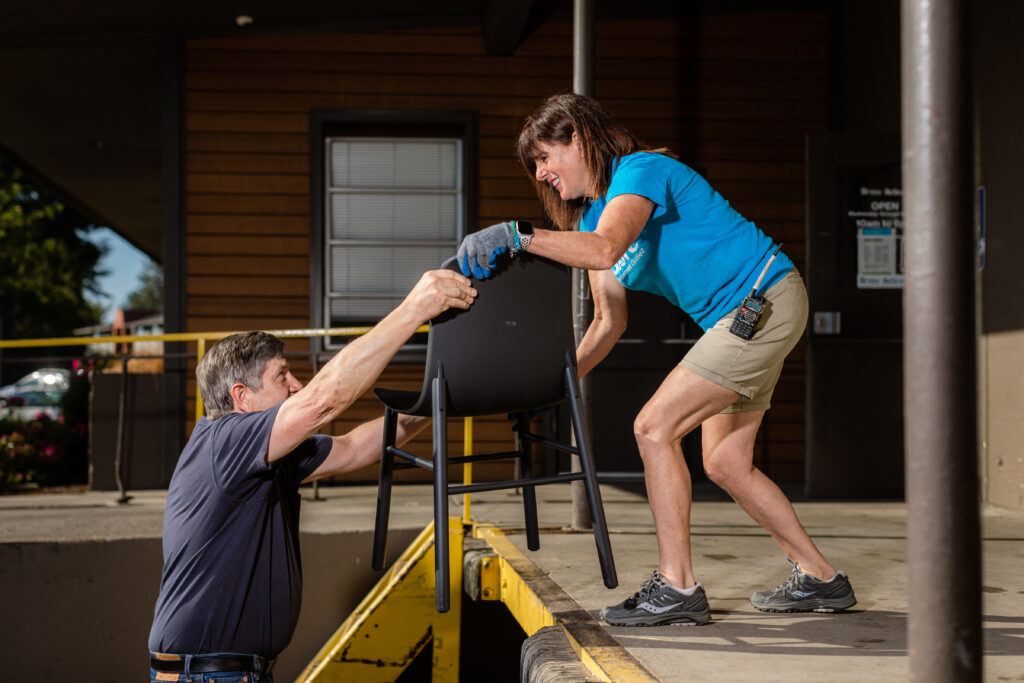 Getting gifts feels great, but sometimes getting rid of things can be just as satisfying.
Turning those things into a valuable donation to support affordable homeownership feels even better.
But doing it all without lifting a finger? Icing on the cake.
That's Habitat for Humanity ReStores' priority pick-up service, now serving the greater Portland Region. The service is a partnership with Resupply, a national, veteran-owned dispatch service that works with local haulers to make donating to good causes and recycling large items easier.
The advantage of ReStore's priority pick-up is timing, access, and convenience. Whereas ReStore's standard, in-house pick-up service requires items be preapproved for ReStore sales, the priority service can take anything you want hauled away. And with Resupply, items don't have to be moved outside for the haulers. In fact, they don't have to be moved at all.
"This can be scheduled 24 to 48 hours in advance, and the driver is allowed to come into the house if requested," said Jocelyn Matics, ReStore Retail Communications and Marketing Manager.
"They can go upstairs, they can disassemble items, and they will take anything you want to donate. They'll bring it to us, and we'll be able to pick the items that ReStore can use."
Bev, a donor in Tigard, said the workers were polite and helpful, and she liked being notified in advance who would be arriving at her house. "They came into the house, and I didn't have to move furniture," she said.
Revenues from the sale of items donated to ReStore home improvement centers directly support the work of Habitat for Humanity Portland Region's homeownership and home repair programs.
Erik in Northeast Portland recently used the priority service to get rid of some items he no longer needed ahead of a move. Supporting Habitat brought an added appeal.
"When I found out they could pick up my items, they were my first choice. Plus, it was easy to arrange the pickup," Erik said. "I knew that the items I arranged to have picked up would help support a cause I truly believe in, and this was important to me."
The priority service will take away any items you want to get rid of, regardless of condition. What cannot be used by ReStores will be recycled if possible, or ethically disposed of by the haulers.
"For us, it's really beneficial because it helps us offer our donation pickup service to people that we might not be able to reach with our own standard pickup service," Matics said.
It also means ReStore shoppers can browse items that might not otherwise have been donated, including high-end items available exclusively online.
Like Ed's washer and dryer, which were replaced during a remodel of his home near Tigard. "I appreciate the chance to share items that can be reused," he told Habitat.
Resupply will pick up items from homes in Washington, Multnomah, and Clackamas counties. The price for priority pick-up starts at $99 for the truck and driver, and additional costs are added depending on the amount of material to be removed and the work involved in removing them.
ReStore continues to offer its standard pick-up service, which is only for items that fit donations guidelines and are accessible outside, either in a garage, driveway, parking space or curbside at the time of pickup. The standard service is offered at a flat fee of $40 regardless of the number of items and requires at least one week in advance for scheduling.
For more information on ReStores and how to donate items, visit pdxrestore.org/donate.