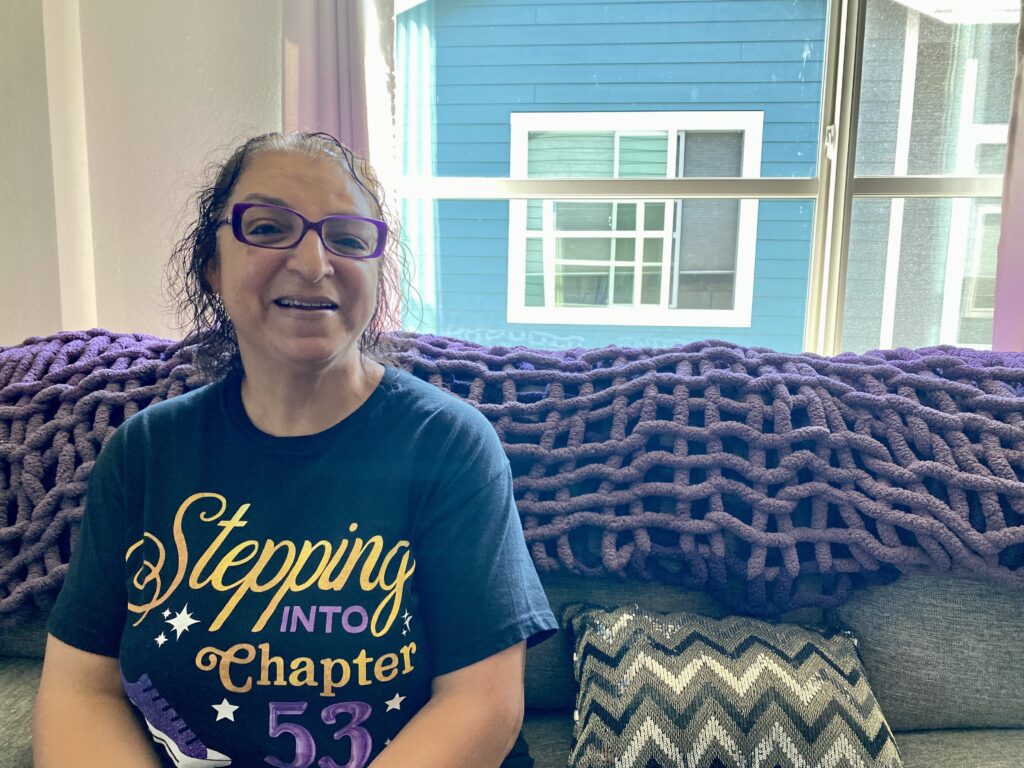 Walking into Reyna's home in Northeast Portland, one thing about her is immediately clear: This woman loves purple.  
The lavender and white ombre curtains are drawn in the summertime, keeping the living area cool, even on the third floor. A plush, tri-color blanket in violet hues is draped over the sofa, complimenting the purple theme of the condo.  
Reyna's teenage granddaughter crocheted the blanket for her, a handmade labor of love for a home that was also built with love in part by Reyna herself. Three years ago, she helped build her community, Olin Townhomes, from the ground up, praying through each home and even placing scripture in one of them.
Reyna has always found clarity in praying on important decisions. She talked with God about her Habitat home throughout the entire process, which helped her navigate the complex changes and emotions around first-time homeownership.  
"Whatever God wants is his will," she said. "I'm happy here, it's nice."
Before Habitat, Reyna lived in an apartment with mold and other maintenance issues. She remembers the mold causing allergies for herself and her family and waiting on landlords to update a long list of appliances and fixtures, including her water heater, dishwasher, cabinets, counters, and the refrigerator.  
"I wanted to get out of there," she said.  
Reyna was also taking care of her daughter and eldest granddaughter at the time because her daughter was healing from a brain injury after a car wreck. Suffice to say, the moldy, outdated apartment was not the ideal place for her daughter to get back on her feet.
Reyna was taking courses at the Portland Housing Center, working toward her goal of homeownership, when she got a call from Habitat. Her guess is that somebody from the Housing Center had recommended her for a home because the call came as a complete surprise. She decided to seize the opportunity and look into the program.
When looking at the Olin Townhomes, Reyna's daughter encouraged her to take the one on the third floor where sunlight could stream through the windows. An added benefit is the breathtaking view of Mount St. Helens from the patio.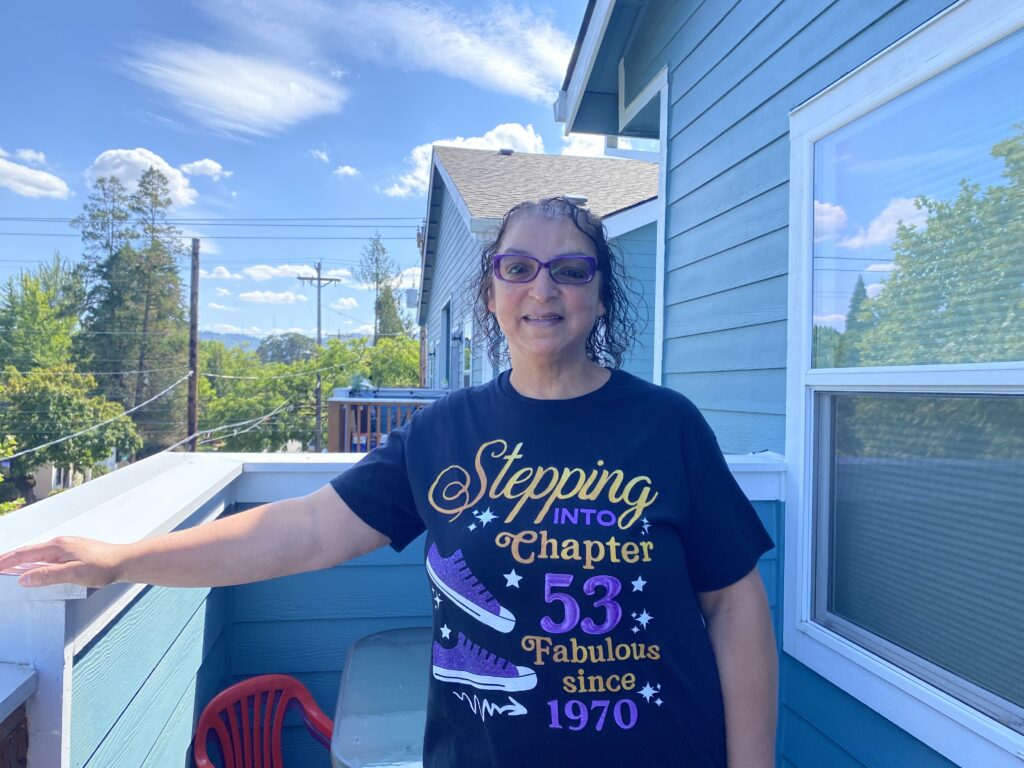 Reyna, along with her daughter and granddaughter, moved in Dec. 19, 2020. Eventually, her daughter regained her strength and eyesight and moved to a place of her own. Reyna bought all new furniture for her home, save for one lamp from her last apartment.
"I got rid of everything because I wanted to start new," she said.
Reyna was born in Honduras and adopted as a baby. She lived in Eugene and Longview, Washington, and now works at a call center for a hospital in Portland, where she hopes to retire.
Today, Reyna's three-bedroom condo is hers and hers alone, unless her family pays a visit. She has three daughters, three granddaughters and a son-in-law she hosts from time to time. When her two youngest granddaughters are in town, ages six and four, they sleep in a rainbow, stuffed animal-filled bedroom their grandmother decorated for them.
She said she appreciates being able to care for her home on her own timeline rather than waiting on property management companies to get around to the job. While the place is decked out in family photos, Christian home decor and lots of purple, Reyna is still deciding what to put on her walls. After all, her home is a blank canvas in which she can create whatever she pleases.