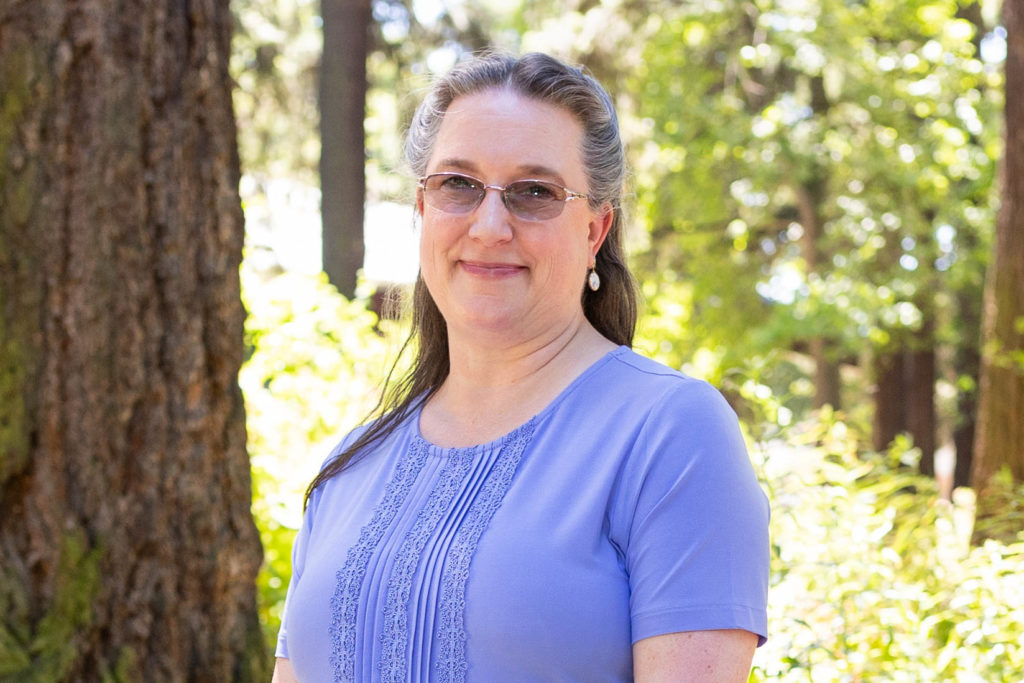 If you've ever stopped by our bright red office on the corner of Killingsworth St, you were probably greeted by a warm and friendly individual named Gretchen.
Gretchen fills two critical roles as both the Office Manager and Executive Assistant at Habitat for Humanity Portland Region. She joined our team in 2019 as an Office Coordinator before Willamette West Habitat and Portland/Metro East merged into Habitat for Humanity Portland Region. Gretchen's work involves handling details for organization-wide staff meetings, collaborating with Human Resources to help new staff make their transition to the team, and making sure the office runs smoothly.
Gretchen misses mingling with visitors, listening to and sharing stories, and getting to know homeowners and homebuyers. Although Habitat limited in-office visits to follow COVID-19 safety protocols, she has still been able to engage with the community about our mission, our ReStores, and more. Gretchen has been very involved within Habitat's mission to champion diversity, equity, and inclusion (DEI). In 2019, she was part of the first cohort that went through a 14-month-long, extensive training that focused on DEI within the organization. She is also helping shape COVID-19 safety protocols within Habitat by being a member of an internal group responsible for adopting safety regulations for folks transitioning back to work within the office.
"It's really been a neat exercise," Gretchen says. "Figuring out how we make sure that all of our staff transition safely back to working in the office and how to adapt our policies and the physical spaces we work in."
Today, Gretchen plays other crucial roles within Habitat: focusing on our merger, supporting the very busy CEO and COO, and helping answer questions on Habitat's main phone line. Her role is similar to that of air traffic control as she serves as a key point for communication between departments while handling high-priority timelines and information.
Despite being so heavily involved within many aspects the organization, Gretchen describes her role as mainly being low-key and behind the scenes.
"Most of it is very much background work," Gretchen says. "That's where I'm happiest. I want things to run smoothly; I want people to have the tools they need to do their jobs, and to take care of staff so that it's easy for people to carry out Habitat's mission."
Gretchen's early life began in a small hometown of Swarthmore, just outside Philadelphia, where she developed a passion for modern dance at a young age and enrolled in the Philadelphia High School for Creative & Performing Arts during her teenage years. After graduation, Gretchen attended Hampshire College in Amherst, Massachusetts, and completed her undergraduate double major with a Bachelor of Arts in Feminist Studies and Stage Lighting Design.
One day her friends shared their plans to move to the Pacific Northwest and invited her along. This sparked Gretchen's curiosity, and she hurried to join them on a mission to scout locations.
"When I drove into Portland, it was love at first sight, so I just papered the town with résumés."
In 1990, she began a new job and a new chapter as an Oregonian.
As Gretchen continued her career, she focused on social justice, sustainability, affordable housing, and diversity. Soon, her passion led her to apply to Habitat for Humanity, and she joined the team in 2019.
Since then, her most memorable day was learning how to use an angle grinder at our Gresham ReStore during one of Habitat's internal quarterly days of service.
"I still remember holding the tool. I was crouched on the floor and sparks were flying everywhere. It was so cool! I got to learn the new skill, I got to work with people that I don't normally get to work with, and I got to see how the store functions from behind the scenes."
Gretchen also lets sparks fly in one of her favorite hobbies: fire dancing. She still juggles her practice poi, although it's been a while since she's danced with fire. Another important aspect she juggles is raising her family. She enjoys spending time with her adult daughter, as well as her best friend.
"We are helping my best friend raise her preschool-age son, and spending time with them as found family is a really important and wonderful part of my life."
Gretchen endeavors to make the community a better place.
"Every wish I ever made is for peace on earth. I want peace for everybody. You know, Mr. Rogers was my hero, so I'm always striving to be kind," she says.