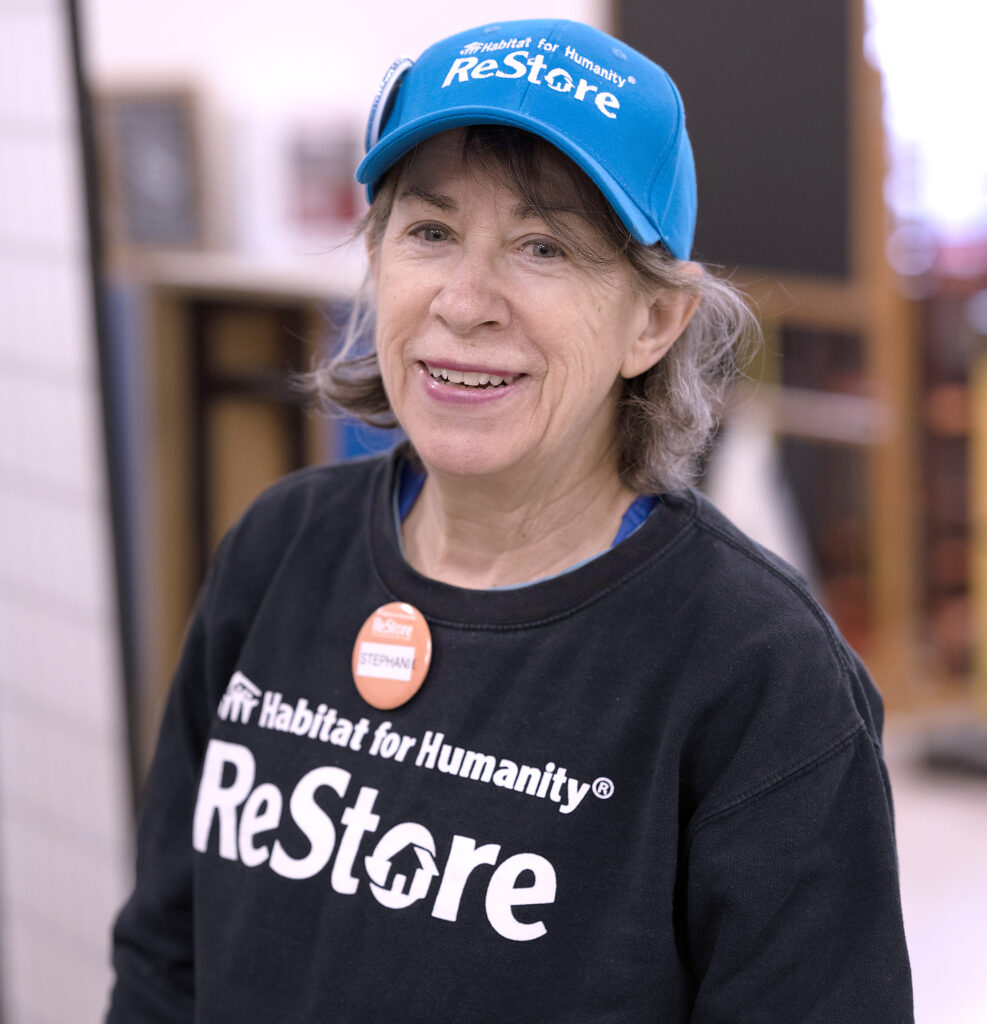 By Monicia Warner, Volunteer Storyteller
If you walk into the Gresham ReStore on any given Thursday, you'll notice a line five or six people deep in the jewelry section. New customers might not think anything of it, but seasoned shoppers will recognize it as a sure-fire sign that volunteer Stephanie Payne — the 'jewelry curator' as she's become known — is around.
The lines aren't an unusual sight. As the only ReStore in the Portland metro area that sells jewelry, inventory comes in with the dishes and the building supplies and clears out just as quickly. That's due in large part to Stephanie's keen eye and meticulous process, which involves a good film or soundtrack and her trusty jeweler's loupe.
"I get a grocery bag's worth of jewelry every week or so," Payne said. "I bring the bags home and process them while I'm watching a movie or listening to music. I spend a lot of time on eBay and Etsy looking up prices because I don't want to sell something falsely to someone."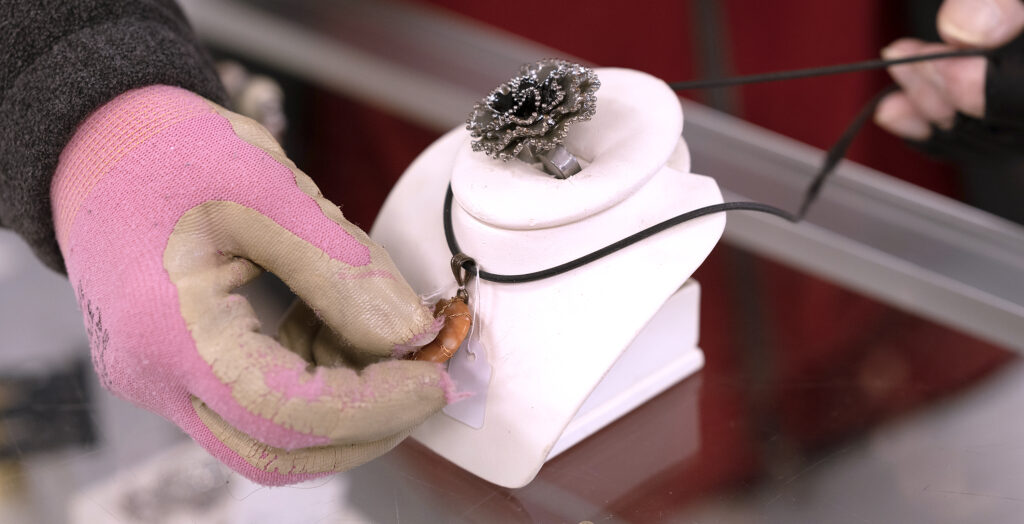 From there, she organizes the jewelry in small bags with labels and takes them to the store for display on the jewelry racks. "We probably sell anywhere from 25-35 bags a week," Stephanie said.
Every ReStore purchase helps fund local Habitat for Humanity homebuilding and home repair programs. The Gresham ReStore is the only ReStore in the Portland metro region that accepts jewelry donations and clothing donations, to meet a need in the community for more affordable clothing options.
Processing such a large volume of jewelry donations "is an enterprise," as Stephanie puts it. But it didn't start out that way. When she started volunteering at the Gresham ReStore in 2019, another volunteer pulled her into the clothing department after noticing her organizational skills. One day that same coworker handed her a large bin containing 50 pounds of jewelry that needed sorting. It took Stephanie several weeks to process it all, but she reveled in the challenge of learning a new skill and refining her methods.
Even when the Gresham ReStore closed during the pandemic, the jewelry donations kept coming in. Stephanie knew she needed to take her show on the road, namely to her spare bedroom at home, where she could dedicate the time and space for research and organization. It takes her about four hours to process a large bag of jewelry, from sorting to labeling to pricing. This includes separating out the three to five percent of jewelry pieces that she considers high value.
"I would pull out all this really nice, valuable jewelry, and tell my boss that we needed to be intentional about the pricing," she said. "It took me a while, but I finally gathered enough high-value pieces for a big sale."
These vintage and fine jewelry pieces go into twice-yearly sales with all proceeds benefitting local Habitat homebuilding and home repair programs. Stephanie usually spends two to three weeks curating unique pieces and pricing them to move quickly. Shoppers can score a deal on everything from belt buckles and lighters to pins, broaches, and watches. For those who don't find anything during the Holiday Sale, they can try their luck with a new selection of pieces around Mother's Day.
"I had one lady who said, 'You really are curating this so well,'" Stephanie said. "And I'm thinking, 'I'm a curator now, I love this!'"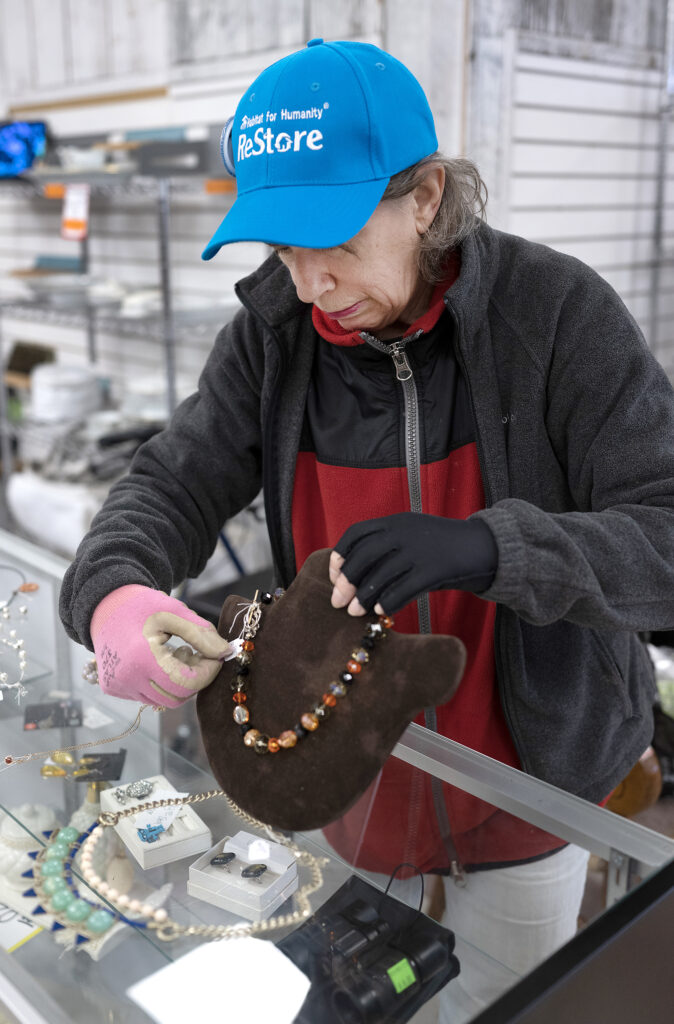 Stephanie's commitment to Habitat's work goes way back to 2010, when she volunteered to build several rowhouses in St. Louis, Missouri. The skills she acquired on those build sites have stuck with her, as she works to renovate her own home.
In addition to her volunteer work with the ReStore, Stephanie volunteers as a tailor for the Nutz-n-Boltz Theatre in Boring, handling costumes for two productions each year. As an avid gardener, she certifies habitat gardens through Portland Audubon. She's also a published author, and continues to write in her spare time.
For now, Stephanie has embraced her role as the Gresham ReStore's resident 'jewelry lady' with no plans to slow down anytime soon. In fact, she envisions a future where her jewelry program could be rolled out to other stores in the metro area with the proceeds directly supporting homeowners in those communities.
"When someone buys something, I always say 'Thank you. You're helping us put a roof on someone's home,'" she said. "They appreciate that they're not just buying jewelry, they're helping someone."