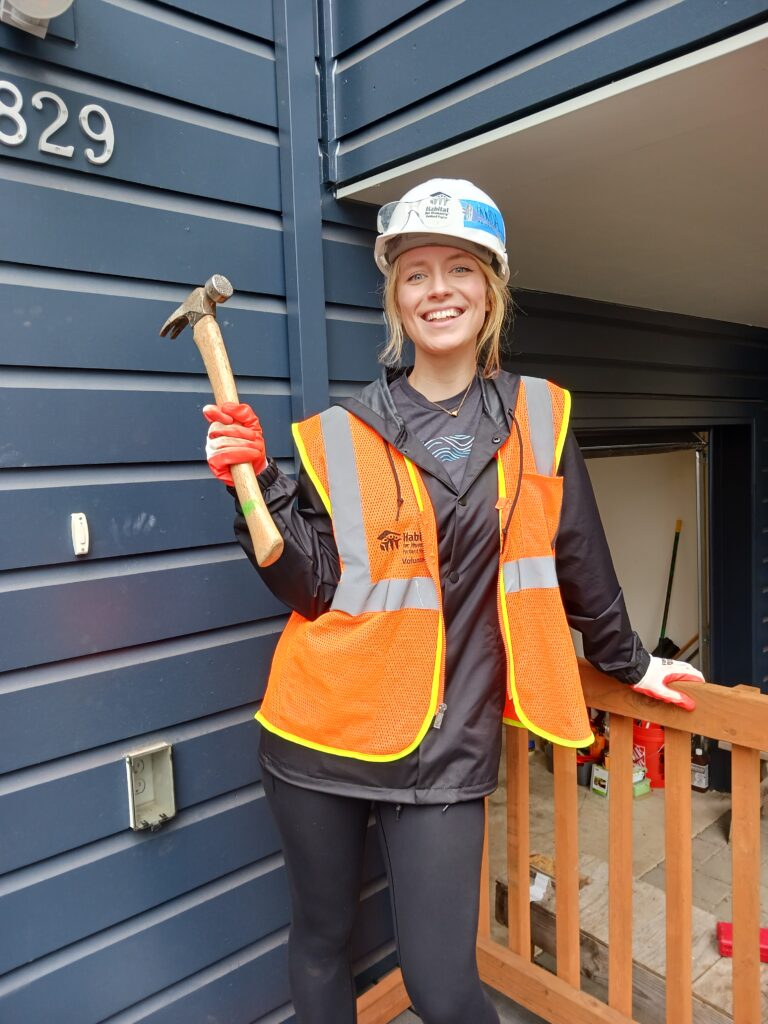 "I was filled with hope that these houses are being built."
Wanda McNealy calls herself "Portland passionate," and she's committed to helping the city she loves grow even stronger. She recently spent her first day volunteering with Habitat for Humanity Portland Region, helping build and move fencing for the Cherry Blossom community in the Mill Park neighborhood of SE Portland. It's part of her mission to volunteer weekly throughout this city, learning new skills, new people, and new solutions to the city's challenges.
"I went to the Habitat for Humanity website because I'd seen them building a house near my grandparents'," she said. "I never really knew about the organization, and I wasn't really sure what that even meant — Habitat for Humanity. And then when I went on the website, I saw their Women Build program, and I really wanted to volunteer."
Born and raised in Portland, Wanda has witnessed the impact of ever-increasing housing prices and the lack of affordable housing among her peers. Even friends in families with two incomes are struggling to find affordable housing, she said.
"The second I walked (onto the site) I was filled with hope that these houses are being built," Wanda said, putting her hand to her chest. "My heart — I needed this. I needed hope for the city. Just seeing this hope for the city: We are going to heal."
Wanda said getting signed up to volunteer was easy and she liked that it didn't require prior construction experience or a lengthy training period just to participate. She and other volunteers received guidance and safety tips onsite, with supervision, and were encouraged to be hands-on in helping move the project forward.
Wanda said she plans to go to various nonprofits to highlight their work and show others how easy it is to volunteer. She's begun chronicling the city's needs, and the fun of volunteering on Instagram. Having spent the day with Habitat, she hopes to return for more volunteer shifts onsite.
"Now that I'm here, I want to do it at least every other Wednesday, if not every week at Habitat," said Wanda, who volunteered solo and met new friends with the Women Build team onsite. "I need to be around empowered women who are empowering me as a young female."
The whole experience, she said, has given her hope for Portland's continued resilience.
"It's heartwarming that these houses are built by your neighbors," Wanda said. "People who are going to move in here — having a house that's built by their brothers and sisters — that's sweet!"