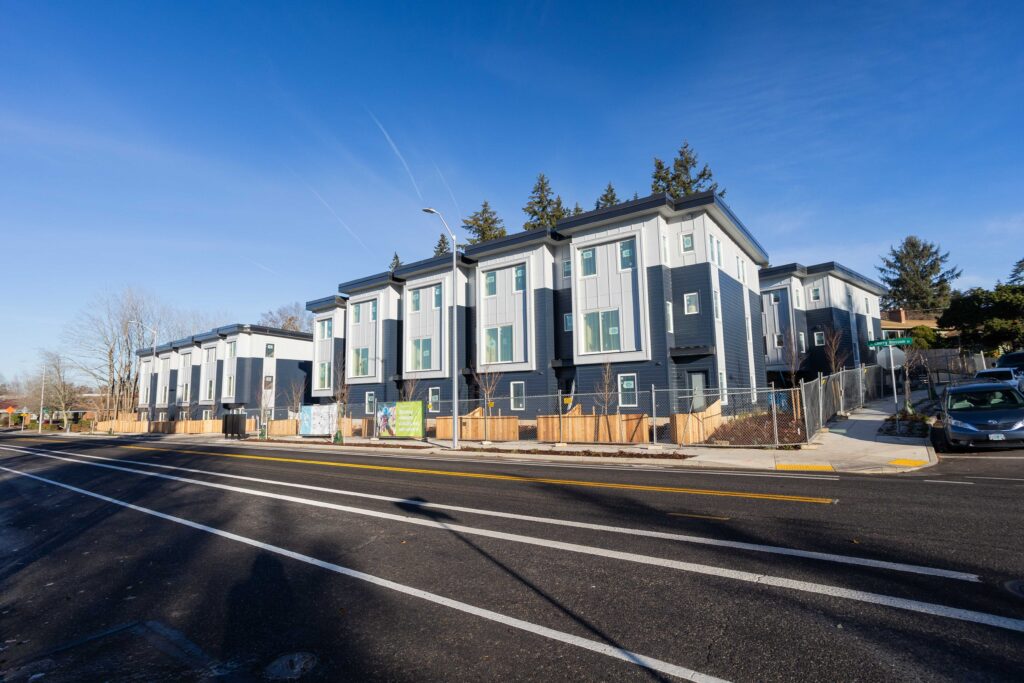 Habitat crews dress in warmer layers now as snow and rain drops descend upon our new communities for 2023. We continue to meet the increasing need for affordable housing across the Portland region. And with the help of our supporters and volunteers, Habitat for Humanity Portland Region finished hammering in more frames than ever this past year! Here is our current progress:
Cherry Blossom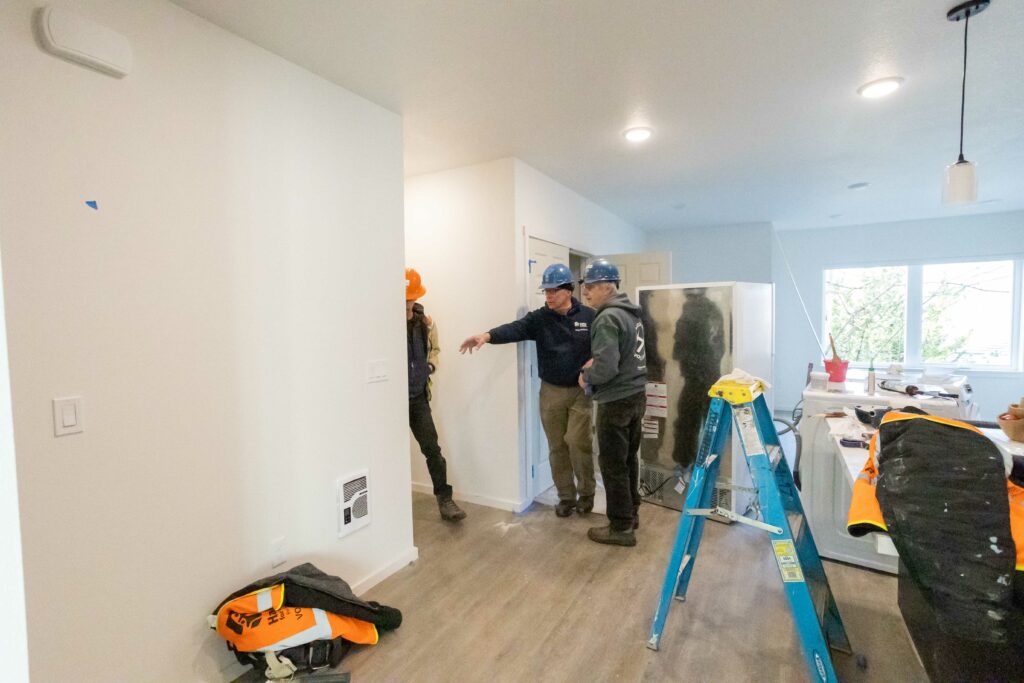 Just in time for the holidays, the first four homebuyers moved into their new 31-home community, nestled inside Portland's vibrant Mill Park neighborhood. We also completed our final punch list items on two fourplexes, which includes installing hardware (door knobs, hinges, towel bars, faucets, etc.) and all other finishing touches. Additionally, we expect to receive certificates of occupancy on two fourplexes by the end of January to clear the way for more homeowners to move into their new homes.
Volunteers make all the difference installing cabinets, interior doors, and trim. In the past month, we have finished installing trim-outs inside some homes, as well as countertops and kitchen backsplashes. In the coming month, we will complete our interior and exterior painting. Our plumbers will begin installing appliances, toilets, and faucets, and our electricians will install ceiling lights, switches, and more.
Drywall, cabinets, and flooring on an additional fourplex is now finished, as well as interior doors and painting on two fiveplexes.
As we step back and see how far we have come, our Construction Crew Lead, Alyssa Taylor, reflects on her favorite part of working on the site in 2022. "I have really enjoyed building the fence with volunteers" she said. "It's hard work, but it satisfying to see it go up, and it's been a really good opportunity for people to learn how to use tools."
Alder Commons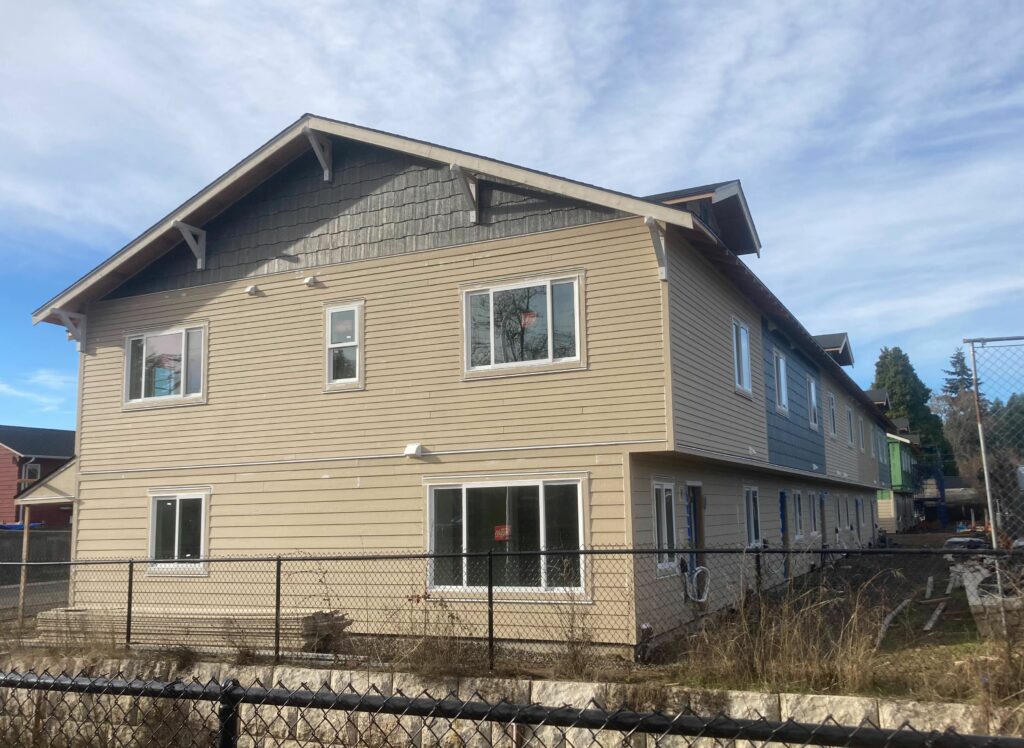 The Portland Youth Builders, a construction education program, joined us to volunteer on-site in 2022, and are currently working on interior framing of our triplex at this 8-home single-family community in Hillsboro. We plan on wrapping up porch roofs in the next month. Our volunteer crew is also working on sealing up the homes with exterior siding.
Our progress remains steady in our fiveplex as our trade partners and regular volunteers finish packing insulation and installing drywall. We continue interior painting, as well as installing cabinets and countertops, which we aim to complete by the end of February.
The Portland Youth Builders have welcomed a new group of students this month as the former crew graduated their program. We congratulate our young professionals and wish them a fantastic career journey.
"I am happy for our partnership with Portland Youth Builders because we genuinely care about fostering a diverse group of people to be more represented and feel more welcomed within the construction industry," said Brad Lamoureux, the Construction Superintendent. "The more that PYB succeeds, the more that we will, in turn, see more of our regular volunteers and our daily volunteers be a more diverse group of people."
Foster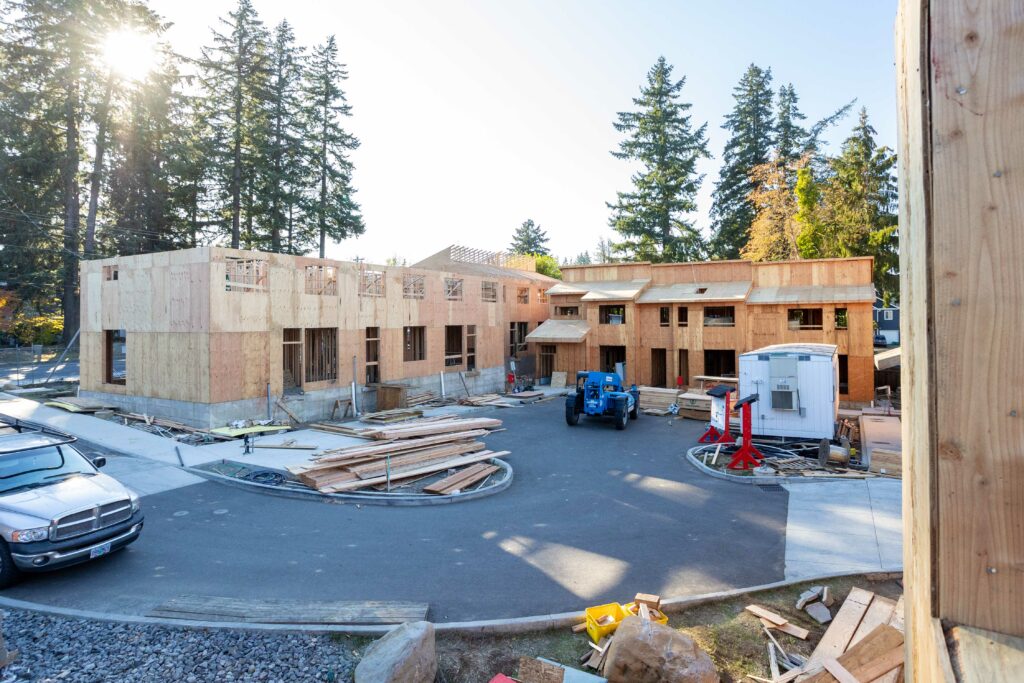 Portland's Pleasant Valley neighborhood will soon have 40 new permanently affordable homes as work progresses there on one fourplex, eight triplexes and six duplexes.
We are at different stages of development at the construction site, from framing to installing heating and cooling systems. Construction crews have finished installing doors, trim, and interior painting on our most completed duplex and triplex. In the coming months, our crews will install appliances and finalize electrical and mechanical routing.
Another duplex nears completion with the installation of cabinets, countertops, and flooring, and we aim to complete the interior painting within the next month. With inspections underway, we plan to finish installing dry walls within homes by the end of January.
Our progress relies on our volunteers who play a pivotal role by helping us frame the homes. Portland Youth Builders, a non-profit that aids youths in excelling in the construction field,is currently framing a duplex and hopes to be done framing the second floor within the next month. After that, our goal is to finish framing the roofs.
We also finished installing weather resistance barriers on our remaining four triplexes and two duplexes to protect the homes from Oregon's weather. Since our sites have seen rain, we plan on drying out some of the homes in the coming months so we can move on to installing windows, doors, and roofing shingles, along with sound proofing to aid with noise reduction.
Denney Gardens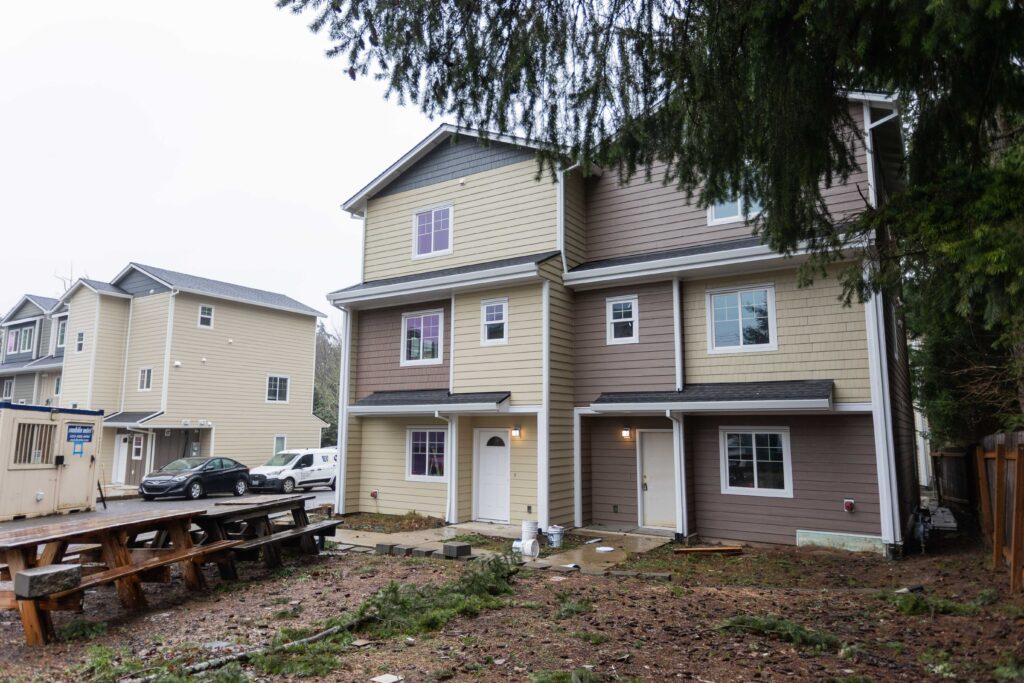 In the past month, we have neared the finish line on this 16-home community with the completion of interior trim, plumbing fixtures, and more on our last duplex. Since moving onto the excavation and grading on the site, our crews have worked on installing a parking lot and curbsides. We have begun to bring in playground equipment for the park to create a more robust community for children and families.
In the next month, we plan to replace the gravel with topsoil. In our efforts to earn our Backyard Habitat Certificate, we continue to work alongside volunteers to landscape native plants around this community and create an ecosystem where wildlife and the community flourish.
Together, we have achieved significant progress toward closing the affordable homeownership gap by building more diverse and inclusive communities. With your support, we look forward to seeing more families and individuals move into their new homes across the Portland region this 2023.