Despite the harsh winter conditions—including snowstorms and power outages — that struck the Portland region, Habitat homes continue to progress towards completion. We currently have homes in all stages of the construction process: between Denney Gardens and Simpson, we have 16 homes mid-construction; at Kenton Commons, 12 homes are almost ready to sell, while 18 more are ready to start framing walls; and at Cherry Blossom, we are almost ready to start foundations on 31 future homes. Thanks to the hardy Habitat construction staff and contractors working through wind and snow, we are continuing the mission of providing safe, affordable homes throughout the region.
Denney Gardens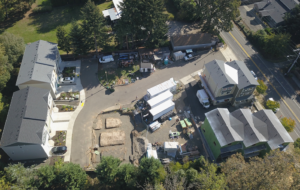 Just a few miles from I–217 in Beaverton, we completed 8 of the 16 homes at Denney Gardens and homebuyers have moved in. One triplex is almost done with drywall installation, which means we will be ready for interior finishes soon, including: cabinets, countertops, trim, doors, paint, and floors. On another triplex, we poured the concrete foundation slab and we are preparing to begin framing the walls. Once building permits are issued by the City of Beaverton, we will begin excavating the foundation of the final duplex.
Simpson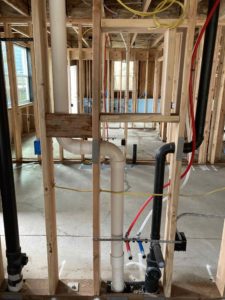 Simpson consists of 10 homes in the Cully neighborhood of NE Portland. Mechanical, electrical, and plumbing (MEP) contractors are currently "roughing in" their systems on one of five homes. This includes installing the ductwork, wiring, and plumbing that goes inside the walls. These buildings will soon be ready for insulation. Habitat staff and contractors go above and beyond to ensure all cracks and penetrations through the exterior wall are sealed tightly at this phase. Well-insulated walls mean warm winters and low electric bills for future homeowners.
We completed "rough-in" and insulation on the other five homes, and have moved into the drywall stage. In the coming month, we can begin installing interior finishes, like paint, trim, cabinets and flooring.
Kenton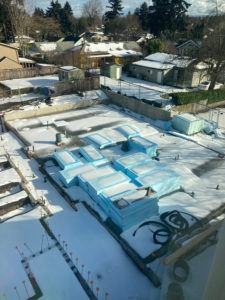 In North Portland, the first phase of Kenton Commons is almost complete. We anticipate passing final inspections and receiving certificates of occupancy for all 12 homes in the coming month.
The foundation slab for the second phase, in which we will build 18 homes, is scheduled to be completed very soon, and framing will begin in early March.
Cherry Blossom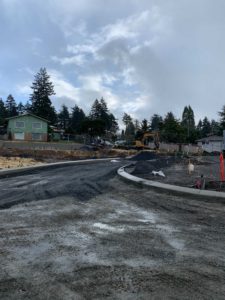 The Cherry Blossom community in Southeast Portland is wrapping up site development work: retaining walls, mass grading, underground utilities, and the private road are almost all done. We are set to begin excavating foundations for the future 31 homes towards the end of March.
"It's incredible the amount of work that goes into the underground utilities. It's a buried maze of pipes and conduit, all set at specific depths and locations to drain properly, tie into the public systems, and avoid conflict with one another," says site superintendent Jared Smith. "I'm excited to see the curbs and private road go in next week. That will be a big visual change and will make the site much easier to maneuver in."
Meanwhile, work has commenced on the public frontage improvements, including a new sidewalk and curb, streetlights, storm drains, ADA ramps, and more. "There is currently limited pedestrian access on this corner, causing everyone to cross the street or walk through the grass," says Jared. "This will be a beautiful and important upgrade for both the site and for the neighborhood."
Thank you to our supporters who continue to help us build stable, affordable homes across the Portland region.