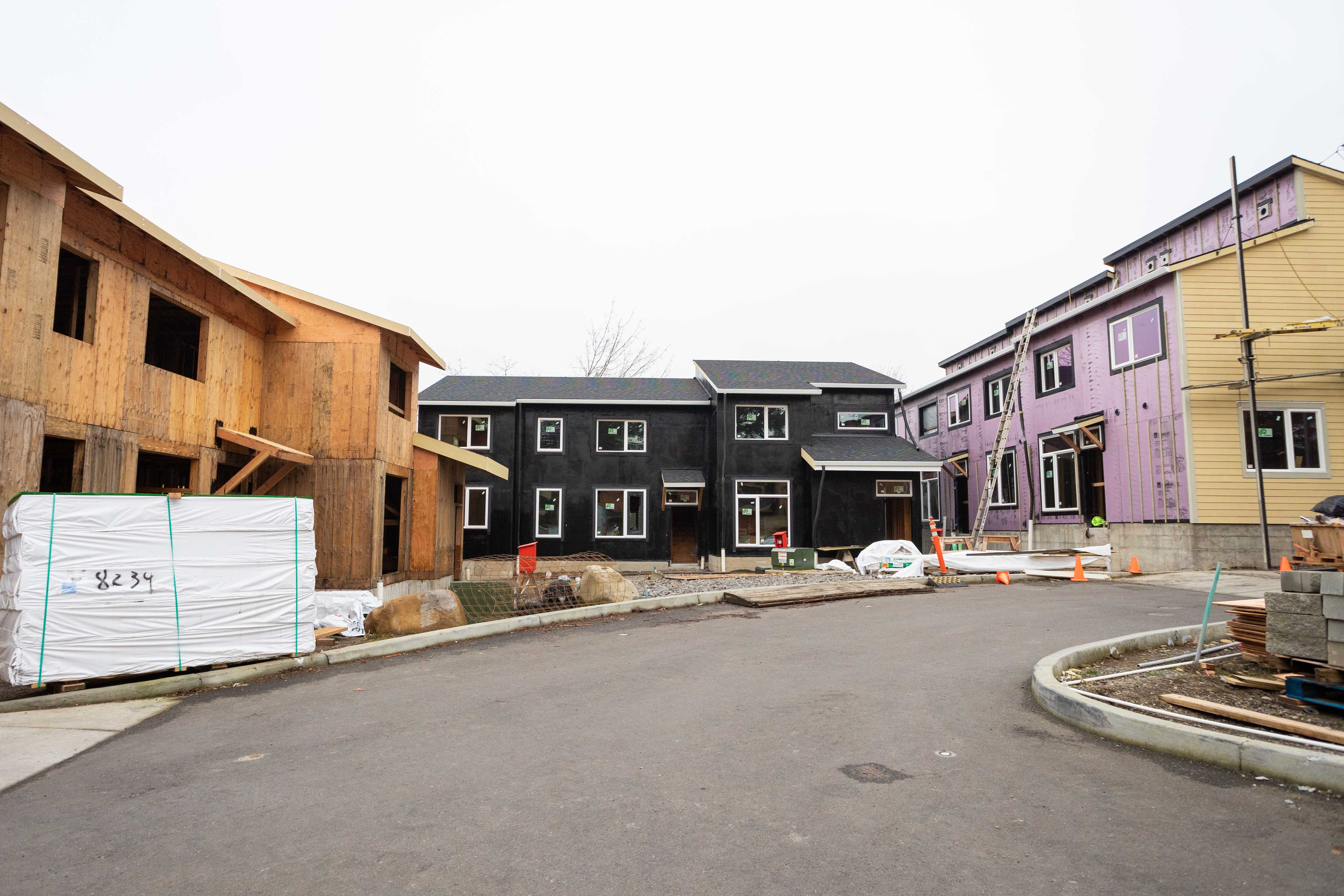 Habitat homeowners, volunteers and staff didn't let wild winter weather — including the most snowfall Portland's seen since 1943! — slow them down on three of our most active construction sites. Here are the exciting developments happening at each.
Foster
In this 40-home community in Portland's Pleasant Valley neighborhood, the first half of all homes have now passed framing inspections. This is a big milestone because it means all 20 homes in this first phase are through the "rough" stage of the project and getting their interior finishes. Out of these 20 homes, nine already have drywall, cabinets, countertops, paint, and flooring. Next up is installing the final plumbing fixtures, appliances, and hardware. In the coming months, the first phase 1 homes are expected to pass final inspections with the city and become ready for homeowners to purchase.
Like with all of our sites, volunteers play a critical role at Foster. One major accomplishment this winter was that volunteers framed building 7, a massive two-story duplex, before a contractor installed the roof. The building is now fully "dried in," meaning it has a roof, exterior wall weatherproofing, windows, and doors, so the inside of the home can dry out from Portland's wet winter.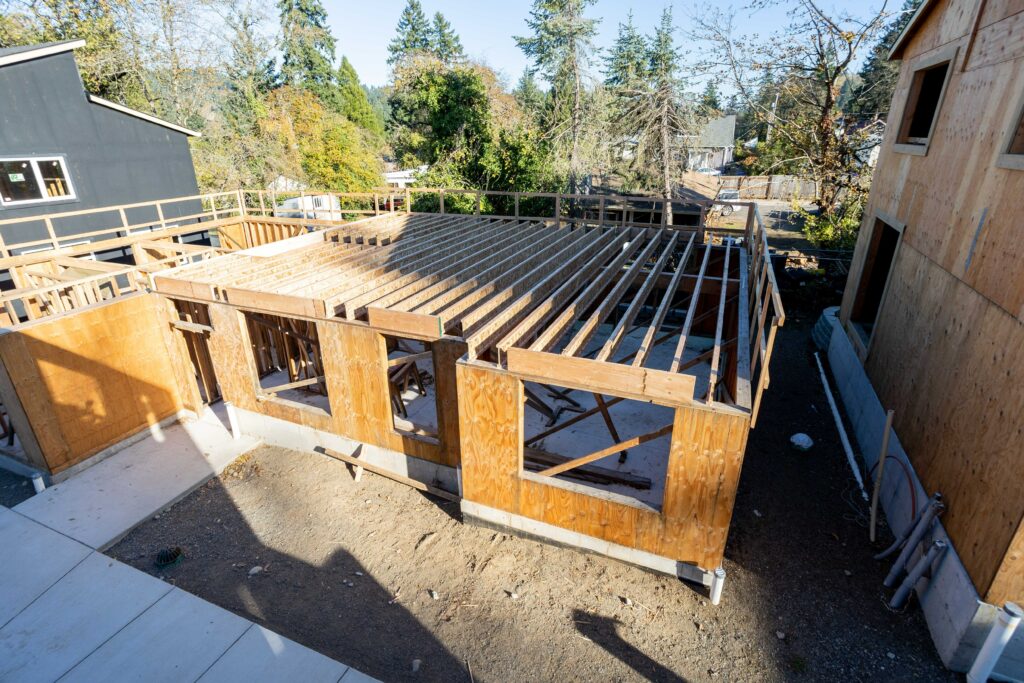 "This is great progress by the volunteers and contractors," says Habitat's Ian Gallager, the site's project manager.

Next, specialists will install all of the internal wiring, piping, and ducting that goes in the walls and floor joists, which will then be covered with insulation and drywall. After that, the volunteers will take over again to install the interior finishes and help make the project move-in-ready.
In addition to framing the building 7 duplex, another volunteer highlight at Foster was when the site hosted a Women Build event for Women's History Month. Activities included tool training, painting, pouring concrete, framing, and getting crafty with some tool storage solutions for the site. To sign up for the next Women Build event, go to https://habitatportlandregion.org/volunteer/women-build/


Alder Commons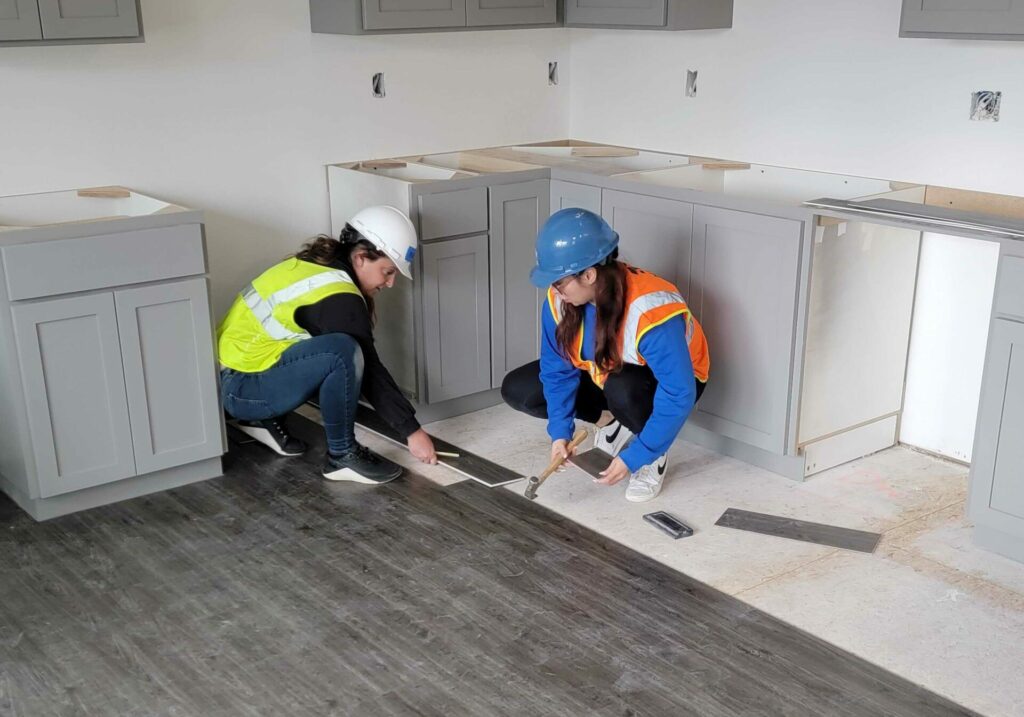 Both the exteriors and interiors are coming along at Alder Commons, thanks to our incredible volunteers. For exteriors, the team is wrapping up siding on the 5-plex building and plugging away on the triplex. The siding is being installed by Portland Youth Builders, a free construction training program for youths that partners with Habitat.
The interiors look different as well. In all eight units, the drywall is finished and cabinets are hung. Volunteers, including a group from 3 Mountains Plumbing, painted all of the interiors of the 5-plex in a fresh coat of white, ready for homeowners to add their own wall art and personality. The triplex is primed and ready to be painted next. After that will be the flooring installation, doors, trim, paint, and landscaping — all jobs for volunteers.
"Our core volunteers are so devoted that even when it snowed, I had to beg them not to come or else they'd put on skis and still show up at 9 am," says Brad Lamoureux, the site's construction superintendent. "They're super dedicated to our mission and have formed a great community."

While most sites are only open to volunteers on weekdays, Alder Commons is the rare one that also engages volunteers on Saturdays. If you're interested in joining the community of volunteers and weekends work better for you, register for a Saturday shift here.
Cherry Blossom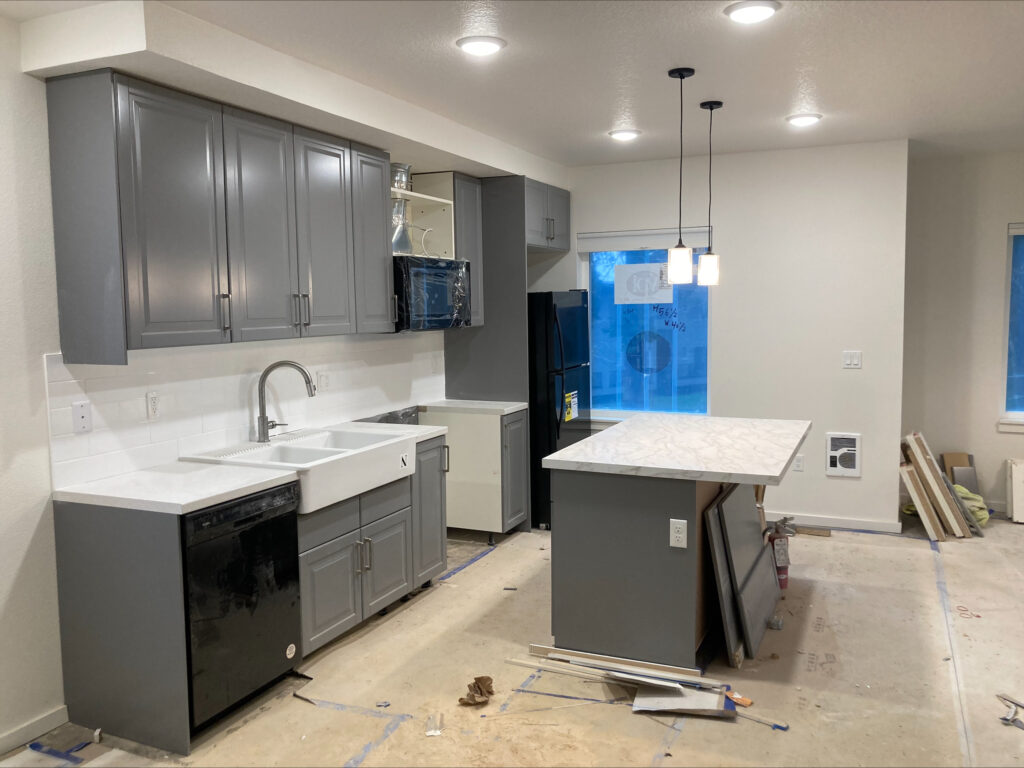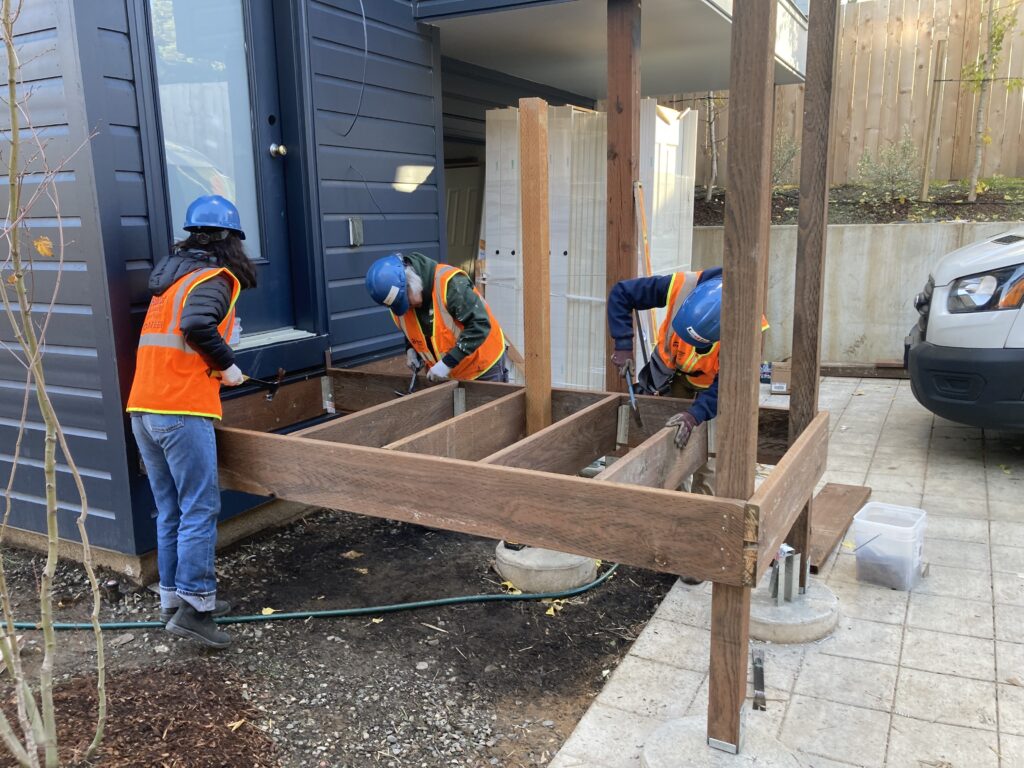 Great progress is being made at all 31 homes in the Southeast neighborhood — including more than half being ready for new homeowners to move in!

This winter, all eight units in buildings 4 and 5 were completed and sold to their new homeowners, who then got to move in, realizing lifelong dreams of owning a safe, affordable place to live. We also received certificates of occupancy for all eight units in buildings 3 and 6, a major milestone that means the homes have passed all inspections and are ready for sale to Habitat homebuyers. The teams are putting all the finishing touches on these homes in preparation for upcoming move-in dates.

This month, we're pushing hard to get certificates of occupancy on the remaining 15 homes. What will it mean to get those last homes across the finish line?
"A big push from all the staff, volunteers, and contractors to cross everything off our lists and pass final inspections with the city," says Habitat's Flora Lang, assistant site superintendent. "Volunteers will be instrumental in helping us complete all of the pre-move-in touch ups this spring," she said.
That's especially true for building 8, an all-volunteer-built unit. It was first framed by volunteers back in Fall 2021, and over this winter, volunteers installed all of the cabinets, doors, trim, and hardware.