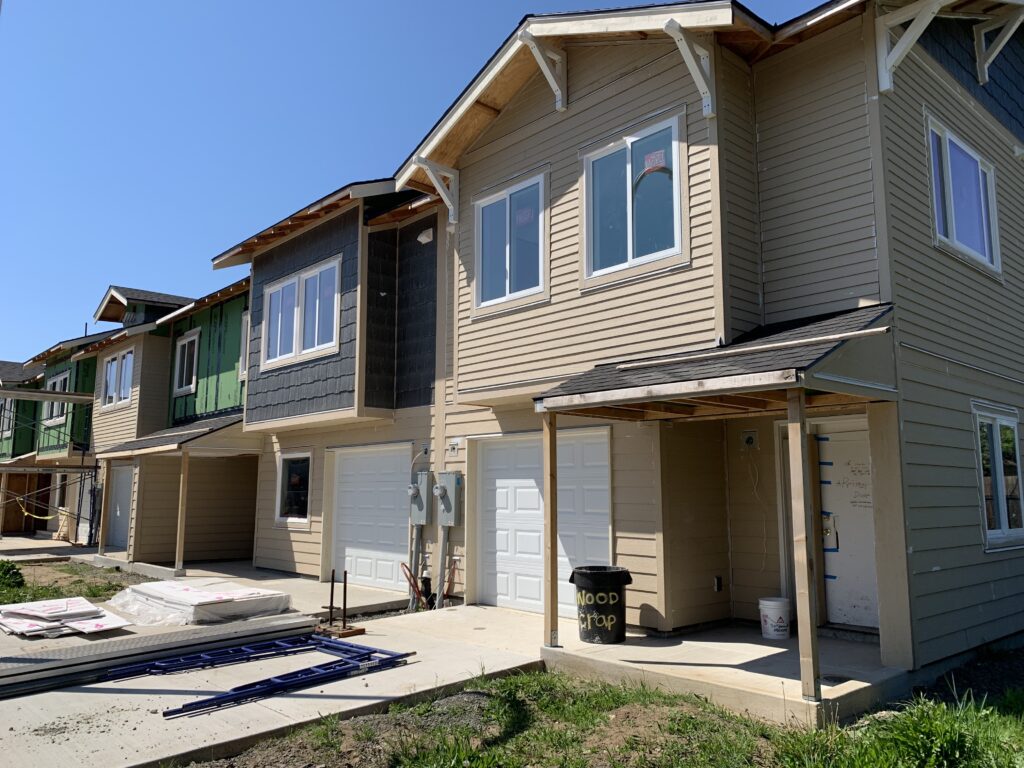 At Habitat, spring is giving way to summer sun and fabulous floors! Learn how homeowners, volunteers, and staff are springing ahead on our most active construction sites.
Alder Commons
Big moves are underway at our 8-home community in Hillsboro known as Alder Commons. The paving is complete, painting, stair construction and siding installation are all underway. The flooring has gone in and the porches are taking shape. And the first certificate of occupancy has already come through.
"It was a tight turnaround to get the (certificate of occupancy) done to lock in the mortgage rate for the homeowner," said Leigh Armstrong, Habitat project manager.
"We even had folks from the Home Repair program pitch in," said Insa Evans, assistant construction superintendent. "It was all hands on deck, and everyone did a great job in helping us meet our goal!"

Work continues on landscape grading, painting doors, floor finishing and putting up the remaining siding. The team anticipates completing all the units by August, so if you have free time this summer, please consider volunteering to get this community over the finish line. While most sites are only open to volunteers on weekdays, Alder Commons also engages volunteers on Saturdays. If you're interested in joining the community of volunteers, register here.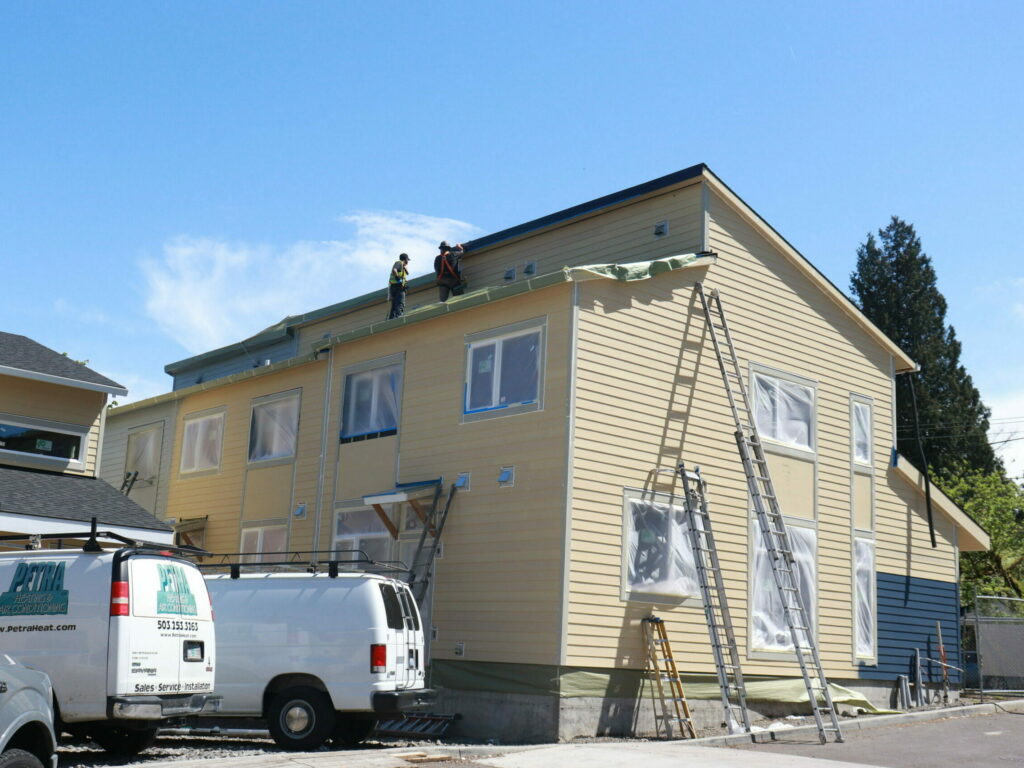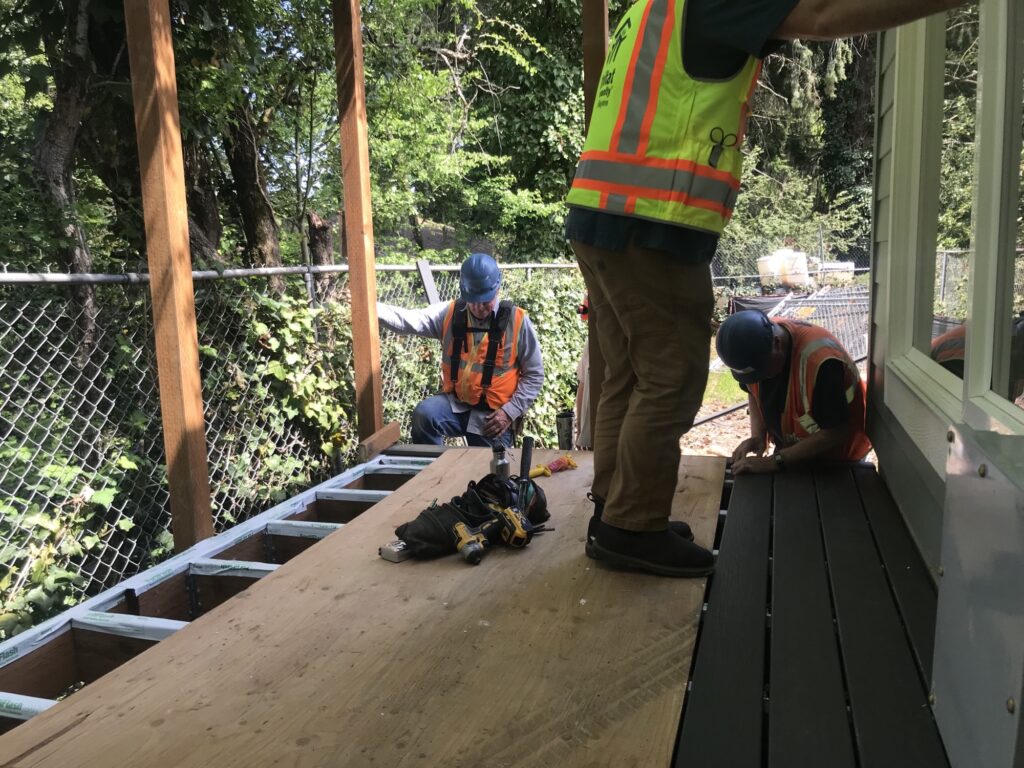 Foster
Our Pleasant Valley community has literally raised the roof on all of its 40 homes! The 20 homes in Phase 1 are also completely drywalled, which is a big milestone because it means the buildings are graduating from the "rough stage" to the "finish stage," where they just need interior finishes. Buildings 5 and 6 are up next for insulation and drywall. Habitat's Ian Gallager, the site's project manager, said that within the next month, three more buildings should be getting their certificates of occupancy, readying them for buyers to start moving in.
Other cool progress at this site includes the bike enclosure and porches. Volunteers have installed DensGlass, a high-performance fiberglass, for the bike enclosure. The biggest news, though, is about the porches being built off the back of the two ADA-accessible units. Volunteers continue to note how much homeowners will enjoy the porches, situated under constant shade and overlooking a large, undeveloped field of greenery. Enough decking was laid for the HVAC company to install the heating and cooling units. The porches here have been a challenge due to elevation changes and the curvature of existing walls, issues that were overcome by one of our most dedicated teams: The Porch Guys.
The Porch Guys were given their name by a site superintendent at a former community who enlisted their help on countless porch builds. Dick, Garry, Joe, Arch, and Bob are the main crew, often joined by Larry (a practicing doctor) and a newcomer, Will. Several members of the crew have been volunteering for 12-18 years, and they work on this site every Wednesday and Friday.
"The Porch Guys are all dedicated, outstanding workers who are extremely capable and always strive for perfection. They're endlessly impressive," said Kris Bultz, the Foster site's assistant construction superintendent.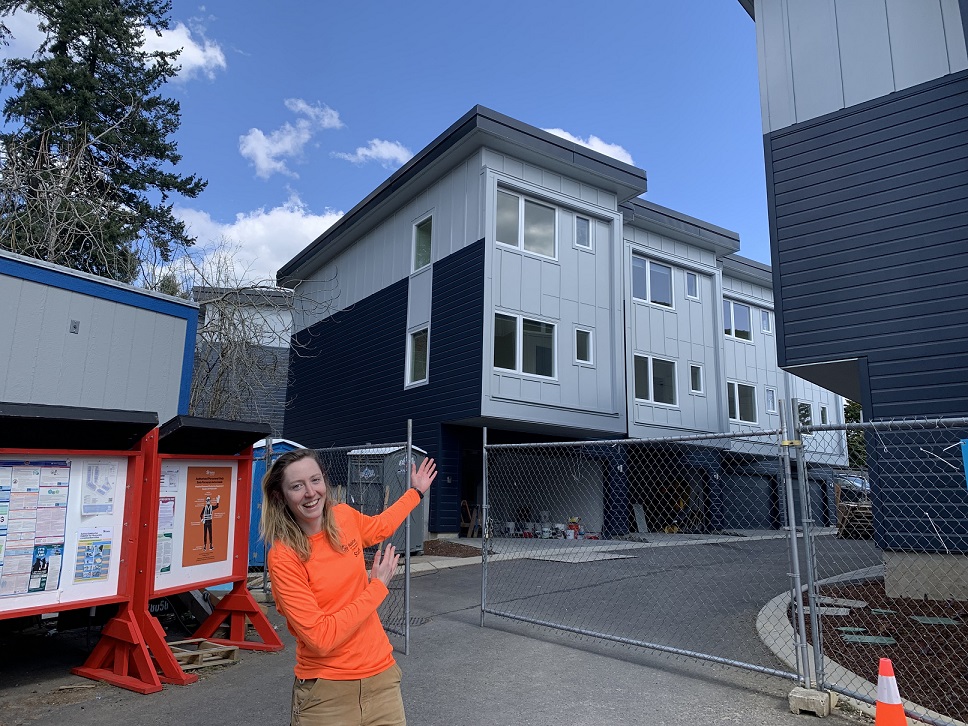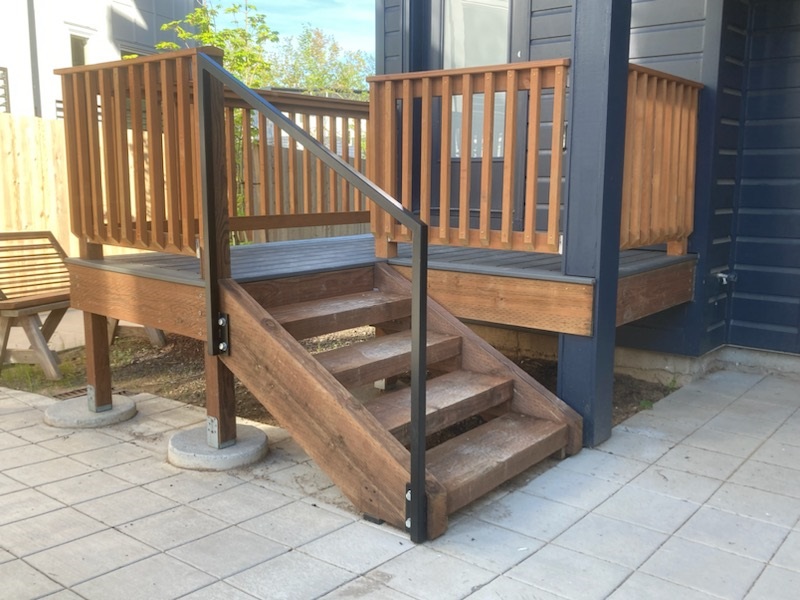 Cherry Blossom

This community of 31 homes in Southeast Portland is coming down the homestretch. Big milestones this spring include that all of the units have certificates of occupancy, all city inspections have passed, and building permits are closed. At this point, it's really just "fit and finish" interior work that remains. Buildings 1 and 2 (10 homes) are currently moving through the sale process with partnering homebuyers, and will be ready for the day they move in.

The Wednesday volunteer group was proud to install Trex on the deck for Building 7. The day it was completed was a momentous one in a couple other ways as well: the site's last 4 certificates of occupancy came in, and it was also the sendoff for Flora Lang, the assistant site superintendent, who is leaving to study sustainable building. Thanks to the help of Flora, other Habitat staff, and volunteers, the Cherry Blossom project is expected to be completed in the next two months.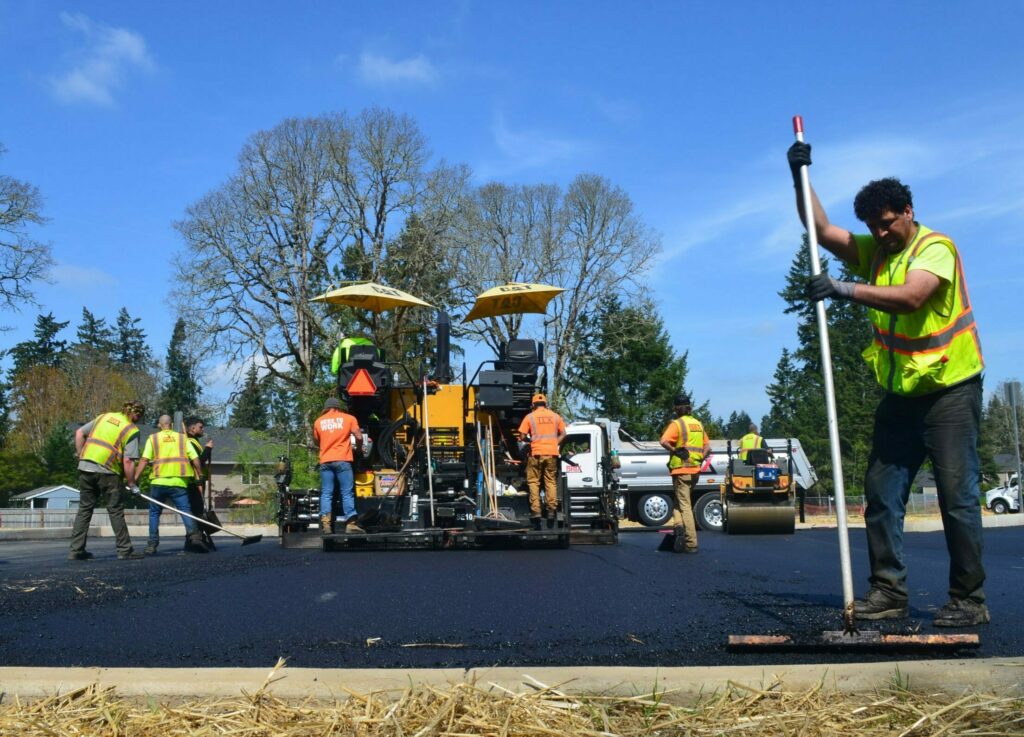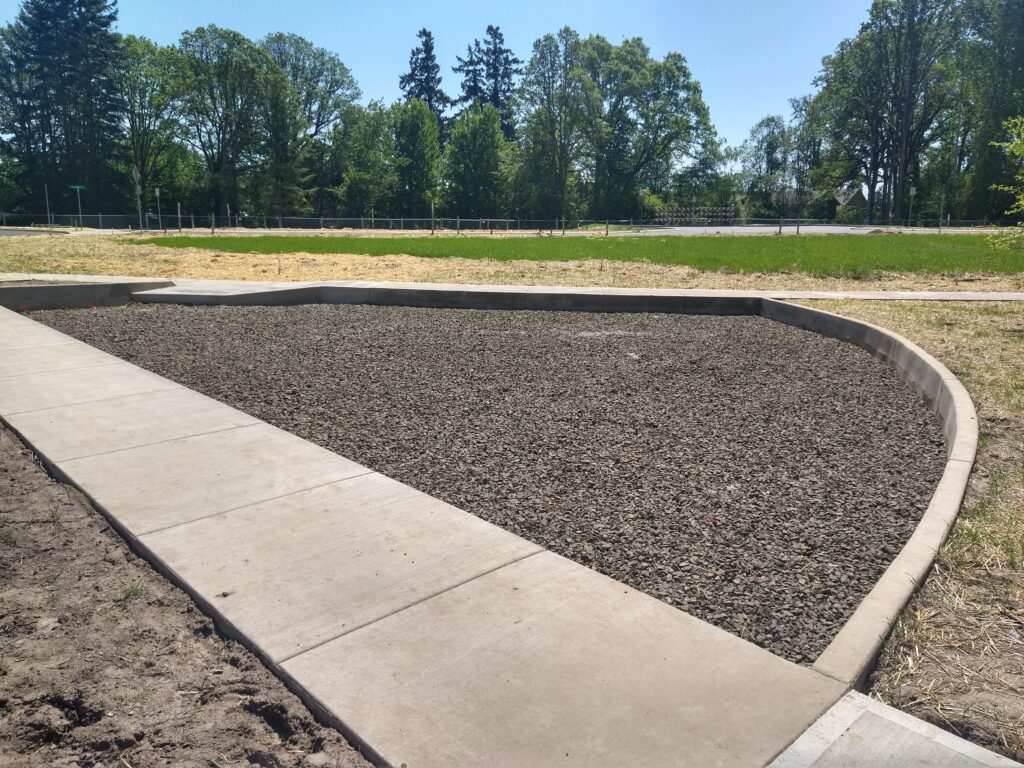 Century Commons

Have you met Century Commons, our newest community? When finished, Century Commons will feature 18 homes with a play area in Southeast Hillsboro. The Habitat team broke ground on the site in January. Right now it's nearly through the "site development" stage. That means workers have been busy clearing and leveling the property, installing utilities, building roads, and putting in curbs and sidewalks. Next up, streetlights will be delivered, and then Century Commons will be ready for city inspection. Building permits are under review, and the team expects to start excavating for foundations in July. Stay tuned for more news as construction work starts on Century!