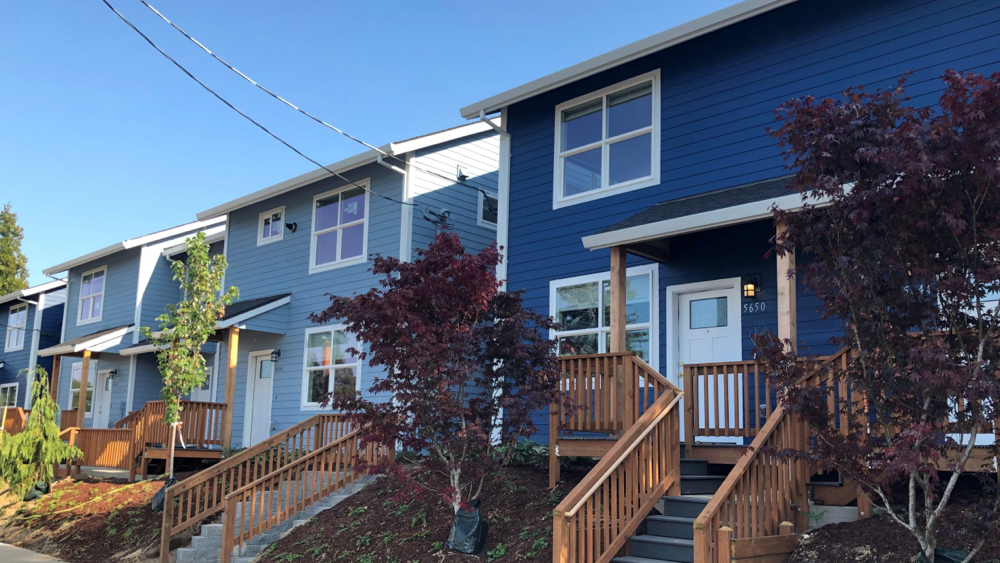 Local Business and Community leaders step forward to invest in affordable homeownership with Habitat for Humanity at critical time.
PORTLAND, OR June 20, 2021—People across Oregon are facing skyrocketing housing costs and an economic crisis that is having a devastating impact on our communities. Local philanthropic leaders are stepping up in support of affordable homeownership with Habitat for Humanity Portland Region as they launch their $25 million Triple Your Impact Campaign to increase Habitat's capacity to partner with triple the number of people annually.
"We have a growing shortage of housing, causing home prices and rents to go up, putting the dream of an affordable home further out of reach," states Steve Messinetti, CEO of Habitat for Humanity. "Solving this will take a coordinated effort from the public, private and nonprofit sectors."
The nonprofit has a bold goal: to increase Habitat's capacity to partner with triple the number of people each year across the Portland region. That means every year 500 more people would be able to experience the stability of a safe place to call home.
Habitat for Humanity recently broke ground on 31 new homes in Portland's Mill Park Neighborhood, another 40 homes in Pleasant Valley, and will be breaking ground on two communities in Hillsboro for another 26 homes. To expand their impact even further, Habitat launched an ambitious capital campaign to take their home-building and home repair efforts to the next level.
The Triple Your Impact Campaign cabinet has been working hard behind the scenes to share this campaign with local philanthropic leaders and has helped raise a remarkable $20 million toward the nonprofit's goal. Leaders from Bank of America, Kaiser Permanente, Regence BlueCross BlueShield of Oregon, and The Standard have stepped up to create the $300,000 Triple Your Impact Community Matching Gift Fund. This incentive will be activated at key moments throughout the coming year to challenge the community to dig deeper.
They now look to the greater community to help bring the campaign across the finish line and raise the final $5 million. Habitat plans to use the funds to make key investments in:
Land Acquisition and Development – Purchase and develop 100 lots for future homes.
Homebuilding – Increase homebuilding efforts to 65 homes sold annually, so that more people will build strength and stability through affordable homeownership.
Critical Home Repairs – Increase critical repairs to 60 homes completed annually, preventing displacement and helping people age in place.
Homeownership Education Classes – Expand educational programs to the broader community, teaching skills that help people become successful homeowners, build financial security, and maintain their homes.
Today's housing inequities are a result of over 100 years of federal, state and local laws that intentionally segregated our communities by race and made it difficult to purchase a home for people of color, especially for Black households. Currently, there is a 31% difference between the rate of homeownership between White (64%) and Black (33%) households in the Portland Metropolitan region.
"The current economic crisis has disproportionately impacted communities of color, causing even larger disparities. We have a responsibility to close the homeownership gap by investing in down payment assistance, access to credit, and building more affordable for-sale housing," stated Steve Messinetti.
Over 80% of the people who purchase homes through Habitat for Humanity are people of color, helping to address this homeownership gap.
"Habitat for Humanity Portland Region has a true understanding of the challenges our region faces and how best to tackle those challenges through innovative solutions," shared Roger Hinshaw, President of Bank of America Oregon and SW Washington. "We will build a more resilient community if we all work together and invest in successful programs that addresses gaps to make homeownership more accessible and equitable for all people in our community."

Learn more about Habitat for Humanity's Triple Your Impact Campaign:
habitatportlandregion.org/triple-your-impact/
About Habitat for Humanity Portland Region
At Habitat for Humanity Portland Region, we believe that everyone deserves the opportunity to have a stable and healthy place to call home. Habitat homeowners help build their own homes alongside volunteers and pay an affordable mortgage. Founded in 1981, we are invested in creating a region where everyone has the opportunity to build a better life. Learn more at habitatportlandregion.org
# # #