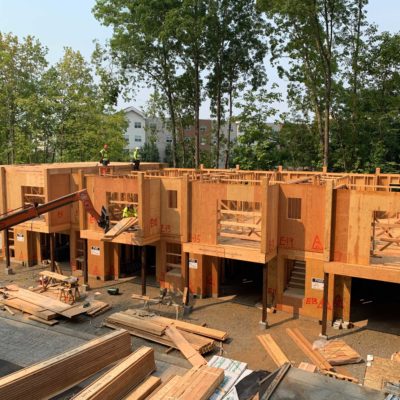 As the Portland region population grows, rent has increased, home prices have skyrocketed, and affordable housing has become harder to come by. To meet this obstacle head-on, we've launched our Triple your Impact campaign to house 500 people each year while providing affordable mortgages that will keep homes affordable for generations. Although the average cost of living for the future remains uncertain, our new communities and homes […]
Read More
After helping to build his mom's home from the ground up, Duc turned the construction skills learned through Habitat into a career.
Read More
Despite major setbacks, our work here in Portland continues. None of this would be possible without the continued support of our community.
Read More
Habitat homeowner Fatiya is hopeful that the stability of owning a home will give her kids the opportunity to be successful and pursue their dreams.
Read More
Heading into spring, our construction sites are busy and buzzing with activity. With over 15 construction employees and dedicated volunteers, we've now grown to three construction sites that operate across the city.
Read More
Habitat homeowner Molly credits Habitat for helping change her family's trajectory. Since moving into her new home, she's been able to invest in their future.
Read More
Through your support, we're building 57 permanently affordable homes across North and Northeast Portland. It's our busiest season yet and we're just getting started!
Read More
After finding security in affordable homeownership, Trisha reflects upon building a solid foundation for her family to grow.
Read More