Credit: Video shot by Dillon Vibes, and edited by Amanda Bernhardt.
As the weather slowly begins to drop in temperature and we transition from summer to fall this month, our construction crews diligently move quickly and take advantage of all the sunlight left as we progress toward completing our communities. We currently have homes in all stages of the construction process.
Cherry Blossom | Southeast Portland
Cherry Blossom, located in Southeast Portland, comprises two phases of a 31-home community. In phase one (17-homes), we are preparing to pass final inspections and receive Certificates of Occupancy from the City of Portland on eight of the homes. Meanwhile, we are putting the finishing touches on the other nine homes, which include: painting and installing kitchen back-splash, appliances, and doors. In the past month, we completed the flooring and cabinets.
In phase 2 (14-homes) of building this community, our construction crews will begin plumbing, electrical, and mechanical work, followed by insulation and drywall across the remaining homes.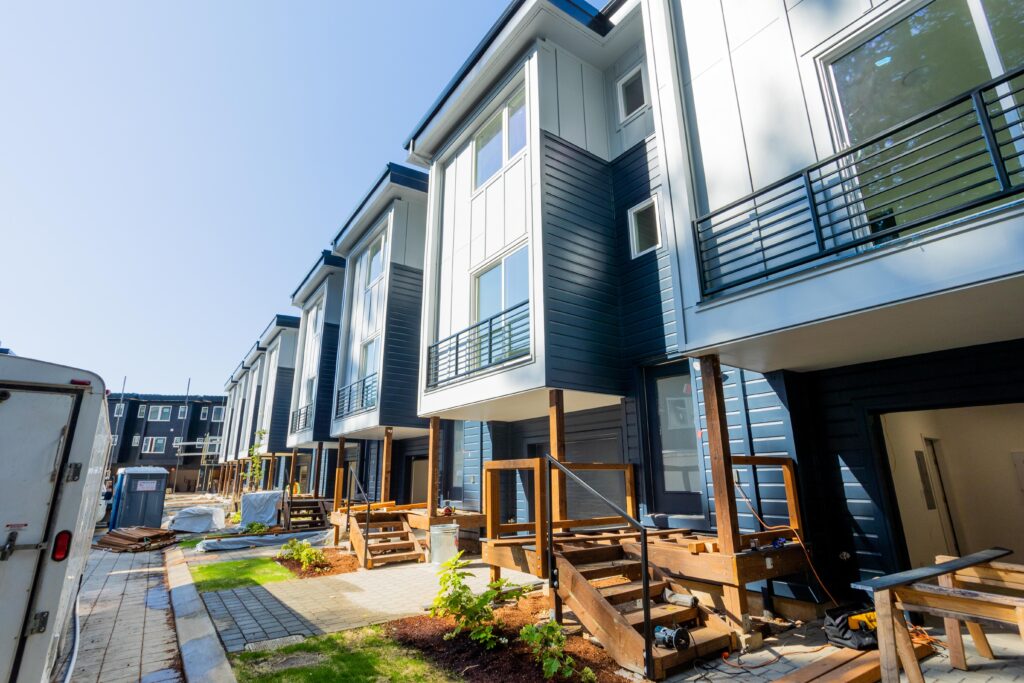 Foster-Powell | Southeast Portland
On our 40-home community in Southeast Portland, our first phase consists of 20 homes. Here construction crews have already completed drywall and exterior paint on the first two buildings.
We also installed plumbing and siding and continued framing on the subsequent buildings last month, and we will continue interior work for the following months. Within the next month, our crews will begin insulating more homes and begin mechanical and electrical work.
In the past month, we've continued framing the additional 20 homes alongside volunteers and Portland Youth Builders taking on two buildings while subcontractors frame the others. We will continue with rough-in plumbing and electrical work, followed closely by insulation.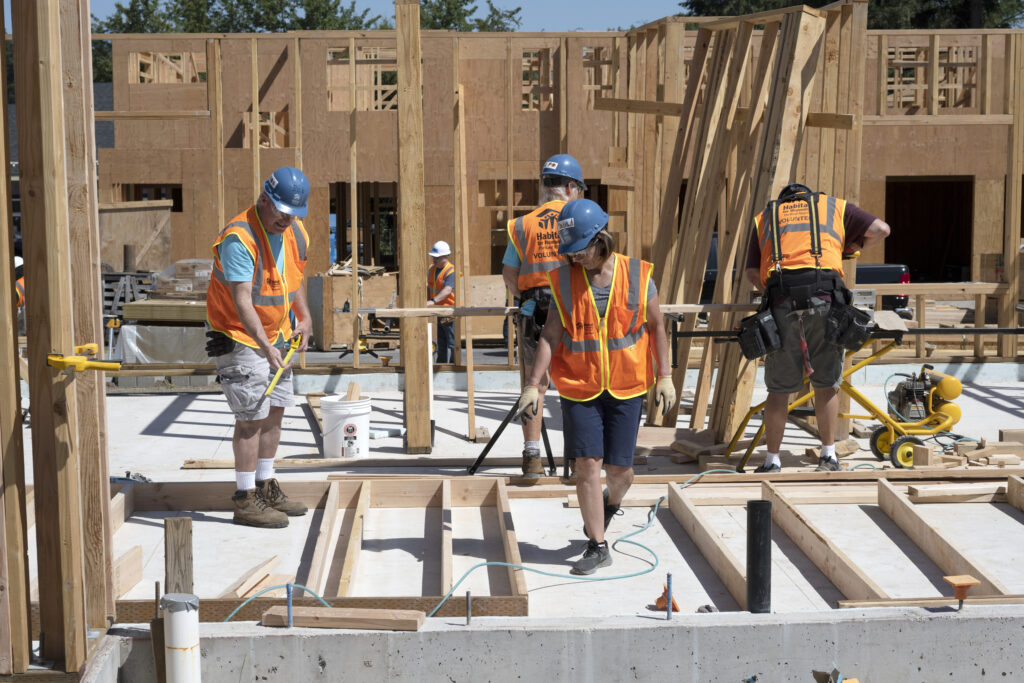 Alder Commons | Southeast Hillsboro
In Southeast Portland, we are installing windows and exterior doors on our 3-plex and 5-plex in this 8-home community. In the past month, we've completed plumbing rough-in and began HVAC and electrical rough-ins. Over the next month, we will continue HVAC and electrical work, in addition to building porch roofs, painting the exteriors and installing siding, gutters, and garage doors.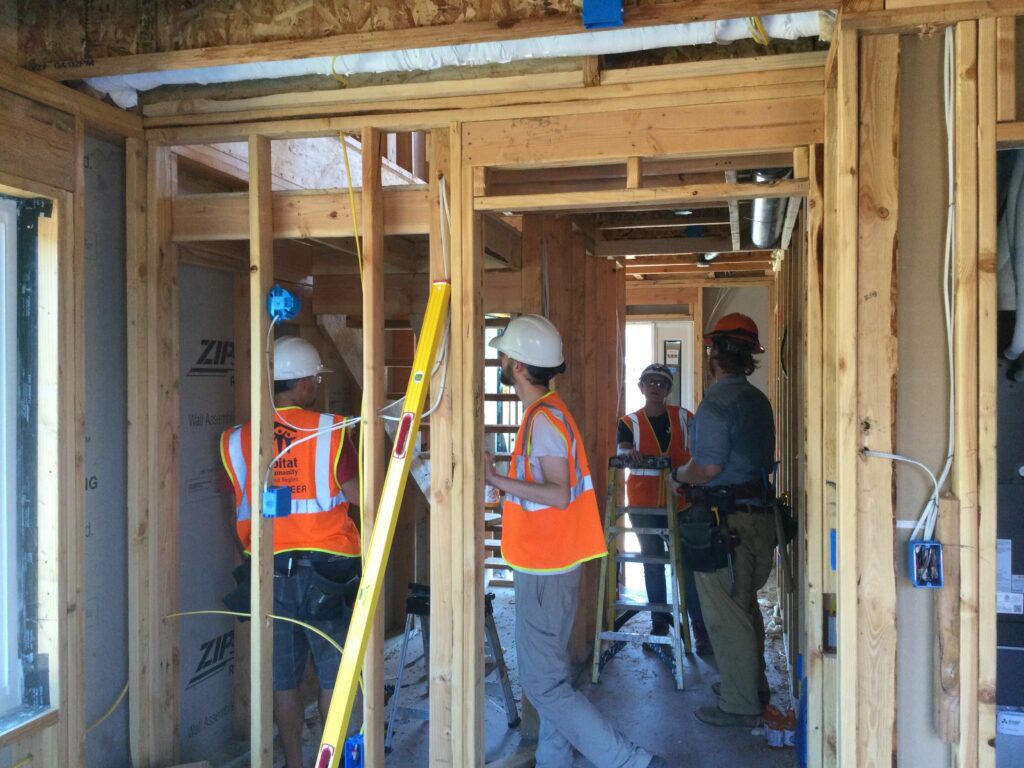 Denney Gardens  | Southeast Beaverton 
At Denney Gardens, we have completed work on all 16-homes and are moving to lay a parking lot. In the past month, groups of volunteers led by the Weed Warriors rallied to root out invasive plant species in the nature area behind the community. Starting in October, crews will begin planting native plants to replace the invasives in the nature area. October will be the beginning of the rainy season, which will help the landscape flourish.
Our site crew has begun construction on the community parking lot. Within the next month, teams will begin building the play area for families within the community.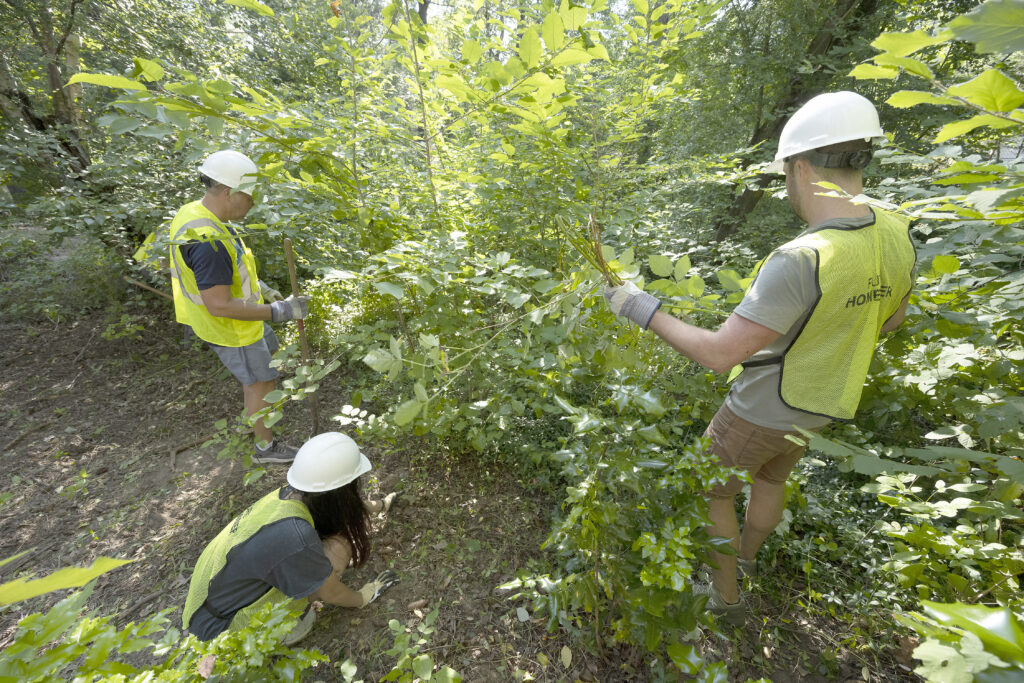 A huge thank you from all of us at Habitat for Humanity to our supporters. Thanks to you, we continue our mission to build more safe and affordable homes across the Portland region. Find out more about our current builds here: https://habitatportlandregion.org/homes