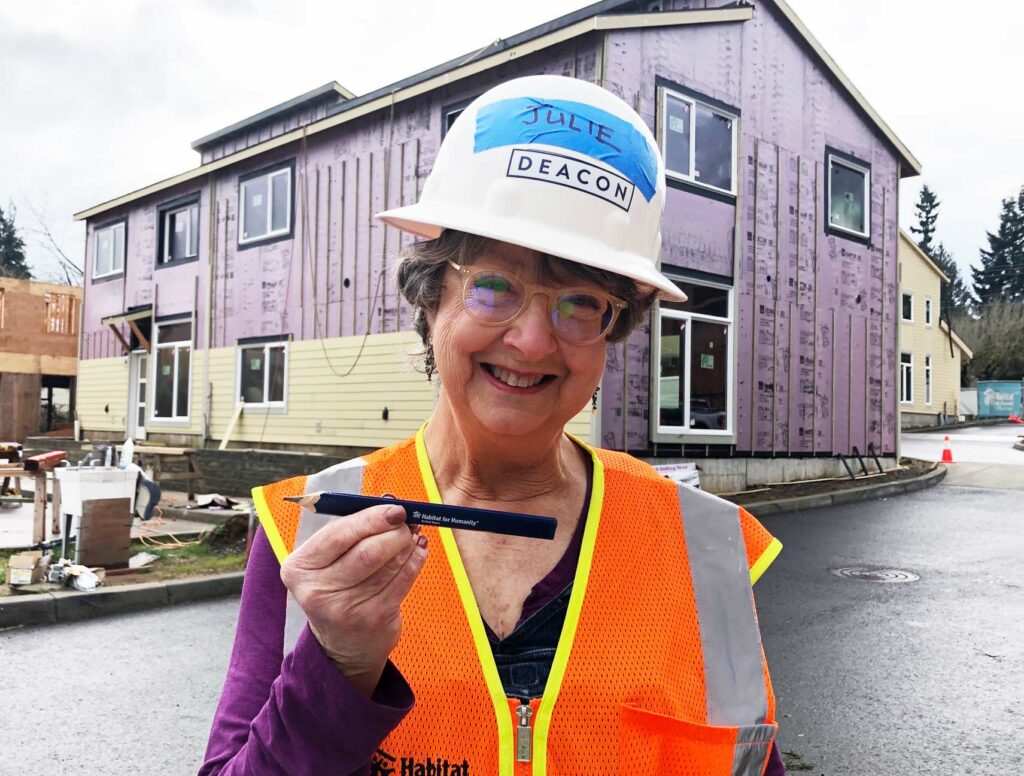 On the Saturday following International Women's Day, nearly 30 women stood under sunny skies in the crisp morning air, waiting to learn how to use all kinds of tools, from a simple hammer to an electric table saw. They made small talk while sipping coffee, learning each other's names from the writing taped to their hard hats, and how to expertly sharpen a new carpenter's pencil — their first task of the day. The group was assembled for Habitat for Humanity Portland Region's Women Build program, and they were ready to get to work at Habitat's 40-home Southeast Portland community on Foster Road.
The Women Build program, which hosts a "Big Build" event each year, in addition to weekly meetups for individuals on build sites and at ReStores, strives to create space for women from all backgrounds to learn, build, and lead in a supportive and empowering environment. Habitat's Women Build program actively welcomes and supports all those who self-identify as women including women of color, transgender women.
Participants range from experienced women who just want to add to their tool belt of skills, to women who have never swung a hammer before. It's also a way to build community — and for some, a way to meet their future neighbors.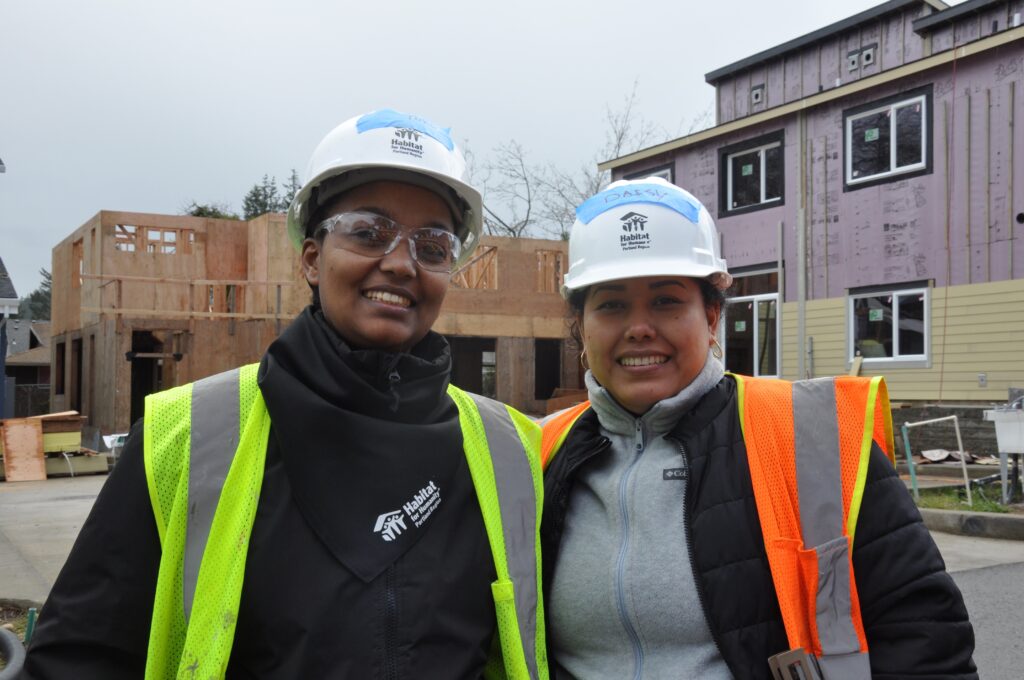 "I'm buying a home here — that corner one right there — for me and my three kids," said Daisy. "We walked through the building and they already picked out their rooms. They love that they'll be able to see the stars from their bedroom windows."
Daisy was training alongside Tuku when the two realized they were both homebuyers in the same community. The two were completing their on-site education work as part of the home buying process.

"Women Build is absolutely empowering," Tuku said. "(It's) just a different energy, working with all women."
During March celebrations of Women's History Month, often famous women artists, civil rights leaders, scientists, writers, and politicians are highlighted — but rarely are women who work in architecture, engineering, or construction household names. Fun facts: the circular saw was invented by a woman, Tabitha Babbitt, in 1812. And while credited to her husband, who died mid-project, Emily Warren Roebling was the engineer who oversaw the construction of the Brooklyn Bridge.
At the Foster construction site, over a pizza lunch, Liv Parks, Habitat's Director of Diversity, Equity, and Inclusion, led a conversation among participants about the theme of 2023's International Women's Day: "Embracing Equity."
The group discussed poet and activist Audre Lorde's quote, "There is no such thing as a single-issue struggle because we do not live single-issue lives." For example, women of color, single moms, and transgender women face more obstacles to access critical resources, which can affect their ability to find a decent place to live. One-third of Oregon's single working mothers and their children live below the poverty line, and nearly 40% of Habitat homeowners are single mothers.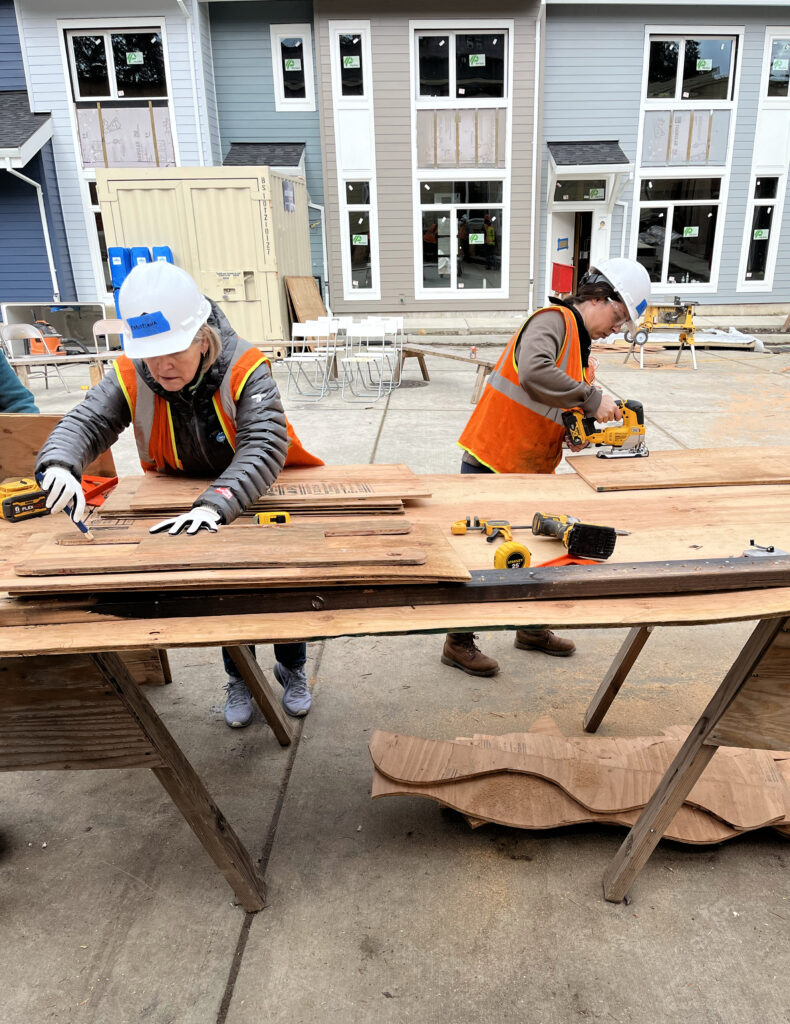 "I grew up in affordable housing, and I know how critical homeownership is to being able to move out of your economic status," said volunteer Shoshana Oppenheim.
In addition to this Big Build event, Skanska USA and Danner Boots teamed up with Habitat for dedicated Women Build events to honor Women's History Month.
"Building with women is one of the most meaningful and gratifying things I do as a volunteer," said volunteer Joanna Nowak. "It's a beautiful community — we have fun and we learn things and do good. I'm so glad to be celebrating International Women's Day with these people. There's something about women coming together to work, share stories, and learn. It feels like we're changing the world, one board and nail at a time."
Learn more about the Women Build program on our website.
Thank you to our Women Build partners:
Danner Boots
Skanska USA
The Horton Family
Eleete Real Estate
Atlas Pizza
Dovetail Workwear
And the members of our Women Build CREW – Connecting Resources to Empower Women. We are grateful for all you do. For more information on how you can support Women Build, please contact Lauren.Johnson@habitatportlandregion.org