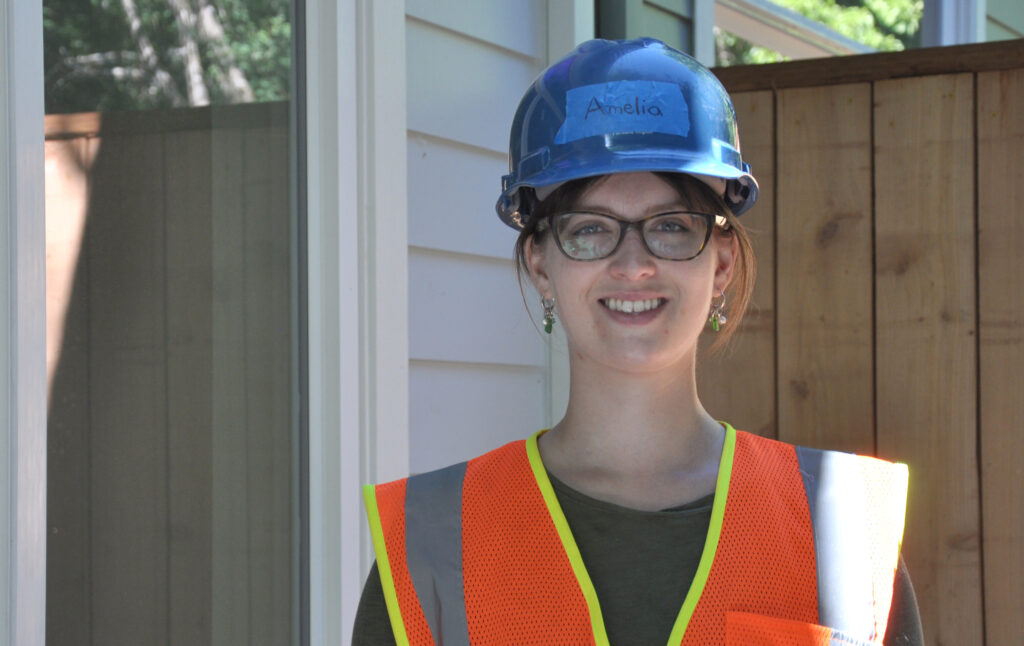 Little girls often dream of becoming princesses, ballerinas, fashionistas and movie stars. Amelia Byko wanted to build houses.
As a child, Amelia built houses out of anything she could find. She fashioned her first one out of a jewelry box with the drawers rearranged to represent bedrooms. She makes these miniature dollhouse-like projects in all shapes and sizes, the smallest of which is only a couple of inches tall. Lately, she's been working with wood – sanding, cutting and drilling in tiny details until the house is complete.
It took a couple of decades, however, for Amelia to realize that this hobby was something she could turn into a career. The reason for the delay?
"When I was younger, I just didn't see female representation in it," she said. "Because of that, it never really stuck with me as a serious thing."
While she'd always been interested in physical hands-on tasks, she instead went into administrative work behind a computer. Sitting at a desk all day caused Amelia to develop chronic pain, and she knew she needed a complete change of pace professionally for both her physical and mental health.
"I'm sure office work is fulfilling for some people, but it just wasn't fulfilling to me," she said. "At the end of the day, it felt like I was just learning how to do spreadsheets."
She received a pamphlet from Oregon Tradeswomen Inc, a state-certified program that helps prepare women for careers in the skilled construction trades. Seeing that there was a supportive group of women out there with similar interests to herself was exactly the push Amelia needed to begin living out her dream of building and renovating houses.
In May, she started to volunteer on a weekly basis with Habitat in order to learn skills and become more comfortable operating power tools. Now, she's a regular volunteer who works on site three days a week. Unsurprisingly, she does not seem to miss working in an office.
"When I do something here, like frame a wall or whatever it is that I do, I can see the before and after and I can physically touch and see what I've done, which is really satisfying to me," she said.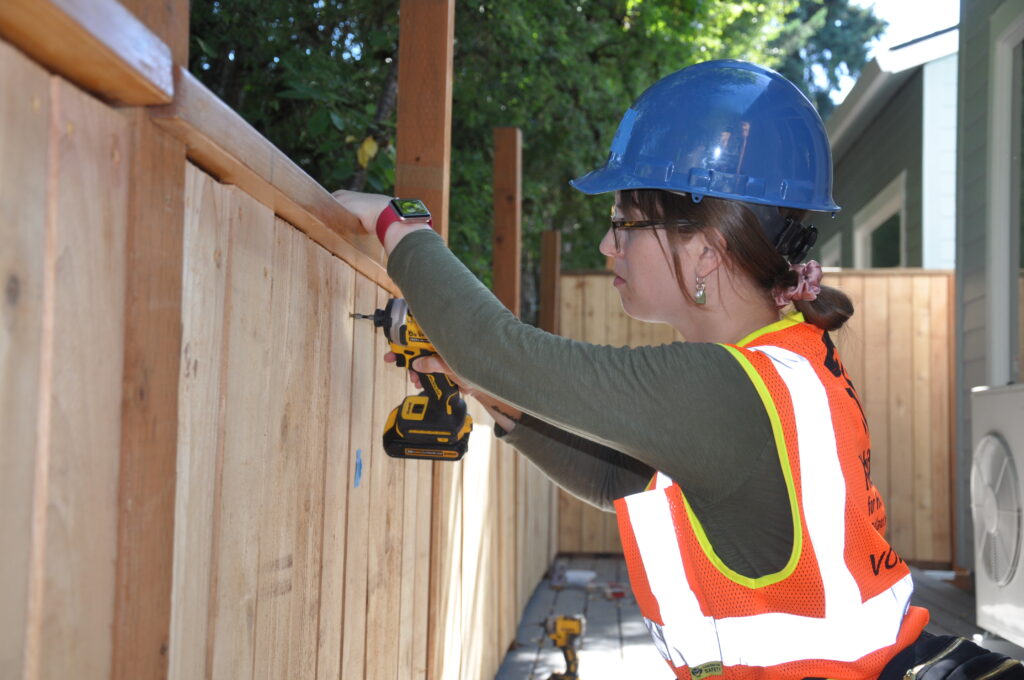 Amelia has certainly crammed in a lot of learning these past few months, but to her pleasant surprise, she's gotten so much more out of the experience than knowledge about the trades.
"It was originally to gain experience, but it's also been such a great group for connecting with people and contributing to the community," she said. "I find myself genuinely looking forward to coming in, and I miss it on the days I'm not volunteering here."
Conversation flows easily when framing a wall or painting a room with other people, Amelia said, even when everyone starts out as strangers. She has found that the volunteers and staff members are easy to talk to, and they're always willing to teach her how to operate a new power tool if she is unfamiliar with it and would like to learn.
Amelia has volunteered mostly at Foster Commons, Habitat's 40-home community in Portland's Pleasant Valley neighborhood. She also helped out at the now-completed Cherry Blossom community, and remembers watching on move-in day all the children playing on their porches as their parents moved things inside, setting down roots.
Amelia has also enjoyed getting to know the women at Habitat who have worked on construction sites their entire careers. Hearing about their professional journeys has inspired Amelia to pursue her own.
"They're just really impressive," she said. "Like, I can do that too."