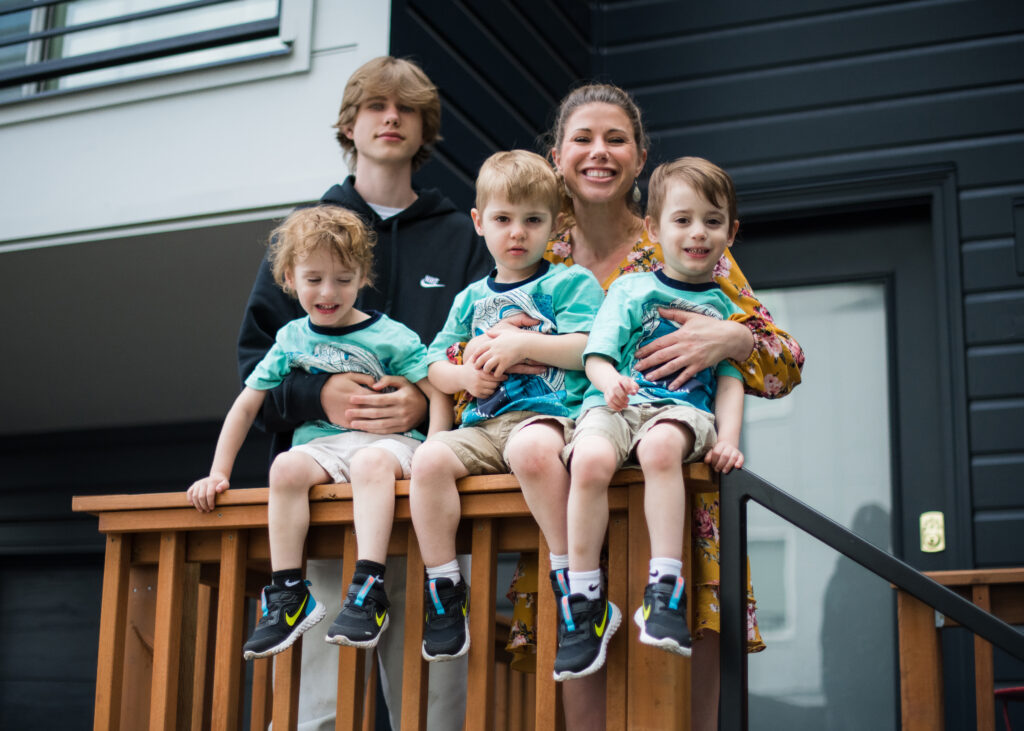 Jasmine and her sons outside their Habitat home. Photo by Tonya Wright
Jasmine was just 10 years old when she lost her mother, a single parent. Following her sudden death, Jasmine and her older brother were separated, and shuttled between Portland-area foster care and group homes, and occasionally experienced homelessness.
That's when she made a two-fold vow: When she grew up, she would help other kids in crisis and make sure her own kids would have a stable home. Her initiative to foster two teenage boys and help girls with developmental issues met the first part of that vow. Habitat helped her reach the rest.

In February, Jasmine became a homeowner at Habitat's Cherry Blossom community in Southeast Portland. She shares the space with her sons, 15-year-old Devontae and 3-year-old triplets Andrew, Blake, and Cruz.

"I can't tell you how proud and happy it makes me to know that my children will never have to be homeless," Jasmine said. "Losing my mom at such a young age left me with lots of fears as a parent. My children will never have to go through a lot of what I went through, and owning this home will help ensure that."
To get to this point, Jasmine worked incredibly hard. After becoming emancipated as a teen, she earned her GED and attended Mt. Hood Community College. She eventually transferred to Portland State University, where she walked across the graduation stage nine months pregnant, only a few days before she gave birth to Devontae.
"It was a huge accomplishment for me, and I graduated with a 3.54 GPA. Not bad for a girl that had a lot of struggles along the way!" she said with laughter.
She also pursued her goal of helping young people by working at a group home for adolescent girls who have developmental delays. These days, she does accounting work and some bartending on the side to make extra money.

Perhaps her biggest accomplishment, though, isn't academic or professional, but personal. After the traumatic death of her best friend and later her brother, Jasmine began drinking heavily. But when Devontae was a toddler, she got sober. "I knew if I wanted to be here and make good choices for my son, I had to quit drinking," she said. "We're not bound by our pasts. We can all change our future." She has been sober now for 13 years.

While Jasmine was pregnant with Devontae, she moved into a duplex and planned to rent there until she could afford to buy a home — a stable place for her family.
"I didn't want him to have to move around a lot like I did as a child," she said. They ended up renting there for 16 years. Over that time, the two-bedroom felt more cramped as the family grew with the teenage boys she fostered and the birth of triplets.

So Jasmine was thrilled when she qualified to become a Habitat homebuyer. The only catch? This was in March 2020.
"Instead of coming in to look at floor plans later that week like we planned, the world shut down," she said.
With everything closed due to the COVID- 19 pandemic, Jasmine worried she wouldn't be able to complete her volunteer hours. Supply chain issues meant delays in construction across the industry, but she persevered. She moved into her home almost three years after that hopeful day when she was supposed to look at floor plans.
"That whole time, I wished we were somewhere that had more space, but more than anything, I was just focused on surviving," she said.
She completed her volunteer hours and then some, learning to use power tools while working on the build site, and meeting future neighbors.
"I'm really looking forward to building community with my neighbors and having our children play together," she said. "I might even start a kids' clothes closet or toy exchange program so we can share resources."
Now that Jasmine and her family are getting settled in their home, she appreciates the kids' playroom and the four bedrooms, especially the vaulted ceilings. "For the triplets, that will be really useful one day when we have bunk beds or even a triple bunk," she said. Jasmine now has her own bedroom and so does Devontae. Andrew and Blake bunk together, while Cruz, who has been known to wake up his sleeping siblings by stealing their blankets, has his own room now — and everyone gets more shut-eye.