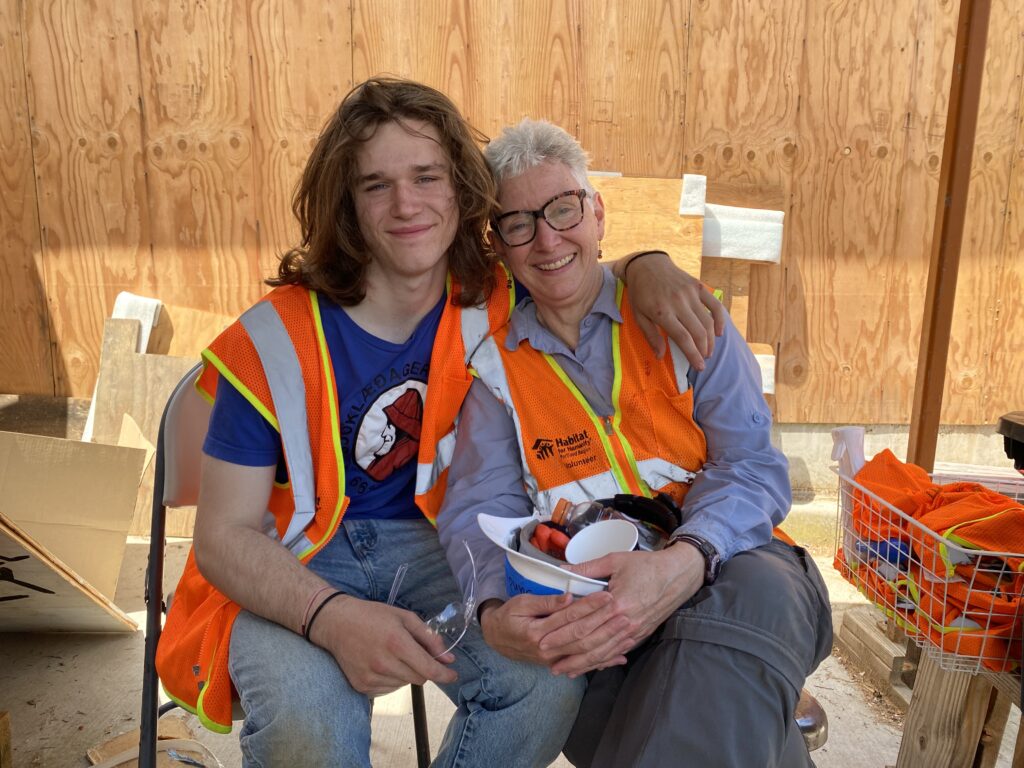 Habitat volunteers Sandi and Spencer have taken family bonding to a whole new level.
The mother and son duo volunteer at the Foster Commons site every Thursday, helping to construct what will eventually be a thriving 40-home community in the Pleasant Valley neighborhood. They have each dedicated more than 65 hours of volunteer work at the site since January.
"I like coming here because I like the hands-on work, being outside and getting sunlight," Spencer said. "I think if I didn't, I would probably be less productive."
The 18-year-old attended a trade high school mostly during the COVID-19 pandemic, which took away some of that hands-on experience he would have gotten otherwise. His mom, who has always found opportunities to volunteer throughout her professional life, recommended that he volunteer with Habitat.
Neither of them could have predicted just how rewarding the experience has been.
"I did not know how many homeowners we were going to be working with when we came here on Thursday's," Sandi said. "I've enjoyed just learning some of the life experiences of the homeowners that are going to be here and working side by side with them."
The first phase of homeowners will be moving into Foster Commons this summer. All of the homes in this community are designed for lasting affordability, allowing Habitat homeowners to build equity in their homes, while ensuring that the homes are affordable to the next buyer. This guarantees affordable neighborhoods in the future.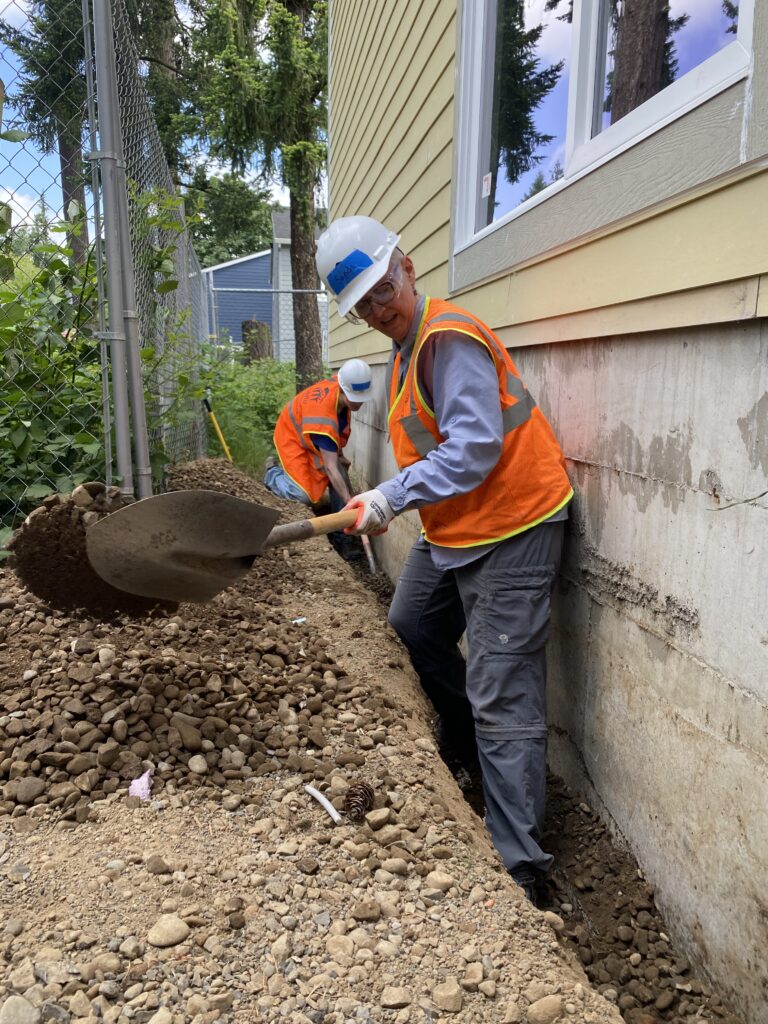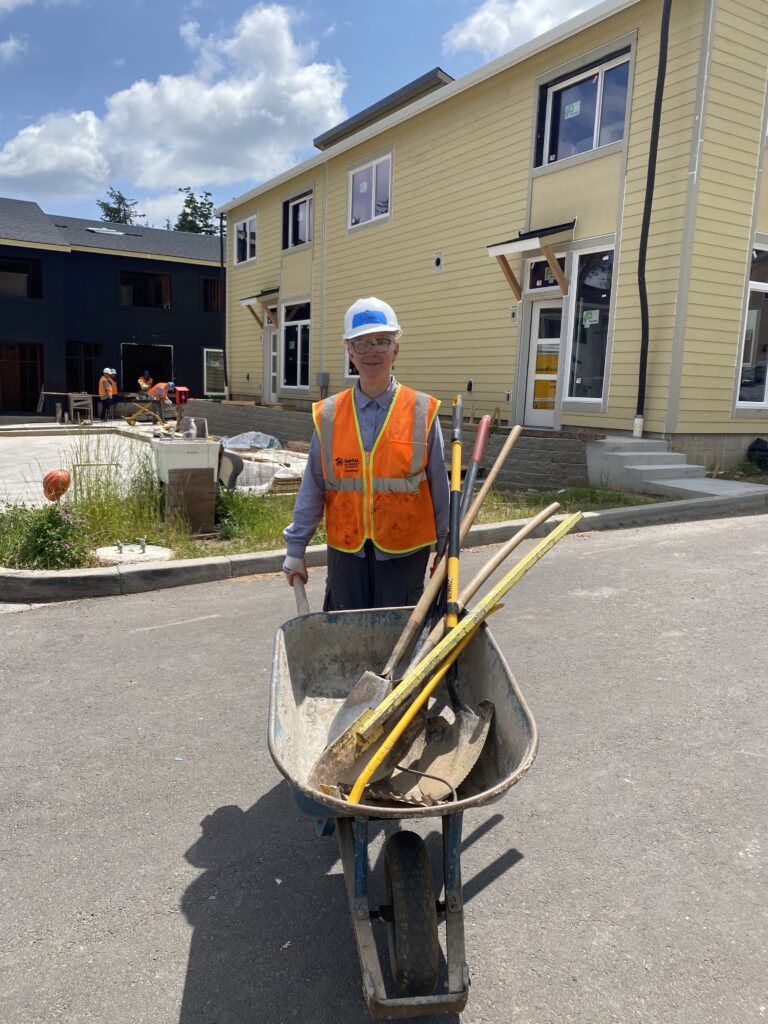 Sandi Gallagher and her son, Spencer, volunteer at Habitat's Foster Commons community.
One Habitat memory that stands out to Sandi was watching one of the homeowners write positive affirmations in her native language inside of her future home.
"It will be covered up, but it will always be there," she said.
Sandi and Spencer have lived in the same home since Spencer was born. They do housework and yard work together, so working as a team came naturally when they started at the Foster Commons site.
"He just wants to boss me around," Sandi said with a smile.
Spencer graduated high school and got his own car right around the same time, Sandi said. It was a lot of newfound freedom and she thought Habitat would be the perfect way to create some structure in her teenage son's life.
Spencer has enjoyed working with Habitat so much, in fact, that he decided to he'd like to join Habitat's staff when the opportunity arises.
"I think if I were able to do more of it on a regular schedule, it would be really good for me and the people that I'm helping," he said.
Sandi said that while she likes working side by side with her son, sometimes she will intentionally choose to work on a different project so he can learn and take instruction from other adults. Each volunteer and staff member is knowledgeable about various aspects of home construction and home repair, she added, so each person can provide valuable input to solve a any issues that come up.
Another gratifying part of volunteering with Habitat has been seeing the homes develop through different stages, Sandi said. Week by week, she and Spencer have watched their hard work come to fruition. And they're only just getting started.
"There are many times that you'll see the same people coming back to volunteer and it begins to feel like a team," Sandi said. "We're all working toward the same thing."