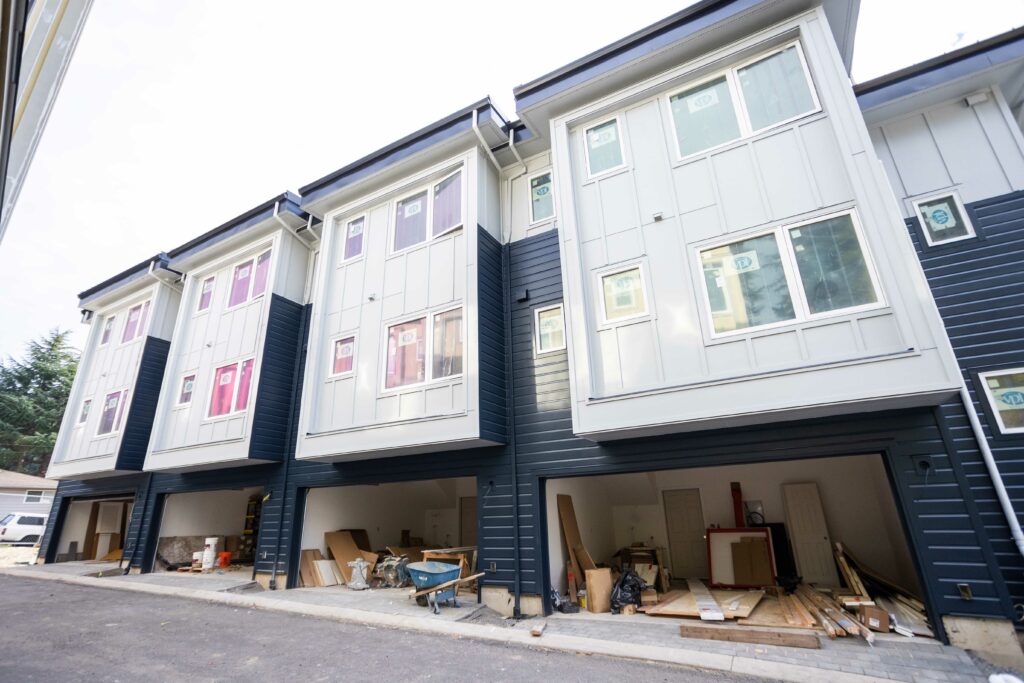 James remembers fondly his youth in Florida, his neighborhood and friendships — a childhood he would like for his future children. He grew up in a Habitat home, and someday his kids may grow up in a Habitat home, too.
The home is nearly complete, one of 31 underway at Habitat's Cherry Blossom community in Southeast Portland. At only 28, James has been preparing for his role as a homeowner for years, with plans to create a stable, affordable place for a future family.
"I knew that eventually I'd buy a house and settle down and have a family and adopt kids. That's always been my prerogative. But the main tenet of that is owning a home, right?
I think that kids need stability and some grass and other kids in the neighborhood to play with, like my childhood had."
As a child, James' mom, a schoolteacher and a single mother of two, bought a Habitat home and James grew up in a stable community full of friends — the "cul-de-sac kids," he called them. That all changed 10 years ago when he moved to Portland and entered the competitive rental market. He estimates he's changed apartments eight times in just the past eight years.
Stability started when he jumped at the opportunity to enroll in Habitat's homeownership program. He had been looking for a home for years: His credit was good, and he was employed with multiple jobs, but his resources couldn't cover the down payment he needed to get into the housing market. He figured he could continue renting and move from place to place when rent got too high. But, he said. "I wanted to create a home."
He had applied to Habitat before but just missed getting on the wait list. When Habitat's enrollment opened again at the end of 2021, "I quite literally dropped everything and filled out that application," James said.
James' sense of urgency stems from what he's witnessed in Portland's housing market. Since coming to Portland at 19 on an internship, he has watched the city's population, and its housing prices, swell with arrivals escaping even higher prices along the West Coast, and the effects of climate change. If he was going to become a homeowner, he decided, it needed to happen before prices soared permanently beyond his reach.
"My grandfather has a saying: 'God isn't making any more land.' And regardless of your religious beliefs, I think that sentiment still holds true," James says with a smile.
Currently, James works about 60 hours a week at two jobs — the public library during the day and running concert equipment in the evening. When he's not working, he puts in his sweat equity hours on the build site at Cherry Blossom in Southeast Portland, helping construct his future home alongside other new homebuyers. On break at the build site, he reflected on what he was looking forward to when he moves in this spring — an in-unit washer and dryer, a dishwasher that works, friendly neighbors, a quiet night's sleep.
"Things that folks take for granted," he said. "I'm incredibly excited to just be able to not worry about (those things). And that's going to free me up to live life."
He also looks forward to not having to move year after year – because of poor management, or rising rents or because the property is being sold.
Habitat's homeownership program secures affordable mortgages for homebuyers, along with resources to help them maintain their homes well into the future. The future is where James' sights are set. It has been a year since James started his Habitat journey, and from under his hard hat, he smiles when he thinks ahead to getting the keys to his new home.
"I'll be happy to start moving in," James said.